Relationship Questions & Activities for Couples
Your relationship with your spouse is the most important thing in the world! But between work, kids, the house, and the overall hustle and bustle of life, it can be hard coming up with ideas for dinner much less ideas for how to romance your sweetie. Not anymore! Packed with relationship questions and activities, marriage builders, and a whole host of romantic ideas, our Romance Planner is an easy, effective (and FUN!) way for couples to reconnect and bring back the spark. Are you ready to rock and roll your marriage? Let's take a closer look!

But first, we have to give a massively huge, "Thank you!" to Courtney from Paperelli for such AMAZING design work! She took our 'planner' concept and ran with it, creating a beauty-filled binder that's loved by both husbands and wives alike!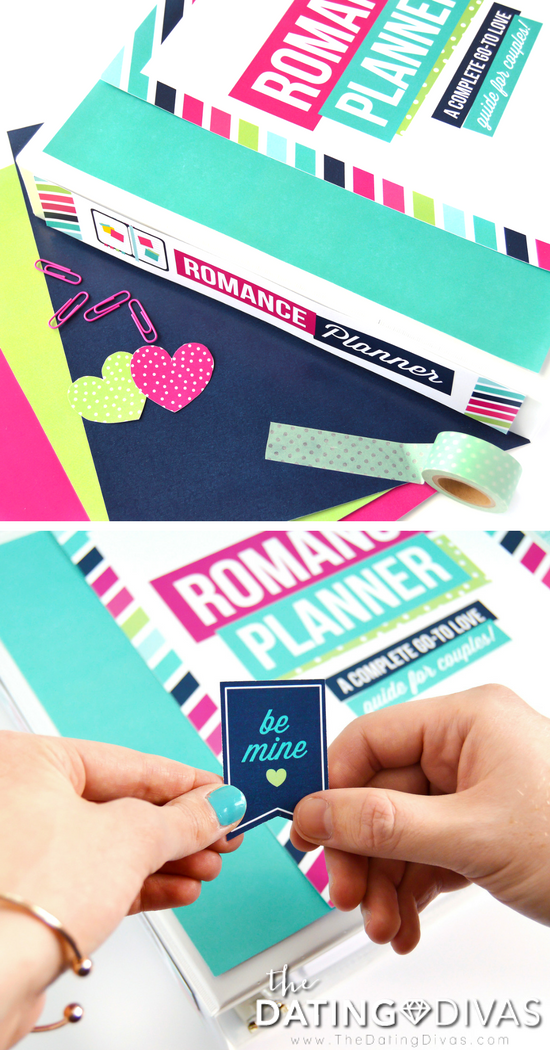 What We Love About The Romance Planner
Organized & Easy To Use – This binder has four separate sections that are PACKED with goodness, yet navigating between those sections is incredibly easy thanks to the section dividers and tabs. They're not only gorgeous but make turning pages a breeze, allowing you and your sweetie to get straight to the fun!
Totally Done for You – If there's an area you and your spouse want to work on, there's a page for that! From communication in marriage to a super fun scheduling guide, the relationship questions and activities are comprehensive and include just about everything. There's even a spicy intimacy component that will really get those sparks flying…
Personalized His & Her Sections – Designed specifically with men and women in mind, these individual sections make clever work of colors and layouts, appealing directly to the designated spouse. Even better, the 'For Us' section blends the His/Her designs together perfectly! How great is that?
Customizable – No two relationships are the same and no two Romance Planners are either! With a fun and fabulous set of embellishments, you and your sweetie can put the finishing touches on your planner, really making it your own.
Helps You Learn About Your Spouse – Even if you've been married for 20+ years, the Romance Planner will help you get a more in-depth look at your sweetheart. From their favorite treats to their inner-most thoughts about your relationship, the Romance Planner asks both the hard and easy questions and will teach you how to be a better husband or wife!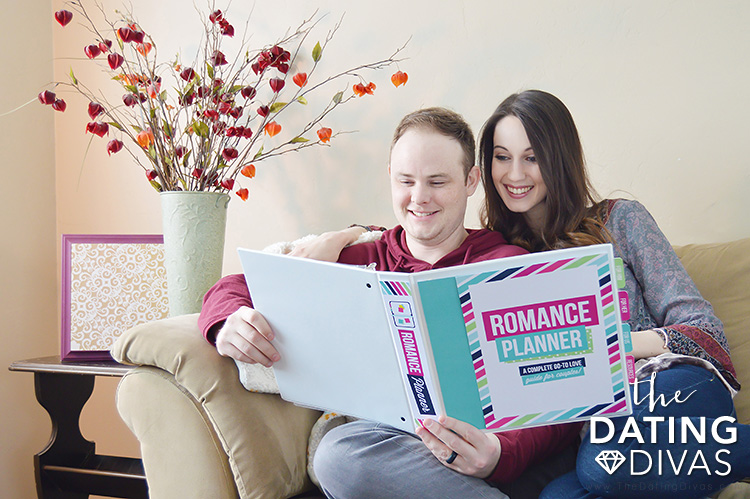 Romance Planner Kit Contents
Planner Essentials: With a printable cover, spine, and embellishment page, these beautifully designed items will help you turn an ordinary binder into the Romance Planner of your dreams.

Planner Organization:

Keep everything organized and easy-to-use with your own set of full-page quote dividers and attachable divider tabs.

For Him:

Discover how he ticks with this set of intimacy and relationship questions, activities, surveys and more—all for HIM!
For Her: The female-friendly counterpart of the previous 'For Him' section, she'll be in 7th Heaven with this set of wish lists, favorites, and more.
For Us: A clever category that's built just for two, these printables utilize the information from the For Him & For Her sections to help couples identify and achieve specific goals, plans, and dreams.

Resources:

This final planner section will help you put the previous ones into action! With a printable planning session guide, monthly calendar, date night planner, and date ideas list, it may be last but it's certainly not least.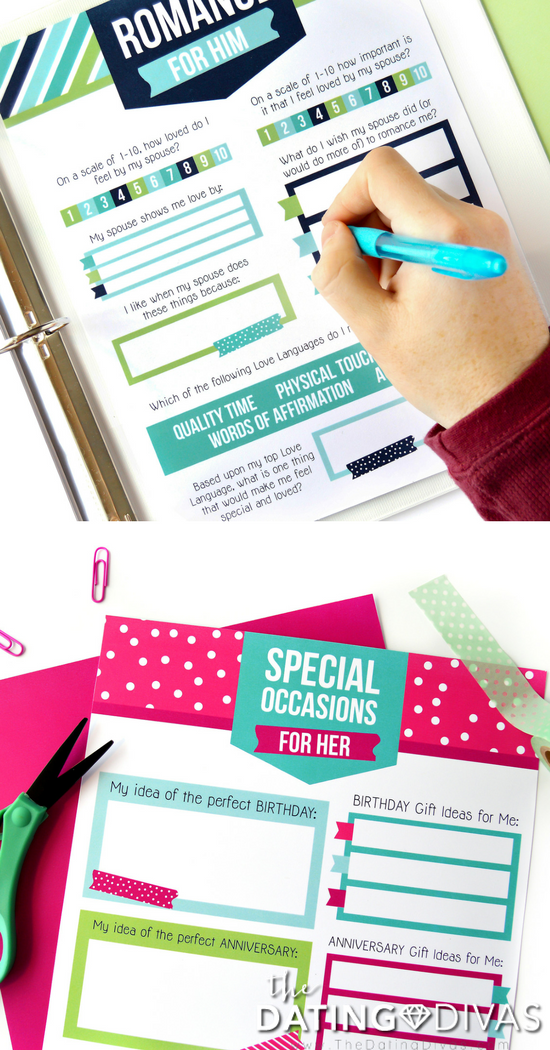 Planner Essentials
Your set of Planner Essentials contains everything you need to turn an ordinary binder into your greatest marriage resource! Be sure and select a binder with a clear cover sheet and spine (ideally one between 1.5-2″ in size) so those specific printables can slide in easy and sit securely.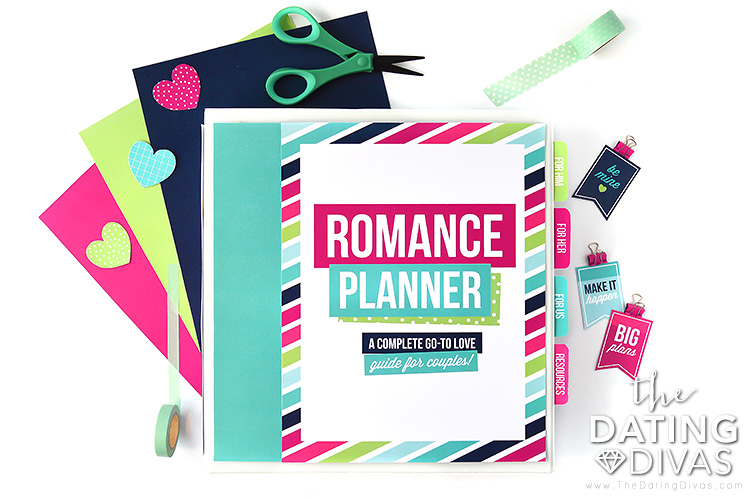 Follow that up by applying a few of the fun and fab embellishments to the areas of your choosing. They'll not only help you make the planner your own but also contain inspirational messages to keep the romance (and planning spirit) alive!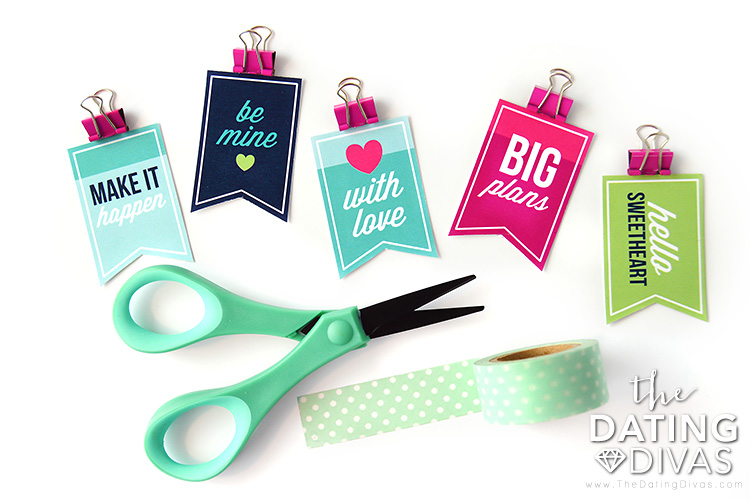 Planner Organization Printables
With full-page quote dividers and affixable tabs, these gorgeous printables will keep all of your relationship questions and activity pages neat and organized. Plus, they're heavy on the romance—a definite bonus! Each page divider is made up of a different solid colored background and contains a unique quote or phrase that adds the perfect touch of pizazz.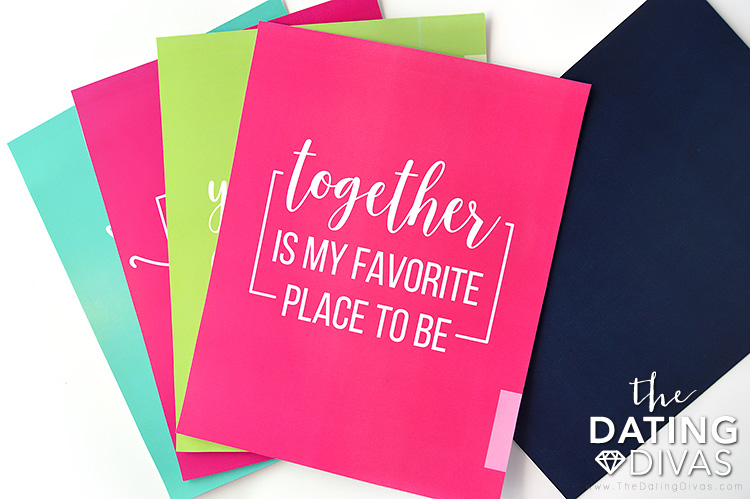 Included quotes:
"You are my everything"
"My heart is yours"
"Our love is forever"
"Together is my favorite place to be"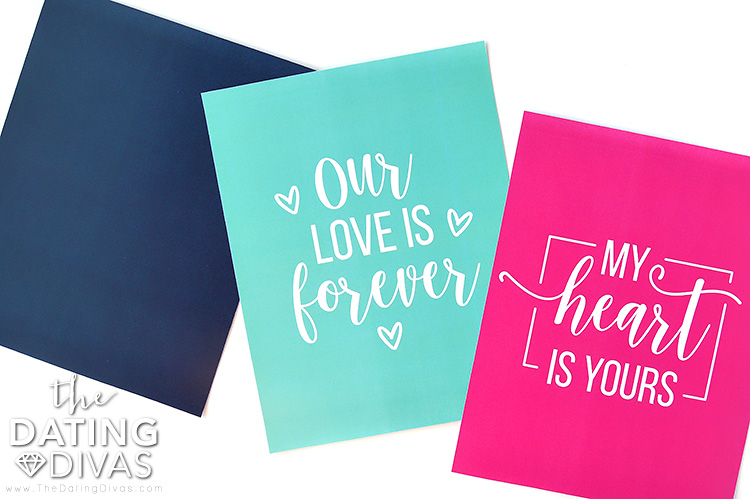 In addition, each page contains a specific tab space which makes applying and adhering your tabs easy peasy! Simply cut the coordinating tab, fold down the center line, apply a strip of adhesive to the inside edges, and place them over the designated spot on each divider. Voila!

Relationship Questions & Activities For Him
Our overall goal is to help you make your marriage AMAZING and the following sections take the guesswork out of doing just that! Each page works to identify current feelings, attitudes, and favorites and also helps him make future goals and romantic plans. All in an easy-to-use, totally fun format.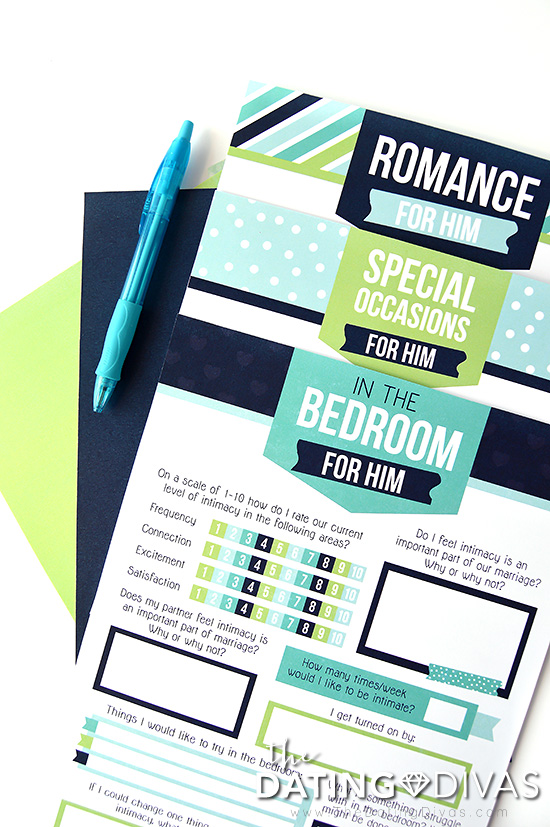 Packed full of relationship questions, discussion topics and more, these pages are to be filled out by that hunky hubby and will help you get to know him better than ever. Plus, they're completely 'guy-friendly', will clarify his relationship goals and romance preferences and will help his wife learn exactly how to woo him.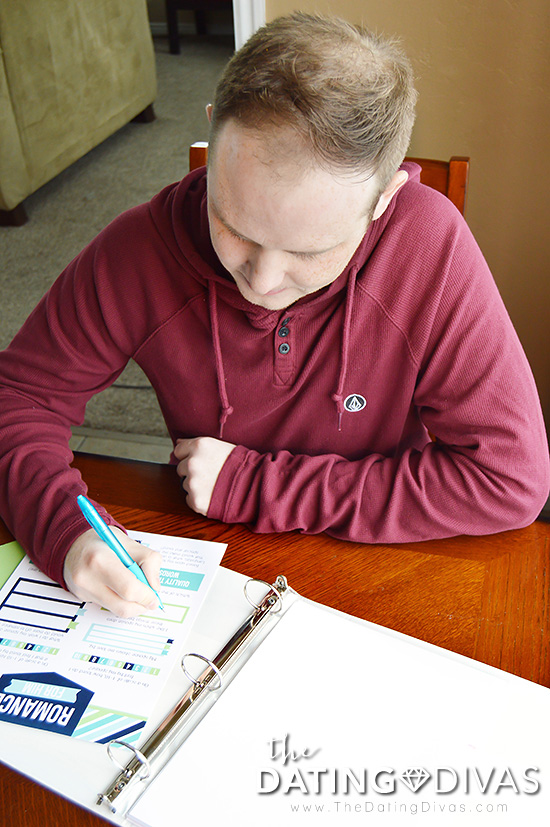 Relationship Questions & Activities For Her
Similar to the 'For Him' section but a dash more feminine, this set of marriage builders, questionnaires, and wish lists will help her record her own romance and relationship views, goals, and favorites.
Like the 'For Him' pages, this content makes for an extremely valuable resource to turn to when planning date nights, birthdays/anniversaries, and other romantic events. Husbands—you'll want to remember this!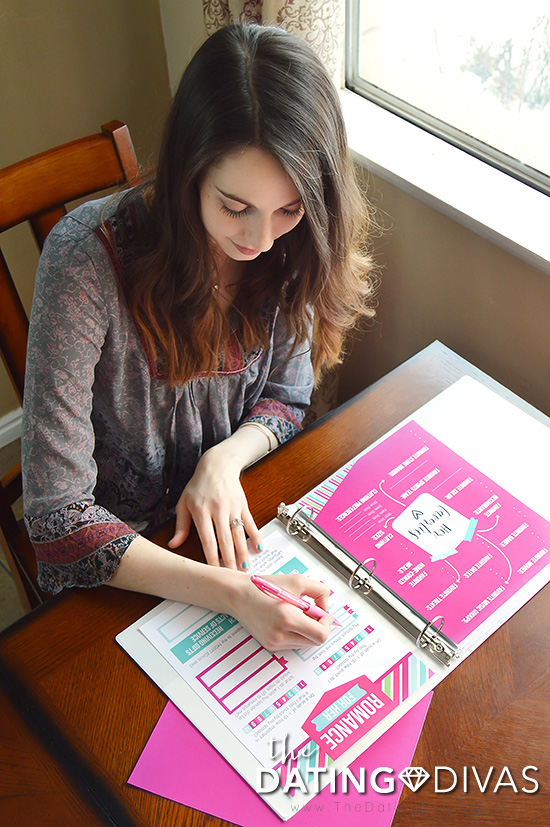 Relationship Questions & Activities For Us
Piggybacking off of the previous two sections, this couple-friendly category is filled out TOGETHER and helps the two of you increase the love you already have by about a thousand!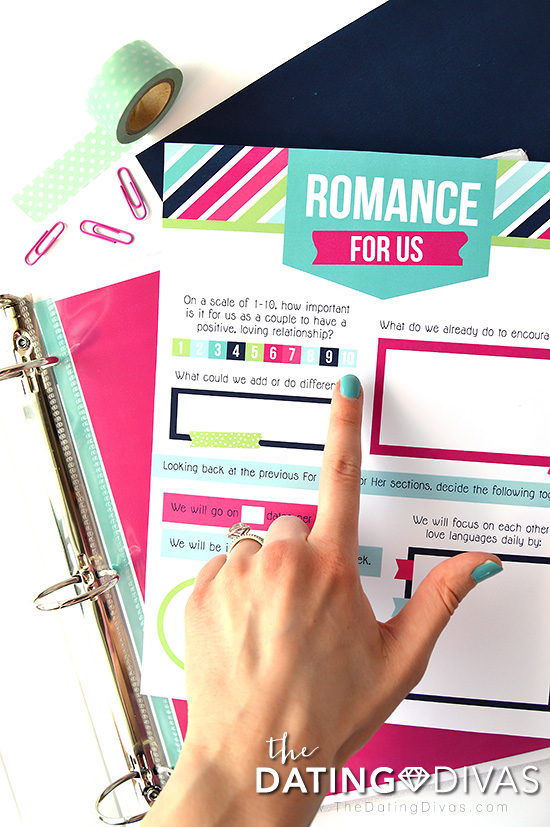 The perfect blend of marriage building, goal setting, and love enhancement (not to mention a healthy dose of va-va-voom!) these pages will help you decide what's already working, what you might want to do differently, and will allow you to create a simple plan for making those changes! It really doesn't get much better than this.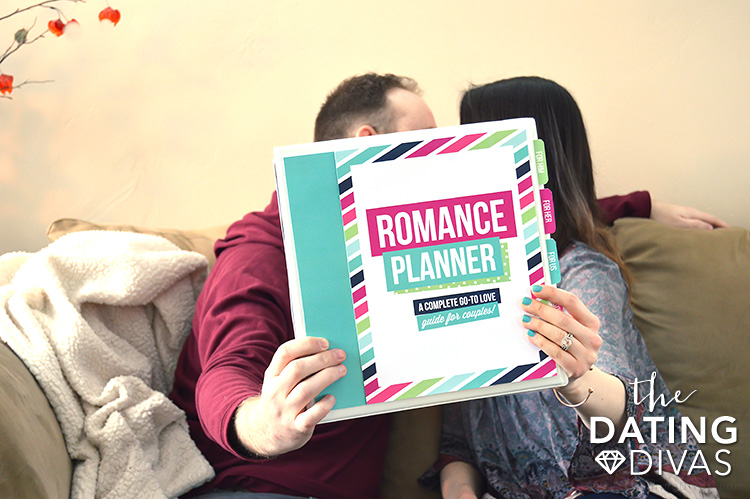 Romantic Ideas & Resources
The final fabulous section in your binder, this resources category puts the 'plan' in 'planner' and is a total ball!

With a one-of-a-kind printable session guide that leads you through every step, as well as printable calendars, date night planners, and a Diva-approved date ideas list, you and your sweetheart will reconnect like you never thought possible!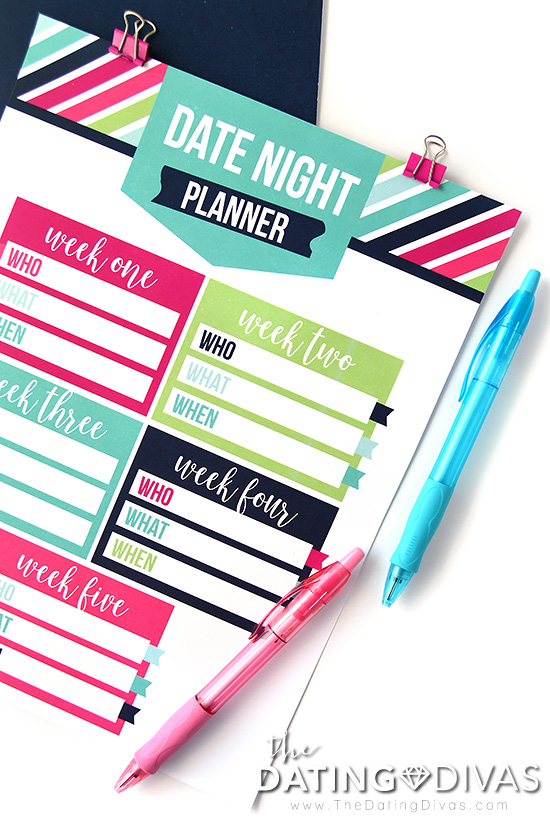 With the Romance Planner, you'll finally have the tools to build the marriage of your dreams. Plus, you'll be creating valuable and treasured resource that can be turned back to again and again!
Make your marriage better NOW by grabbing

your
Romance Planner
for only
$ 6.97!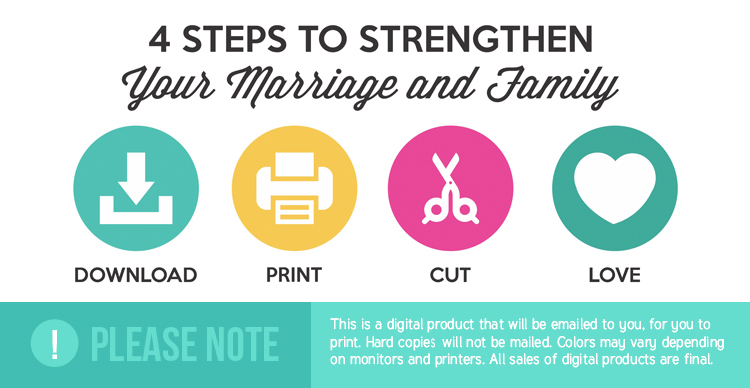 We know you love finding new ways to strengthen your marriage. That's why we think you'll also love our Date Night Guide and our 7 Days of Sex Challenge. Check 'em out!
SaveSave