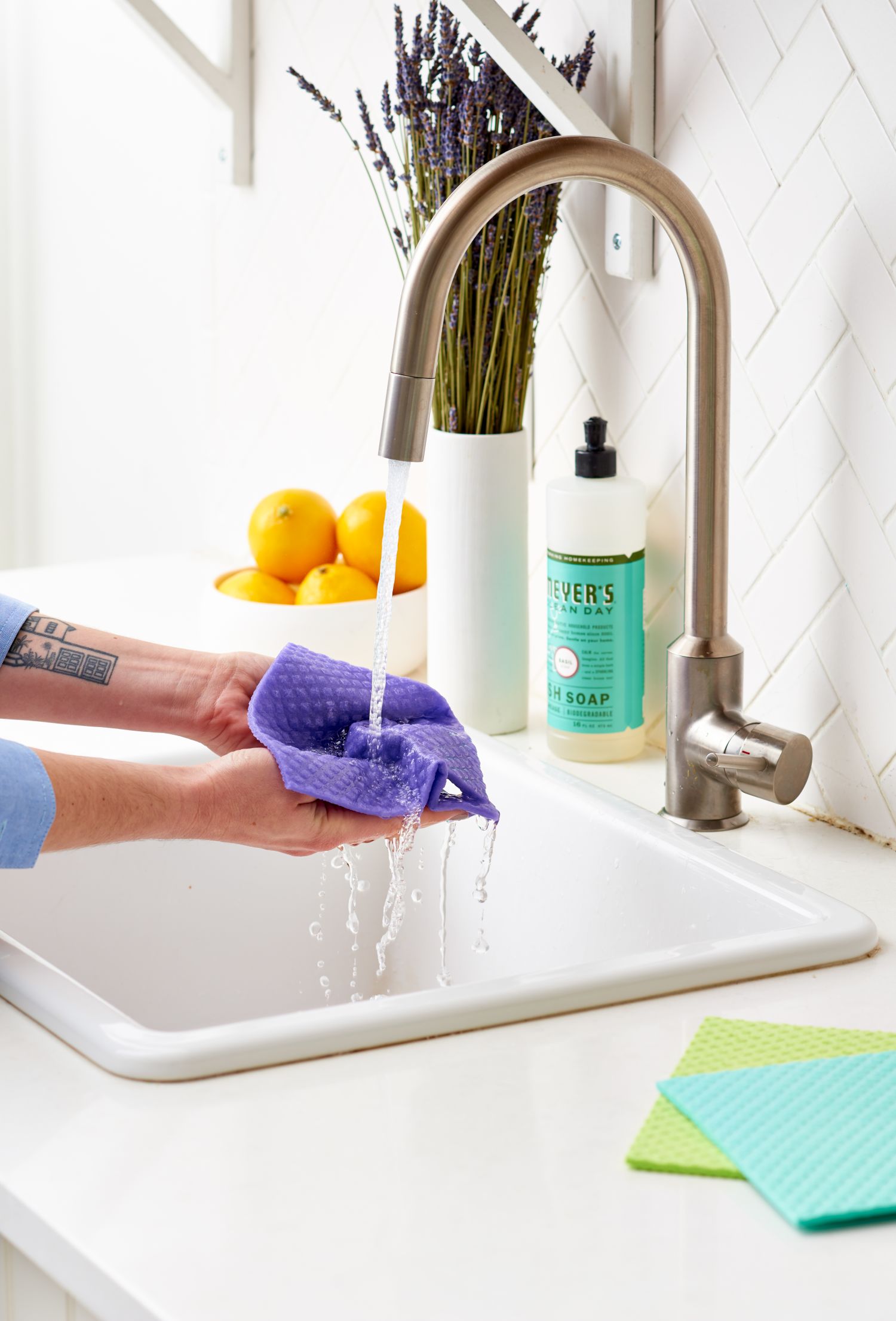 If you don't have the luxury of dishwasher in your home, you know how quickly dishes can pile up and wreak havoc on your kitchen. Even if you have a fail-proof system for conquering your your tower of plates and coffee mugs, hand washing your dishes eats up extra time and energy—and then there's the mental gymnastics of wondering if, after all that effort, any of your dishes are actually clean.
Thankfully, life without a dishwasher doesn't have to be miserable—or germ-ridden. For everyone out there who is on Team Hand Wash (by choice or by force), here are some tips for making sure you're really getting your dishes clean.
Use hot water and dish soap to remove food and grease
The first step to an effective (and efficient) hand-washing regimen is removing leftover food or grease from your dishes. In this phase, hot water is the key—but keep in mind the heat isn't intended to truly sanitize your dishes.
The temperature required to kill bacteria is well above what your skin can handle, and likely higher than your tap could ever go. But Allen Michael, editor of Home Viable, said your water temperature plays a big part in preparing them for sanitizing. "Hot water has been proven to be a lousy disinfectant, but it works really well to loosen up food and grease from sticking to your dishes," he said.
With hot water, you can give everything a once-over with a mildly soapy sponge or brush to get your sinkload looking clean.
If you're dealing with more stubborn food particles, like residue from baked goods on pots and pans, Lily Cameron, supervisor at Fantastic Services, says you'll need to enlist some help by pre-soaking. Fill a sink or dishpan with hot water, add some dish soap or baking soda, and let your cookware sit for 15 to 30 minutes before you wash.
Always wash the cleaner items first
When it comes to doing dishes, order matters. To avoid spreading germs or food particles and keep your dish water cleaner, cleaning experts recommend saving the messiest items for last. "Start the washing process with items that are less dirty like glasses and cups, then proceed to dirtier items like bowls and serving dishes, and finish with the dirtiest items like pots and pans," says Cameron. To make things easier, you can keep the dirtier dishes in the soaking solution while you clean the other ones.
Washing and sanitizing are not the same thing
There's a difference between the appearance of clean and actually clean, and our guess is you're aiming for the latter. Hot water and dish soap are great for degreasing your dishes, but if you truly want germ-free dishes at the end of your hand-washing, that requires another step.
The public health organization Stop Foodborne Illness recommends one of two methods: You can either suspend your dishes in a really hot water bath (at least 170°F, for at least 30 seconds), or soak dishes in a sanitizing solution of bleach and water (one tablespoon of unscented chlorine bleach and one gallon of cool water, for at least one minute).
Opt for air drying when possible
You're not out of the woods. Believe it or not, how you dry your dishes actually contributes to their cleanliness. Rather than using a potentially germ-filled dish cloth to dry your dishes, invest in a drying rack and let them air dry. Not only will air drying prevent the unnecessary spread of germs; it also takes far less time than wiping down each piece individually.
If you're in a hurry, Cameron suggests grabbing a clean towel to wipe down your glassware, dishes, and bowls—just replace the towel with a new one when you notice it's wet. And if you don't have a drying rack or you run out of space, Leanne Stapf, Vice President of The Cleaning Authority, says you can always use an extra oven rack.
(Image credit: Joe Lingeman/Apartment Therapy)
Sanitize your sponge or brush regularly
You've probably heard that sponges are hotbeds for potentially dangerous bacteria, and when they're not sanitized, they can be—gulp—dirtier than a toilet. To avoid wiping nasty germs all over dishes you're trying to clean, make sure to sanitize your sponge or your brush on a daily basis.
One effective way to clean a sponge is to use vinegar or bleach (but never together!). Stapf swears by her soaking method. "You can either fill a cup with vinegar and soak the sponge for about five minutes, or you can fill a cup with diluted bleach—½ cup of bleach for every gallon of water—and soak the sponge for five minutes," she says.
Even if you're sanitizing your tools regularly, you should replace your sponge or brush on a regular basis, anywhere from monthly to weekly, depending on how often you hand wash. (It turns out even our best attempts at sponge sanitation are only so effective.)
Read more: Why You Should Cut a Corner Off Your Sponge
Apartment Therapy supports our readers with carefully chosen product recommendations to improve life at home. You support us through our independently chosen links, many of which earn us a commission.