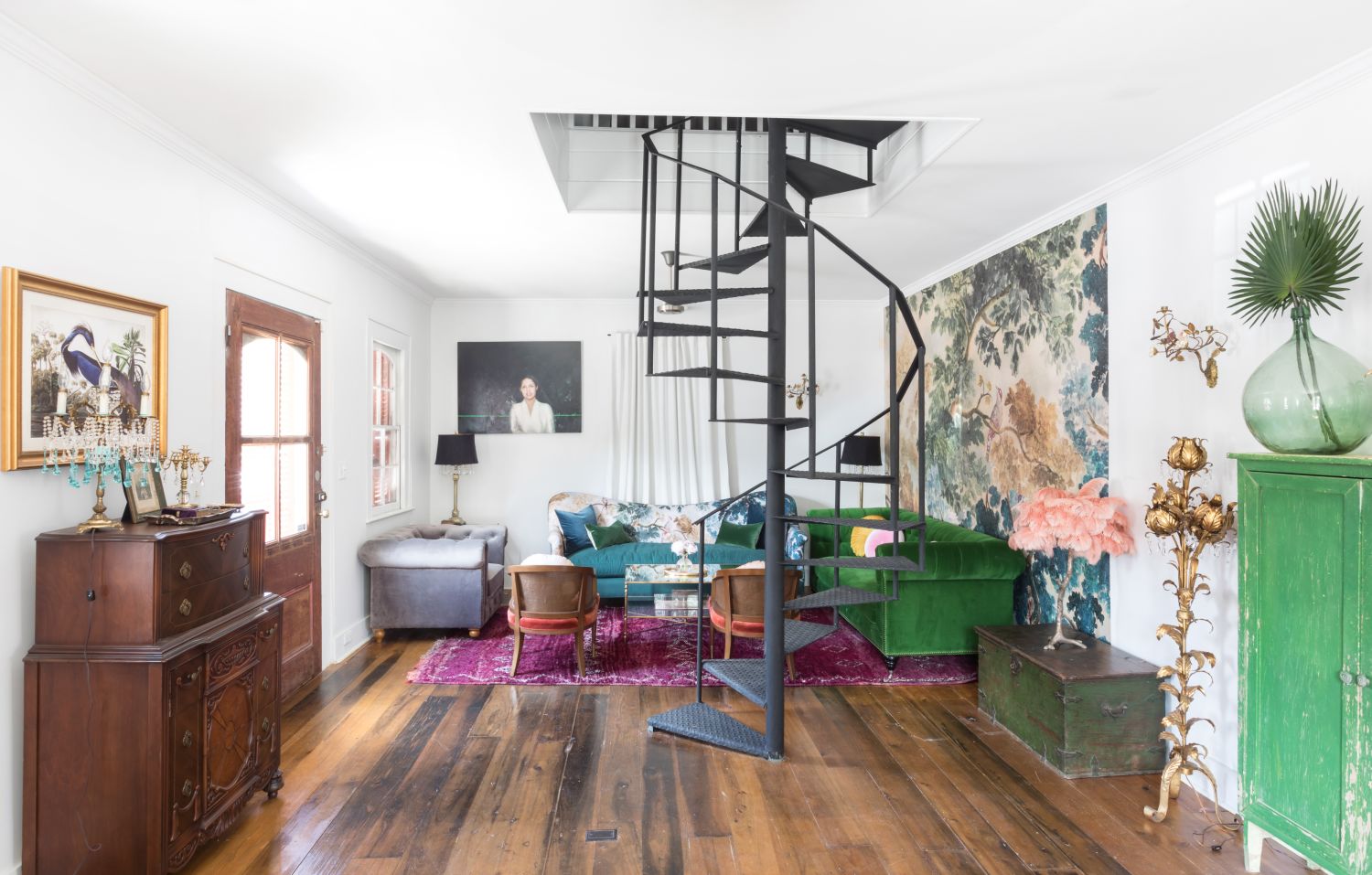 Every fall it seems like jewel tones are top of mind in designers' new collections and at home decor stores. It's more a matter of which jewel tone rises to the forefront. Last year was all about midnight navy and deep purple, and for 2018, it looks like emerald is going to the the big winner. This deep green has been popping up more and more on sofas, pillows, and decorative accessories. It's also a favorite shade for DIY paint projects and glassware. And you have to wonder if the current plant-heavy, boho decor dominance has something to do with it as well. Emerald certainly goes with greenery, right? Let's take a look at the various ways to go green in your space.
(Image credit: Kate Bowie Carruth )
Lately, emerald has been a popular choice for kitchen cabinets. You can't be color shy and think this will work for you, though. But if you want to make a bold choice (and don't plan on moving any time soon), emerald cabinetry is quite striking, even in small spaces as evidenced here.
Almost every home I see these days has a dark blue or navy velvet couch in it. If you want to stay ahead of the curve but score a similar look, emerald is where it's at. In this Louisiana cottage, the emerald sofa definitely holds its own against that full-wall, pretty tree mural.
(Image credit: Nicola Broughton)
Emerald typically falls on the glam side of the style spectrum, but it can be dark and moody too. Take a look at this living room. If the walls were white, it would seem a little Hollywood Regency. But the dark gray backdrop and quirky accents give the green sofa a more sultry, sophisticated vibe. So don't be afraid of this hue, even if you aren't into glamour. It can go more natural for sure.
Don't discount a little bit of emerald paint as an option for rehabbing an old piece of furniture either. I love this emerald cabinet, oversized green glass vase and frond vignette. Monochromatic styling can be quite chic. And if you have those hints of shine in there, from the candleholders to the sconce and set of hanging mirrors, they will keep the composition from feeling flat and lifeless.
You could also refresh a mirror with emerald paint. This would probably work better in a house that already has some green accents, but you never know. This piece is looking pretty good with that blush sofa, and there's not another green item in sight.
Or consider something with a green background for artwork. That way, you get a controlled dose of emerald without feeling overwhelmed by it.
Plants definitely deliver a hit of emerald as well. Or plant patterns. Any banana leaf motif will have some emerald in it, and the palm frond is still going strong as well. So if you love printed foliage, just go for it. Drapery is one option.
Here's that emerald leaf motif again on a shower curtain, but this time around it's amped up with towels in a matching hue. A guest bath or powder room is always a good place to experiment with color because they're both small and used far less frequently than your living room, kitchen or bedroom.
Emerald green is a prominent color in nature, so I think that makes it easier to work with at home than some of the other jewel tones. We're used to seeing this hue out in the wild, and it has a fresh, fun vibe when used correctly indoors. I think all homes could benefit from a little bit of emerald's good energy. Maybe you'll be inspired to add some green to your space.