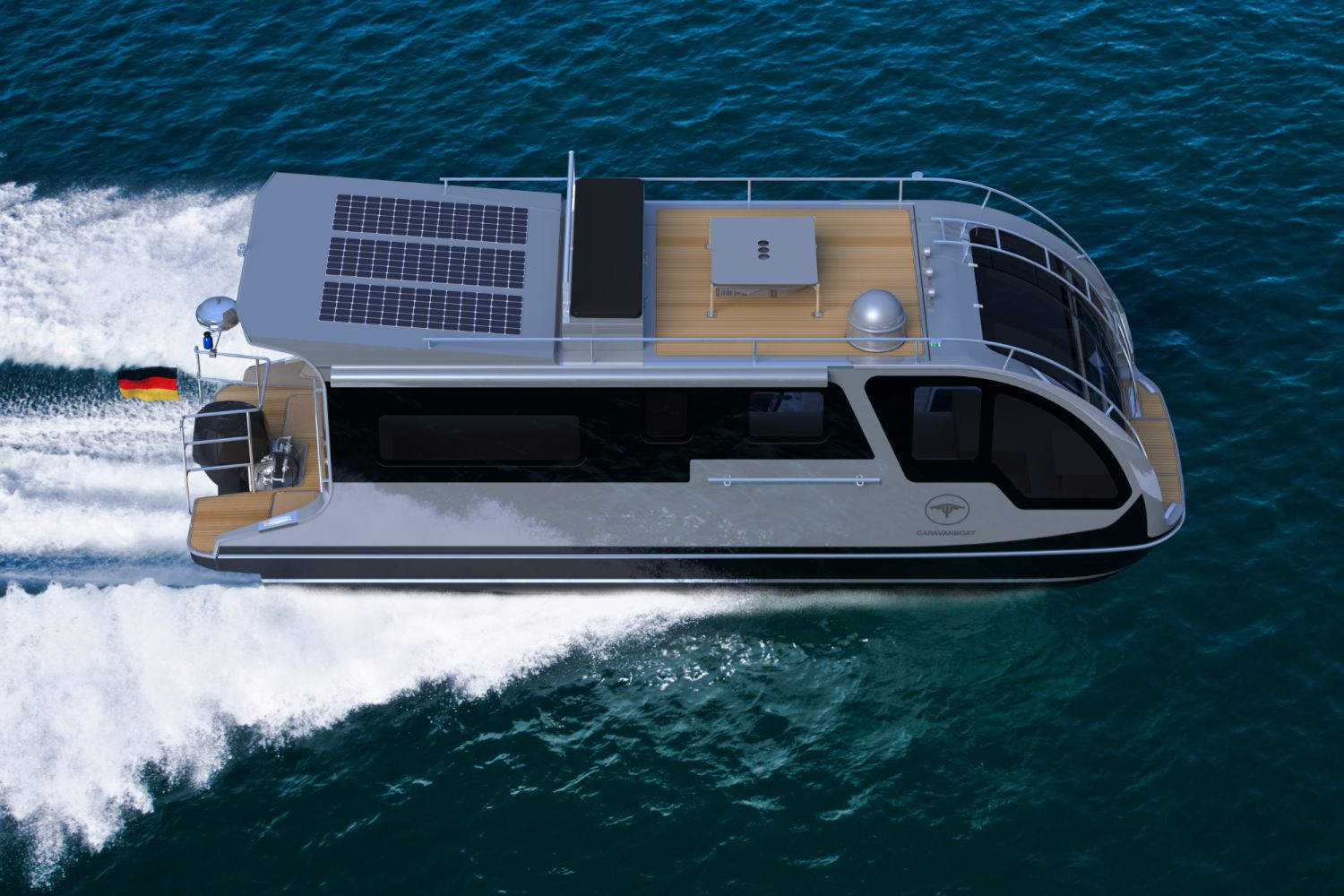 Germany-based company Caravanboat has the solution to the common vacation conundrum that plagues many trip planners: Whether to hit the high seas or remain on land.
The Departure One, a 30-foot camper, is capable of being used on the water or on solid ground. Fashioned out of seawater-resistant aluminum, the multi-purpose dwelling is a crafty combination of a camper and a motorized houseboat.
The air-conditioned space has a living room, a small shower, sink, and toilet. The kitchen is equipped with plenty of amenities including a microwave, refrigerator, stovetop, and storage space. A seating area in the living room doubles as a bed, plus two additional singles that allow the camper to sleep a total of four guests. Additionally, the caravan features panoramic windows and a fixed roof terrace with solar power that provides unobstructed views of the surrounding landscape.
An extra bonus: the camper-boat combo has off-the-grid capabilities. It can accommodate two guests for up to two days without additional water or electricity, and it can be transported by truck, car trailer, or flat rack container.
Departure One comes in a variety of colors and has a starting price point of $67,448. Unfortunately, it's not available in the U.S. at the moment, but with all the campers available, it's hardly the only amphibious option out there.
The Germany-produced Sealander made quite the splash when it hit the market a few years back. Although it's tiny with a mere 13 square feet of interior space, the plus side is that it's economically priced. Then there's the considerably more expensive (but uber cool) Terra Wind RV that comes with an 8-jet whirlpool tub, marble flooring, all major appliances, and more.
With so many options, these camper-meets-boat vehicles are clearly the way to vacation.