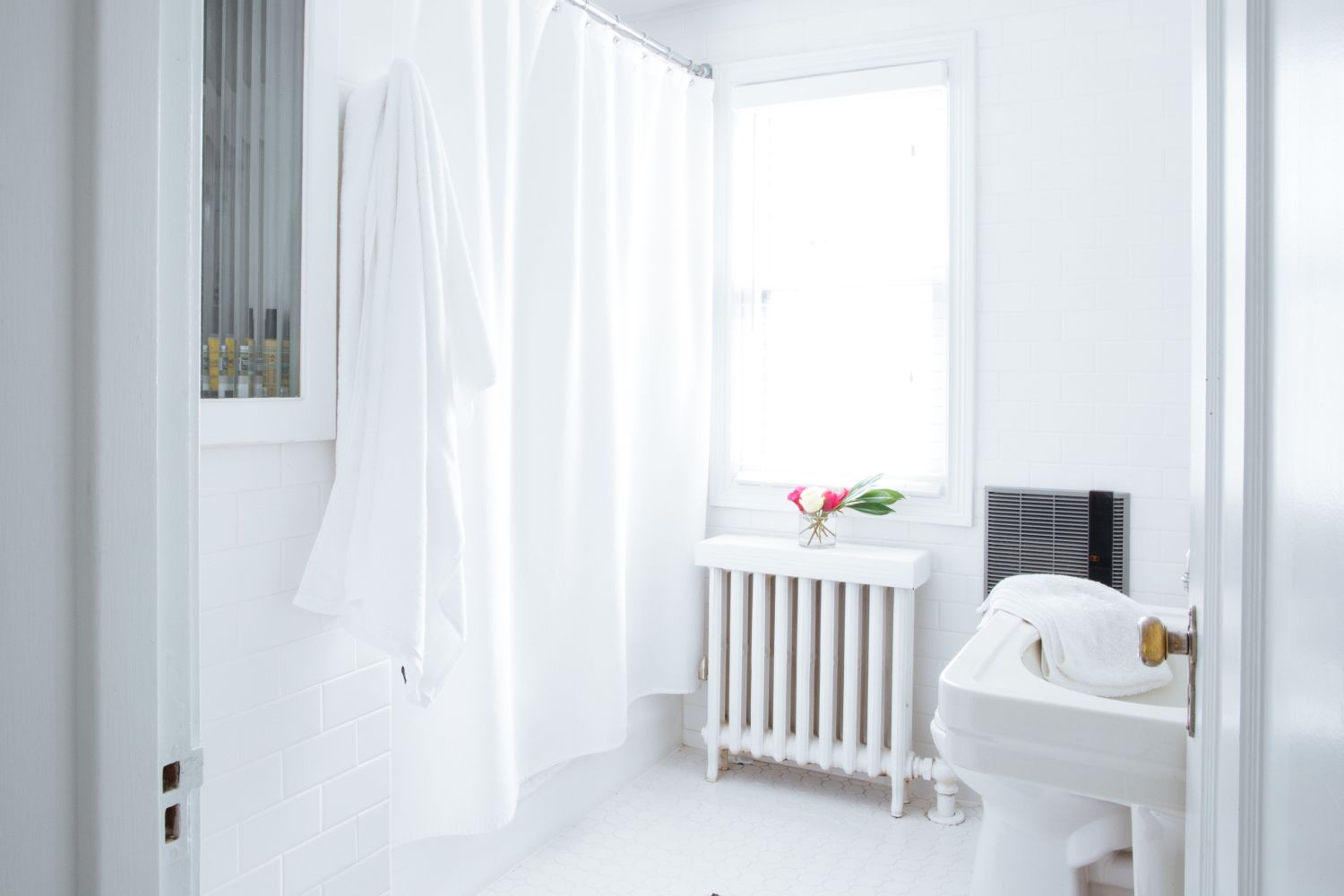 Bathrooms are sometimes neglected when it comes to design, but that doesn't have be the case (and shouldn't be). While, yes, you may do your "business" there, it's also a space for practicing self-care (I know, it's a buzz word, but it is really important) and may be the only place you ever find yourself alone. Whether you're a renter or homeowner on a budget, renovating your #selfcare space doesn't have to be impossible. These six beautiful bathroom renovations were all done for $5,000 or less.
When Wayfair challenged blogger Brooke Christen from Nesting with Grace to a $3,000 bathroom renovation challenge, she knew it was time to update her shabby chic coastal bathroom. When the family first moved into their home three years before the renovation, they did a few quick updates (new floor and shower tile) and never quite followed through with the rest.
The biggest part of the renovation consisted of five elements: 1. AZEK shiplap on the walls ($160 plus $1,200 installation); 2. a new brass faucet ($598) 3. a three-light vanity sconce ($130); and 4. a marble-top vanity. ($1,670). From there, a couple of spa-worthy Turkish towels, two framed prints above the toilet, and a hanging plant were added to accessorize. Brooke's words of advice? Don't try to do everything at once. The small updates she made when they first moved helped make the second round of updates more manageable. She chose to keep the existing tub and toilet so she could splurge on more important pieces, like the vanity.
This bathroom reno is nothing short of bonkers. Kristine from The Painted Hive admitted that there was nothing physically wrong with her bathroom before — aside from it being less-than-inspiring, aesthetically. It's situations like this that make justifying a full-blow renovation difficult, if you're on a budget. That's why Kristen opted to use some genius DIY hacks to achieve the bathroom her dreams for just $2,000.
The secret to this stunning renovation? Paint. The show stopper—those gorgeous floor tiles—are just old linoleum hand stenciled by Kristen. She stenciled the pattern using chalk paint and a polyurethane sealer. The tub surround was painted using the same paint as the floor, and the wall tiles were coated with Rustoleum Tub & Tile Paint.
(Image credit: Cynthia Ferrer)
When reader Cynthia had enough of the mildew-laden walls and ceiling in her 1930s Craftsman, she decided to take matters into her own hands. After stripping layer upon layer of lead-based paint, she added a bold coat of green and white paint to the walls, finished with a black piece of chair rail.
While she intends on someday doing a full gut job and period-correct reno on this petite powder room, Cynthia opted for a mini $2K renovation to improve her present quality of life. After freshening things up with a new color scheme and mildew-free walls, the boxy oak vanity was replaced with a simple, inexpensive pedestal sink and a vintage apothecary cabinet was added for storage. Lastly, a black toilet lid is an unexpected element that ties the toilet in with the rest of the design.
While Bridgett Shepherd of This Minimal House didn't love the look of her home's bathroom, renovated by the previous owner, it's faulty electrical work gave her an excuse to demo it and start from scratch. While this was pretty much a gut job, it only cost $4,000 to complete!
Perhaps the biggest reason this major reno wasn't costly is the fact that Bridgett and her husband did all the work themselves (and you can too!). The sauna-esque wood slat ceiling is the main attraction and was sanded, stained, and installed by the couple themselves (watch the fun time lapse video here). The rest of the bathroom does not compete with the eye-catching ceiling, making it feel serene and soothing. A few budget-friendly pieces were added, like this $9 mirror with built-in shelf from Target, marble-like porcelain tile from Home Depot, and IKEA lights.
Coming in at under $1,000 ($939 to be exact), this bathroom makeover is an absolute stunner. With crisp whites, sparkling brass, and the bold pop of a green accent wall, this bathroom has the perfect vibe: bright and clean.
Mandi from Vintage Revivals shared the motivation behind her mother-in-law's bathroom renovation: "The biggest sore thumb in the space is that horribly ineffective privacy wall. I mean, its too small to actually block the toilet. So either you're pooping and trying to hide and failing, or you're pooping and not trying to hide behind it at all, in which case it is failing." Not only did she succeed at demoing that confusing privacy wall, she designed a dreamy bathroom on a major budget. Using affordable pieces, like this cabinet-turned-vanity from IKEA ($199), and wall tile from home (under $200) helped her to accessorize with the perfect gorgeous brass accents and wall art (that giant map!).
A bathroom reno isn't always an option when you're renting. For starters, your landlord may not be into it, but even if he or she approves, it's expensive. No one wants to put that kind of money into a renovation that will someday get left behind, which is why this $500 rental reno is totally doable.
There were four main components to this renovation, some of which are easier than others. The first is the IKEA hack vanity. Using this IKEA cabinet, renter Erika hacked her way to a new vanity, à la this process. The whole vanity, including the sink and faucet, cost $270.74. The second is the pegboard paneling, which is from Home Depot and cost $102.54 from start to finish. The third is a wild card—rubber tile flooring from Home Depot. Usually used for garages, this tile is a simple, durable replacement for unsightly rental flooring. Lastly, a new light and mirror combo, made from an IKEA HEMMA Cord Set ($6) and a black spray painted round mirror from Target complete the look.
If a low-cost full bathroom renovation still isn't in the cards for you, don't give up on your personal space. There are several bathroom refreshers that won't break the bank, like these 8 Bathroom Bettering Ideas You Can Do.
Apartment Therapy supports our readers with carefully chosen product recommendations to improve life at home. You support us through our independently chosen links, many of which earn us a commission.