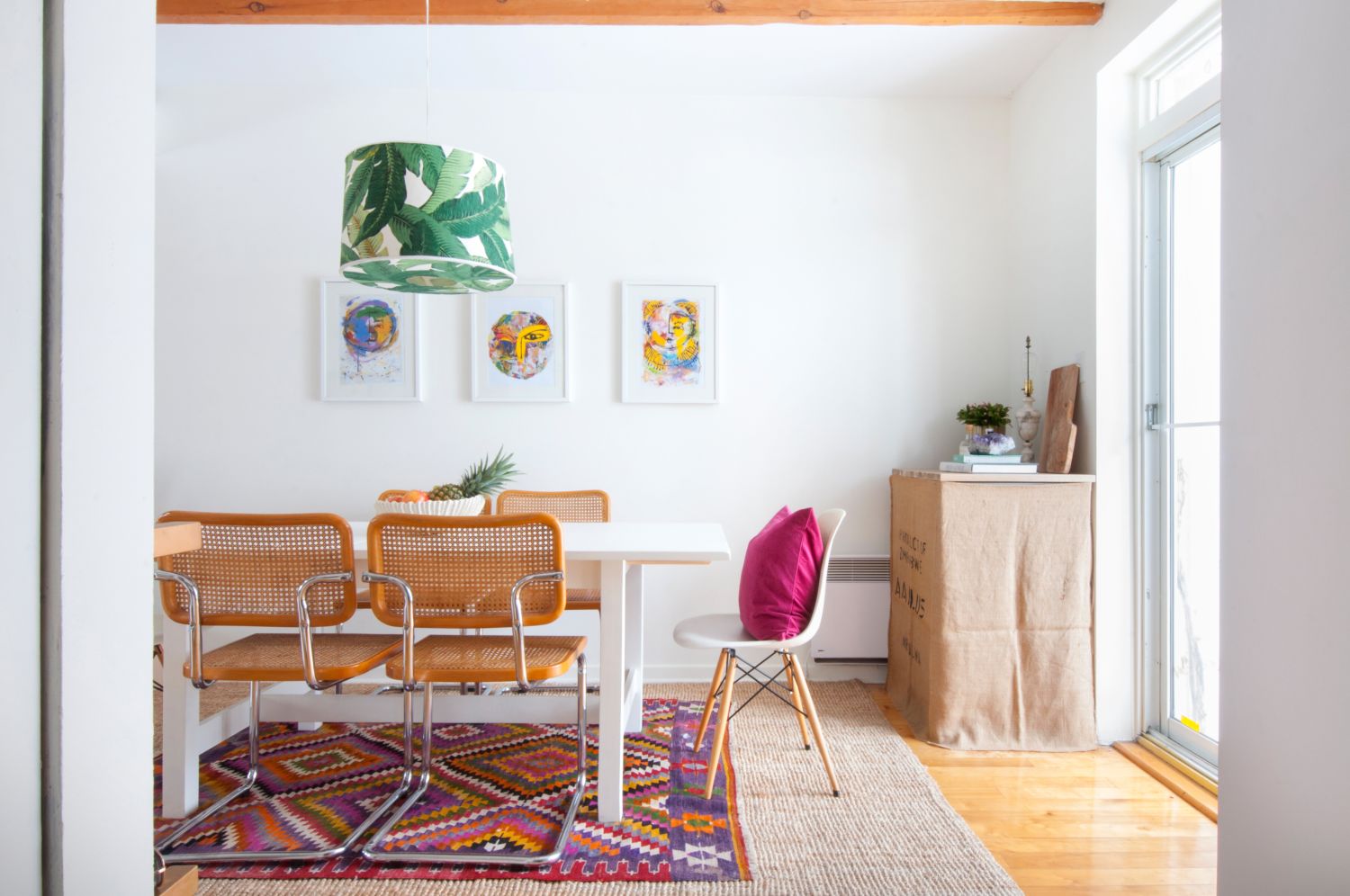 ICYMI: A perfectly manicured dining room is so, so yesterday.
We've all seen those uniform dining rooms in movies and catalogs. You know, with the long wooden table, matched chairs, and carefully curated China? They're stately, regal, and, if we're being totally honest, a little stale. You feel obligated to sit up straight, put your napkin on your lap, and use the correct fork for each course.
Alternatively, a more eclectic dining room immediately feels cozier. It's the kind of place where you can sit back, pop open a bottle of bubbly, and hang out long after dessert has been served. The easiest way to spruce up your dining room is by adding some mismatched chairs to the mix.
Here, nine ways to get the look:
1. Whimsical Wonderland
Between the tufted settee and ornate chairs, this Canadian dining room is the perfect backdrop for afternoon tea or brunch with the girls.
2. In the Clear
If your dining room is full of bold colors and zesty prints, add some lucite chairs to the mix. The ones in Hi Sugarplum's room strike a balance between subtle and statement.
3. Head Chairman
As Studio McGee proves, swapping out just one chair can make a big impact.
4. Tone on Tone
Witness Apartment offers a masterclass in mixing different styles. Stick with one color scheme and you're good to go!
5. Lounge Away
Pro-tip: Move some of your favorite living room chairs into the dining room. Let BHDM Design show you how it's done.
6. Diners in Arms
New to mixing and matching dining room chairs? Take a page out of A Beautiful Mess' book. The chairs at the head of the table look similar to the rest of the set, but are just different enough to add some nuance to the room.
7. Get Benched
Adding a bench—like Amber Interiors did in this light, airy space—will create the illusion of a cozy breakfast nook.
8. Rainbow Room
Why settle on one hue when you can use them all? Faye and Dave Campbell's Surrey dining room features just about every color of the rainbow.
9. Pattern Play
Pssst… you don't have to buy different chairs to get that mis-matched effect. In her Bridgehampton project, interior designer Sasha Bikoff used the same chairs, but different fabrics for the cushions.