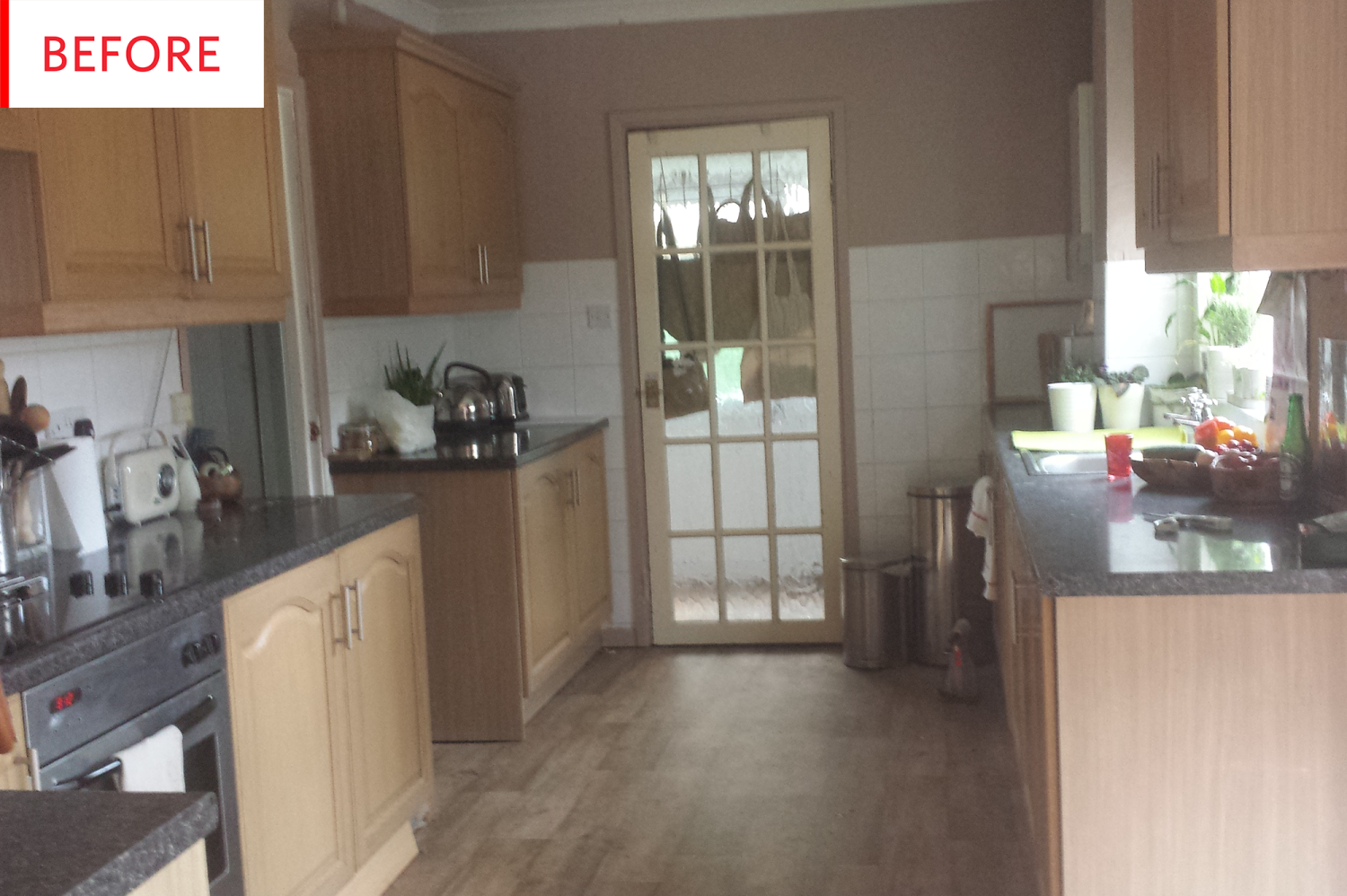 This dine-in kitchen is really nice—spacious, beautiful wood floors, lots of windows, tons of cabinet space—but its new owner considered it outdated, a sentiment you'll definitely understand once you see the wallpaper. With less than $400 and just a fortnight of work, they were able to totally freshen up the entire room.
Reader Jadwiga was good enough to submit their kitchen makeover; here's how they described the kitchen and the limitations on fixing it up:
It was an outdated kitchen in a British pre-fab house. I wanted to re-vamp it however had a very limited budget (as you usually do when buying a house)
The pretty wood floor no longer has to compete with the cabinetry for attention, the new coat of paint reduces the impact of the paneled cabinet doors, and the new high-contrast color scheme is much more vibrant. The black countertops have a dramatic presence and pop against the white.
Here we can see that an extra set of drawers cut off the eating area from the cooking area; and that the bar, while pretty cute, was not very accommodating. The wallpaper, and its motif of butterflies, blue roses, and the words "LOVE LAUGH LIVE" spelled out in folksy ransom note letters, is perhaps not everyone's style.
That little peninsula has been removed, totally opening up the entire space, and I have to assume the kitchen still has plenty of storage. The bookcase is a great addition, providing room for a cookbook collection as well as display space for favorite pieces—or simply storage. The new table not only accommodates more diners, it also lets Jadwiga decide whether to sit facing outdoors or in, instead of being stuck facing the wall.
This is what Jadwiga likes best about the kitchen now:
The clean fresh feel to it and how open it is now, creating a nice flow.
Here's what it took to transform this kitchen:
It took about two weeks as it was done in stages. It cost a fraction of what it would have cost if I had bought new cabinets. The most tricky part was to move a drawer cabinet into a line with others, getting rid of an L-shape. Also cutting/fitting the existing worktop without replacing it.
Coat of paint £20
New cabinet £50
Cabinet paint £60 (also painted round table and chair with it)
New doorknobs £20
Dutch door £4 (flea market)
New bookcase £35
Plaster boards £30
Plaster £15
Floor linoleum panels £20 (to cover floor where the drawer cabinet used to be)
Lamp shade £5 (sale)
Lamp cords £3
With a black-and-white palette, you can keep things so simple—and everything looks chic and coordinated, as seen here with the white tile, black grout, white paint, black knobs, and black-accented appliances.
After two weeks of hard work that majorly paid off, Jadwiga has this advice:
Just go for it. If you want to paint the cabinets please remember that you may need to use more coats than suggested on the tin. Also it takes a month to properly harden.
That's important to note: Cabinets somehow always take about three times longer to dry than the paint cans say. Walls dry at the predicted rate, but all bets are off with cupboards, so plan accordingly.
Thank you, Jadwiga!