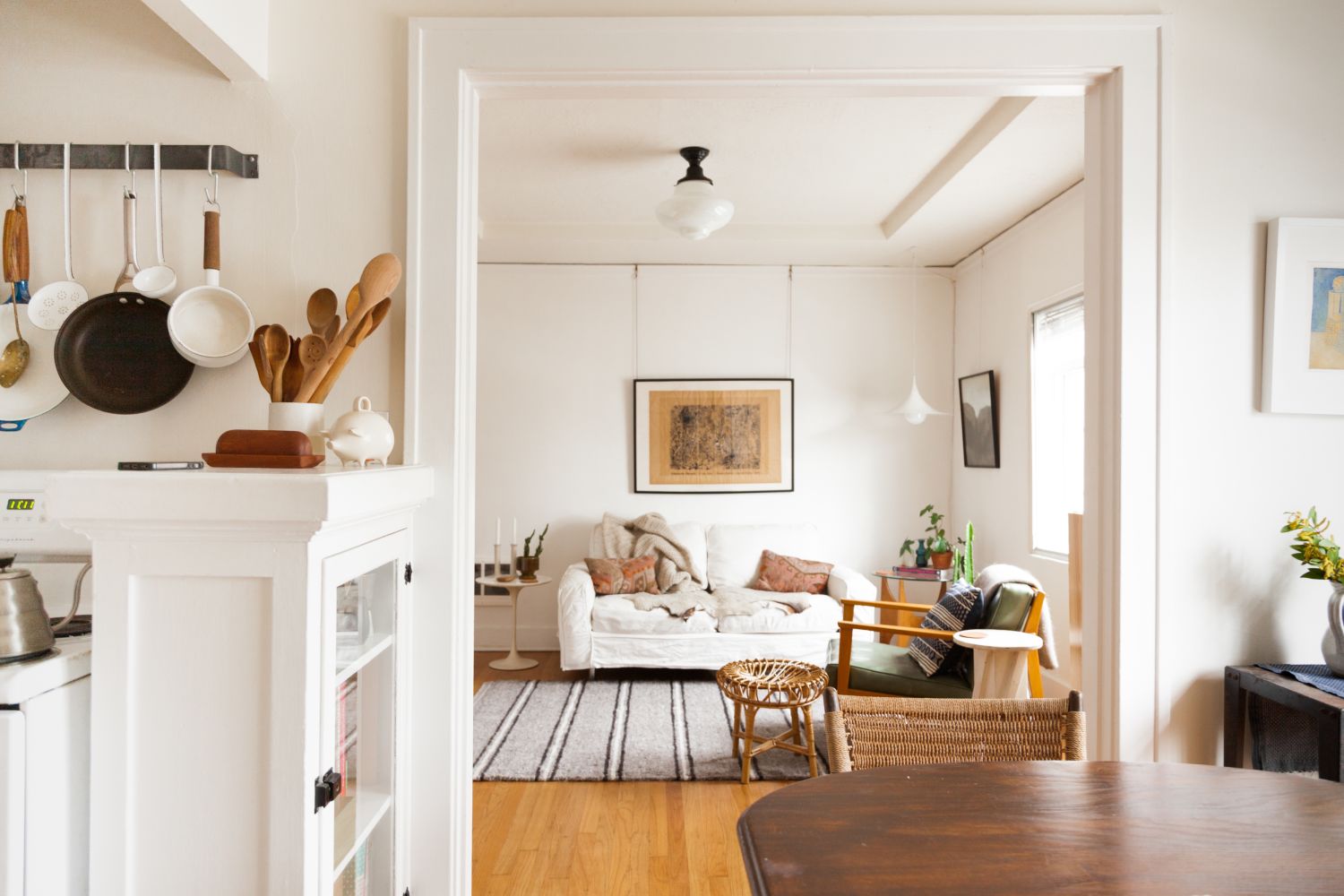 Neutrals sometimes get a bad reputation for being too safe or too blah. But in interiors, that lack of edge can actually be a good thing. First and foremost, you want your home to be your haven, a place where you can relax and retreat from all the stimuli of the world. There's no better way to create chill vibes than surrounding yourself with quiet neutrals. Moreover, when you choose a neutral for your walls or for your sofa, for example, you're giving yourself a blank slate to build upon with pops of pattern, bold color, and texture. And the beauty is, because neutrals go with everything, you can make changes frequently without having to replace all of your pieces. Intrigued by that versatility? Here's a little primer on neutral colors and how to use them successfully in your home.
1. What is a Neutral Color?
A neutral is a color without much intensity or saturation—a color that's lacking in color, if you will, which generally goes with everything. Think tans, beiges, ivories, creams, whites, blacks, and grays. These shades are visually quiet in interiors, almost receding into the background of rooms and spaces, even when used on walls or major pieces of furniture. For that reason, neutrals are a great backdrop for pops of bold colors and patterns, simply because they do not compete with them. Neutrals aren't on the color wheel, per se, but they certainly have undertones of colors from the color wheel, and you should take those tints and tones into account when choosing a neutral.
2. Is Green a Neutral Color?
Technically no, but there are lots of colors out there—sage green, chocolate brown, navy, blush—that display neutral-like characteristics when used in interiors. In general, nature-based colors and materials like wood, leather, and suede in their raw, undyed, and unstained states are neutrals. Because green hues often mirror the great outdoors, they tend to skew more neutral than reds, blues, and purples. But we're not talking lime or electric emerald here. It's the dark olives and sages that read as neutrals because they're calming, relaxing to the eye, and have borrowed their hues from forest foliage.
3. What Neutral Colors are Best For Living Rooms?
White has been one of the most popular living room colors as of late because it goes with all. the. things. Literally. You can take more risks with color in art, furniture, and accessories when your background is basically colorless. But not all whites are created equal. It's important to take your natural light situation into account when selecting the right white or neutral. If you get a lot of sunlight, you can go with a bright white that has cooler undertones. But if you don't have many windows and find yourself always relying on lamp light, choose something with a little more warmth—a taupe, cream or greige with a little more pigment and movement—so your space doesn't end up looking sterile or flat.
4. What Neutral Colors Make a Room Look Bigger?
Lighter, brighter neutrals are going to throw more light around a room, thus making it appear larger. Go with a dove gray or a soft beige. Now's the time to also try a color in its lightest, most neutral state: Blush pink, soft mint, lavender, or even a whisper light powder blue.
5. What Colors Go With Neutral Colors?
All colors go with neutrals, even other neutrals. That's the beauty of decorating with neutrals. They're a great starting point for any room because they can be updated often just by switching out accessories and textiles. Bright, bold colors will pop against neutrals, and you really can go with any palette, warm or cool.
6. What Decorating Styles Go With Neutral Colors?
Neutrals are classic and nondescript, so they are a great foundation for any decorating style.
7. How do you spice up neutrals and keep them from feeling too boring?
Add color and pattern, of course! Decorate with all neutrals if you like, too. A tone-on-tone neutral look can be quite sophisticated. Just be sure to vary the textures of your furnishings, adding in nubby knits, fuzzy rugs, something woven and even some hits of metallic. This will keep a room full of neutrals from feeling boring.
8. What tips do you have for using dark neutrals?
If you want your space to feel super cozy, use a dark neutral on your walls. The more natural light your room gets and/or the bigger a room is, the less cave-like it will feel when painted in a charcoal, black, midnight blue, or olive shade. Darker neutrals are great on larger pieces like carpets and sofas too, since they're grounding hues and generally good at camouflaging stains.
So what's your favorite neutral? How have you used neutral shades in your own space?
Apartment Therapy supports our readers with carefully chosen product recommendations to improve life at home. You support us through our independently chosen links, many of which earn us a commission.