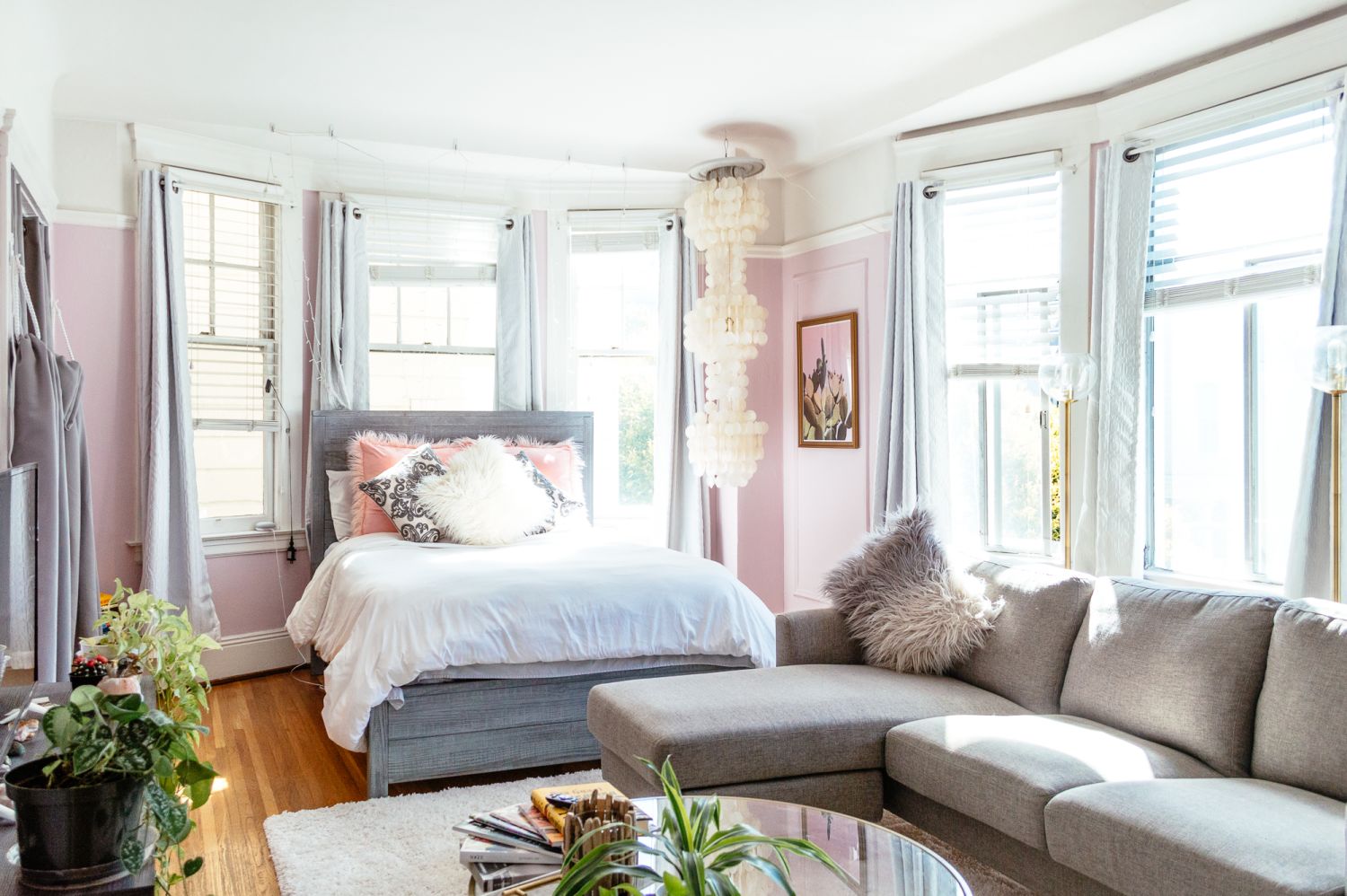 "Taking photos of the place before I moved in, thinking through the color constraints my landlord imposed for the walls, assessing the lighting situation, etc." is how Google Ventures investor and writer Terri Burns describes her design process for the small San Francisco apartment she rents, her first studio. And all of this before she even moved in. Also accomplished before move-in day? Terri purchased nearly all of her furniture… online!
"After spending seven years in dorm rooms and an unfurnished apartment, when it came time for my next move, I knew it was time to make my space a true home. After all, life was hectic: the news cycle, my work schedule, constant travel, and tone of life in the tech-heavy Bay Area made me want to create a space that I could really cozy up to, and of course, also post on Instagram every now and again," writes Terri. "But I wanted an efficient process; one that would relieve me of the grueling pressures of exploring furniture or decor piece after piece in person. So I took the plunge and bought nearly every major piece of my apartment furniture online, before I even moved in. In the end, I didn't end up returning a single item, and I'm obsessed with my cute little studio."
"Furnishing and decorating is hard, but in the age of Pinterest and Instagram, it's never been easier to find inspiration. I even got better at googling in the process (turns out that 'eight bottle countertop rustic wine rack' yields much better results than 'trendy small-ish wine rack which does not require drilling into a wall'), and found lots of awesome gems that I'm now so happy to call pieces of my home. If you're in the process of furnishing and decorating and are hoping to primarily purchase online, here are some "
Measure everything
My biggest hurdle in furnishing online wasn't finding items I loved; it was finding things I loved that were also the exact size I needed them to be. Before I moved in, I measured my closets, bathroom, kitchen, and main living space, and was also sure to measure all of the windows, the kitchen appliances, ceilings, and various nooks and crannies. Of all the work that went into furnishing my apartment, the most important was probably all of the basic geometry! Once I decided on a general layout, I stuck very strictly to all of the space parameters in order for everything to fit and flow together.
Stick to neutral colors for the big stuff
It's no coincidence that my bed, rug, and the couch are all either white or gray. When you're buying things online, it can be hard to tell the exact tone of the color, but luckily neutrals are pretty resistant to tone variance. For example, my couch, curtains, and bed are all different shades of gray, but it works.
Don't compromise… even when your eyes go blurry
The world of interior design and furniture purchasing is vast! There were so many times I was going to give up and just buy something that was a color I didn't really want, was not the right size, etc., because I was tired of spiraling through Pinterest holes and my blurry vision from staring at my screen for too many hours. Legitimate health concerns aside, I eventually found pieces that met all of my criteria, and I'm really happy. It might not be the first hit on Google, but that doesn't mean you won't necessarily find it. When it comes to furnishing online, it's not the time to compromise.
"I love my space, and purchasing everything online made move-in day a breeze (I shipped everything to the new location unpacked it all in a day)," describes Terri. "Don't be afraid to buy online. Worst case, you can just send it back, and best case, you end up with a beautiful, efficiently well-furnished apartment that you love."
---