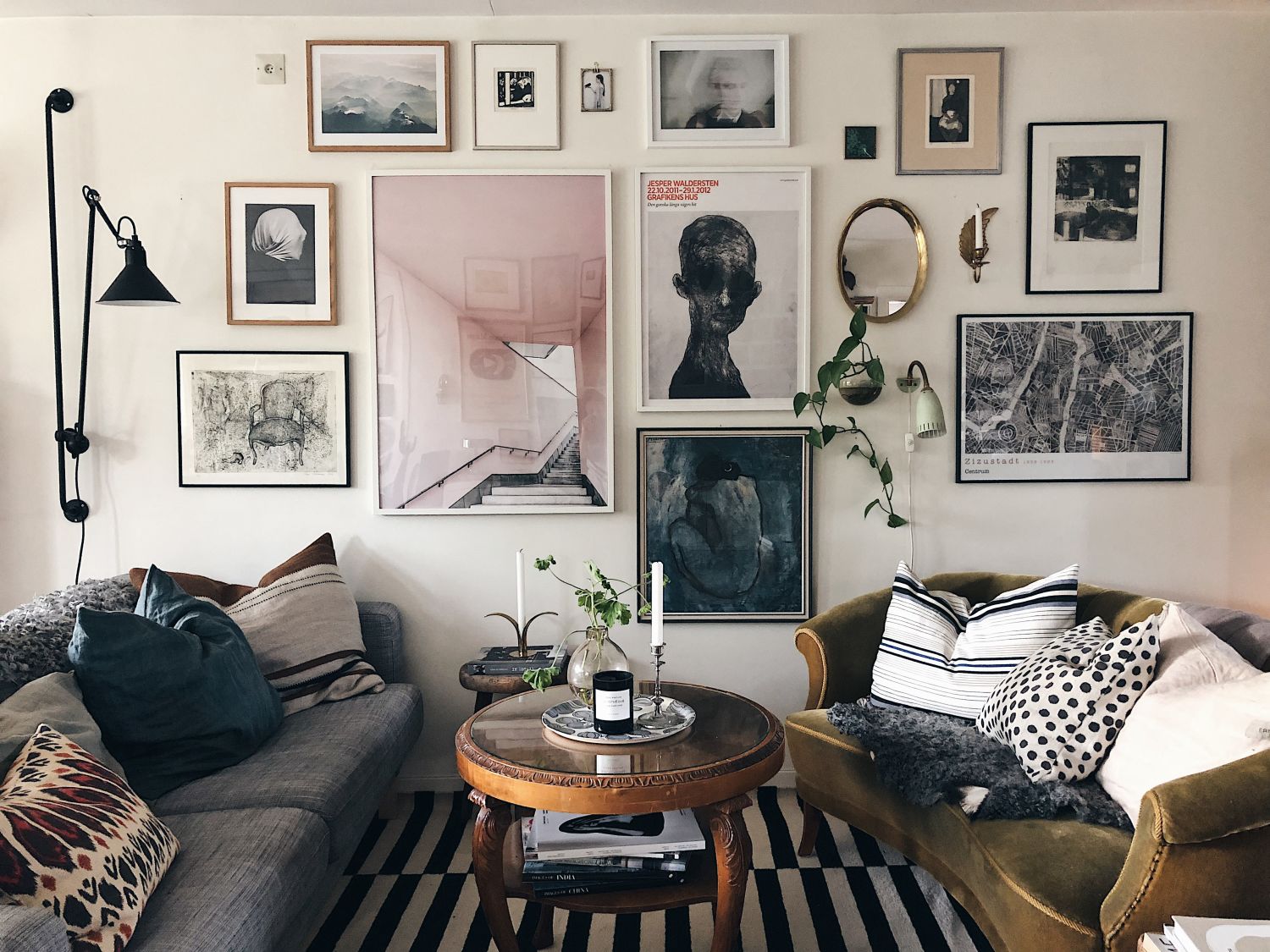 Name: Camilla Larsson and family
Location: Nyköping, Sweden
Size: 1,539 square feet
Years lived in: 7 years, owned
Welcome to Scandi Week—Apartment Therapy's seven-day focus on all-things Scandinavia (often defined as the countries of Sweden, Denmark, and Norway). Sometimes it seems like the whole world is obsessed with trying to copy this corner of the globe, from its timeless style aesthetic to its now-famous coziness rituals. For the next week, we'll take a look at all of it—cleaning, pop culture, and of course tons of eye popping design inspiration. Pull up a blanket and get hygge with us.
We started to look for a house when our now 7-year-old son was just born. We wanted an old house with character and atmosphere, preferably with wooden floors, high ceilings, big windows, and tiled stove. Unfortunately, those all ended up being very expensive, so we changed our focus and found this house—a design typical of a 1970s house. It's situated in a nice area with a lot of kids that our son can play with, nature and recreation areas close by, and it's close to the city center.
Though it didn't have the atmosphere and character we were looking for when we purchased it, it's been a house that's easy to renovate. We have changed the floor plan by both tearing down and building walls. We also changed all the floors from laminate to oak and put a stove in to make it warmer and cozy. It took a while until I could really feel at home here, but after the renovation and a lot of flea market and vintage bargain buys I started to feel that the house had the atmosphere I wanted.
Today I really enjoy being at home with lighted candles, listening to music and busying myself with changing up all the interior details. It's therapy for me when I need to relax.
Apartment Therapy Survey:
Our Style: My style is a mix between old, new, design, flea market, and vintage. The most likely description is probably eclectic. I prefer natural materials and soft colors. The best way to add personality and character in your home is to bring in some art. My walls are full of prints and paintings. It doesn't have to be expensive; many of my paintings are flea bargains.
I'm also addicted to lamps and lighting. To make a cozy home it's important to have light in the corners and at least five to seven lamps in every room. If I choose to invest money on interior details, it's mostly likely on beautiful lamps.
Inspiration: Instagram, Pinterest, restaurant interiors, and nature.
Favorite Element: It's an open area between kitchen, living room, and dining room. I spend the most time here. I like to sit in the armchair with a glass of wine watching my partner cooking dinner in the kitchen.
Biggest Challenge: To make an ordinary family house built in the '70s with no character and atmosphere have just that, character and atmosphere. To overcome that I fill the house with unique details from flea markets and vintage shops.
What Friends Say: That it's interesting, creative, and there are a lot of things to look at. Every time they visit something has changed.
Biggest Embarrassment: Yes, definitely our laundry room. It's the only room that hasn't been renovated since the house was built in '70s. It's also a room where we put a lot of crap, not just laundry.
Proudest DIY: I'm proud of my gallery wall. It has changed over time and it took a while until I was satisfied. It took me time and many holes in the wall until I could relax and be content with it.
Biggest Indulgence: In the winter time it's to sit in front of the stove looking at the fire and feel the comforting heat while reading a book. In the summertime it's to pick fresh tomatoes and herbs from our garden and eat breakfast in the sun on our patio.
Best Advice: Don't focus on trends when you furnish and decorate your home. And also think sustainable. Choose with your heart and forget wear and tear.
Resources:
LIVING ROOM
Gallery wall is mostly flea bargains:
The big pink poster with stairs called "Pink Stairs" — Anna Leena
The black lamp on the wall is a Lampe Gras 214 — Rum21
Gray sofa — IKEA
Table — Vintage
Big cupboard — Vintage
The horse print is — Artilleriet
The rattan armchair — Vintage from Danish designer Viggo Boesen
The white lamp on the cupboard is a Flos Gatto grande — Rum21
DINING ROOM
Table — Homemade
Chairs — Mostly flea market and vintage finds
Black bentwood chair is a TON No30 — Rum21
Big round mirror — Walls from House Doctor
Daybed is called SINNERLIG — IKEA
Roof lamp — Designtorget
Glass vase on the table is called Pallo — Skrufs
Black lamp on the wall is called Bazar — By Rydens
Print on the right side of black lamp — "Egg" from artist Michaela Grut
Glass vase — Pallo from Skrufs
Wood lamp on the right — Muuto
Mirror with frame — Oscar & Clothilde
Black candleholder with four candles is a Kubus from Danish design company — By Lassen
Big print is a photo of Cornelis Vreeswijk a former Dutch Swedish troubadour, poet, actor and composer.
Ceramic bowl — Made by me
Armchair — Vintage by former Swedish designer Karl Erik Ekselius
Pillow — Chhatwal & Jonsson
Mirror — Vintage
Cupboard — Flea market bargain
Glass lamp on the cupboard is called Cluster lamp — Dardarkum
Print with a woman's face — Artist Julia Modin
Photo print under the woman — Taken by photographer Gunta Podina
The Bombay print is made by David Ehrenstråhle — Artilleriet
KIDS ROOM
Cupboard — Flea market bargain
Stool is a TON No60 — Rum21
Armchair — Vintage
KITCHEN
Kitchen table and chairs — Flea market bargain
Painting with the bull — Flea market bargain
Mirror and most other things — Flea market bargain
BEDROOM
Wallpaper — Pimpernel by William Morris
Table lamp — Clas Ohlson
Bed linens — H&M
---
Apartment Therapy supports our readers with carefully chosen product recommendations to improve life at home. You support us through our independently chosen links, many of which earn us a commission.