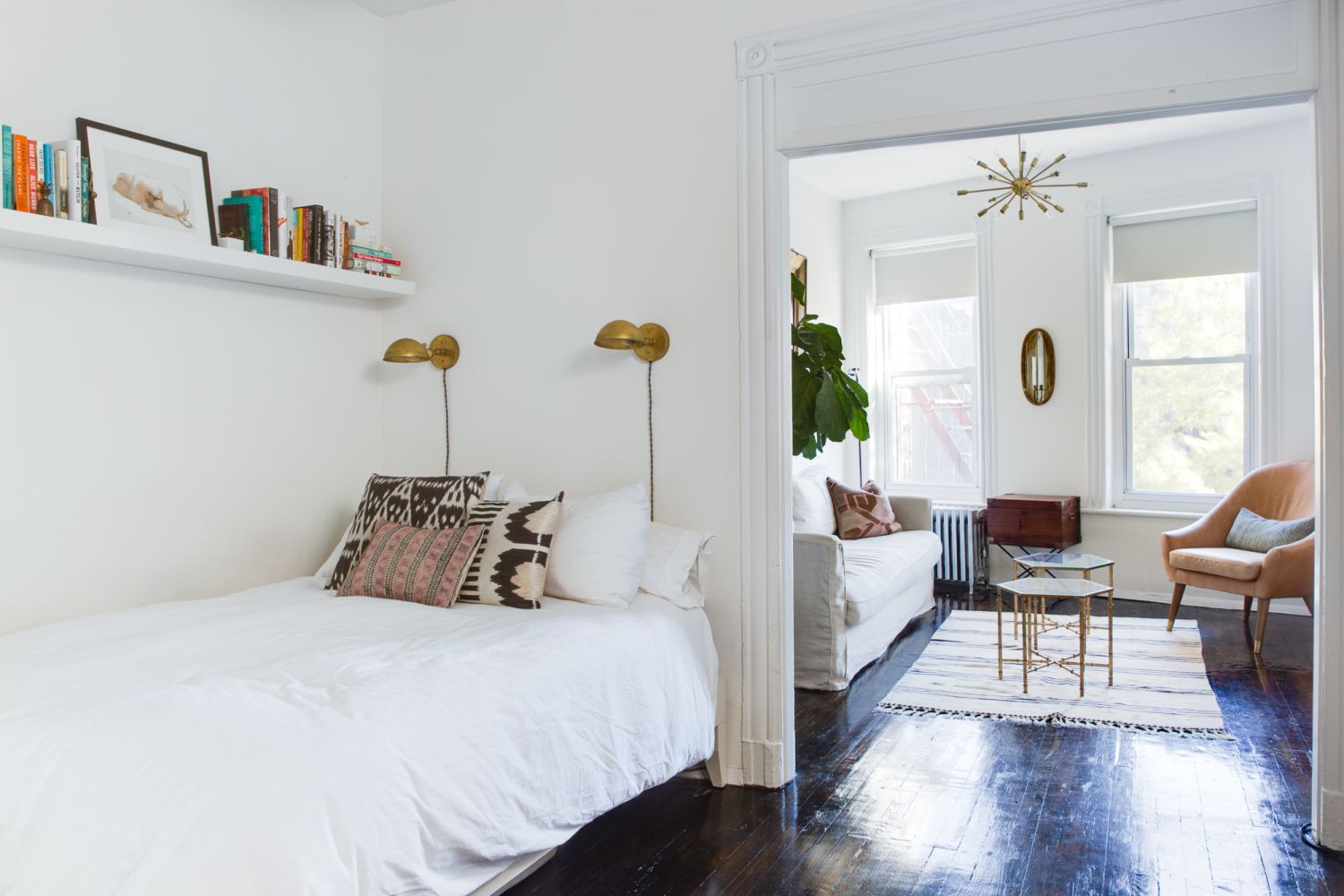 A good small space hack is a gift that keeps on giving. So to help make living in your tiny apartment go a little more smoothly, we rounded up the best small space hacks we could find, and broke them down by room for you. From bed risers to upside-down shelf brackets, read on for 18 ways to make the most of your home.
Bedroom
1. Floating Shelves
Affordable and easy to install, floating shelves are an effective way to score some vertical storage space in a cramped bedroom. Forgo a clunky headboard and employ some wall-mounted shelves above your bed for a streamlined shoe or book display.
2. Bed Risers
Working with little to no bedroom storage space? Do yourself a favor and pick up a set of bed risers for an inexpensive way to create some under-the-bed storage for your stuff.
3. Slatted Bed Bases
Believe it or not, a slatted mattress base can provide ample vertical storage opportunity in your bedroom or office nook. Just hang one on an empty wall, like we saw on The Cottage Market, to forge a space for storing magazines and other accessories.
Kitchen
1. Try a Shoe Organizer
Run out of kitchen counterspace? No problem. Hanging a plastic shoe organizer over your pantry can create loads of extra storage room for organizing spices and other kitchen miscellany.
2. Employ Some Shelf Risers
Searching for a cheap and easy way to double your kitchen cabinet storage? Shelf risers are surprisingly inexpensive and offer up tons of extra space for storing dishes, pots, and pans.
3. Buy a Rolling Cart
Not only are they affordable and stylish, compact rolling carts can carry everything from paper towels to canned goods, and fit just about anywhere in your kitchen.
Living Room
1. Make Your Furniture Multi-Task
Why buy a boring old ottoman when you can have one that doubles as a storage unit instead? Small-scale living room furnishings, such as ottomans or coffee tables with hidden storage compartments, are widely available and usually reasonably priced.
2. Wall-Mounted Storage
When all else fails, you can always count on wall-mounted storage units, like this clean-lined floating cabinet from Home Depot, to score more storage space in your living room without sacrificing an inch of style.
3. Picture Ledges
Dreaming of a gallery wall (or just some extra storage room) in your living room but fresh out of wall space? Picture ledges are great for showing off artwork and displaying your beloved knickknacks and baubles.
Bathroom
1. Magazine Holders
Looking for an affordable way to organize your small bathroom? Magazine holders can corral anything from toilet paper rolls to hairspray bottles, and will only set you back about five bucks.
2. Put Your Towel Rack Behind the Toilet
A tiny bathroom is no match for a well-placed towel rack. Hang one above your toilet, like Adrienne Hawthorne did in her petite Chicago bathroom, to free up extra wall space for vertical storage as well as easy hand-towel access.
3. Wall Outlet Shelves
Turns out you can improve your bathroom counter storage situation in seconds, with nothing but $10 and a screwdriver. Inexpensive outlet shelves can hold up to 10 pounds of small bathroom accessories—think: hairdryers, electric toothbrushes, and razors—and is simple as switching out your outlet cover.
Closet
1. Command Hooks:
If you're not already hip to Command Hooks, now's the time to smarten up. Cheap, durable, and removable, stick a couple of these self-adhesive hooks on the inside of your closet door to hang up hoodies or organize your purses and scarves.
2. Upside-Down Shelf Brackets
Who knew you could use good old-fashioned shelf brackets to forge more storage room for your closet? Simply turn them upside down and install them vertically to score extra space for hanging clothes, just like we saw on IKEA's site.
Entryway
1. Employ a Letter Organizer
Simple but efficient, this steel entryway organizer from Amazon offers six hooks for storing your daily miscellany and a generous storage basket for stashing mail you're not ready to deal with yet.
2. Go For a Garment Rack
Who needs a coat closet when you can use a garment rack instead? Along with providing plenty of room for hanging hats, jackets, and totes, a slender style should easily fit near your front door without looking bulky.
Apartment Therapy supports our readers with carefully chosen product recommendations to improve life at home. You support us through our independently chosen links, many of which earn us a commission.