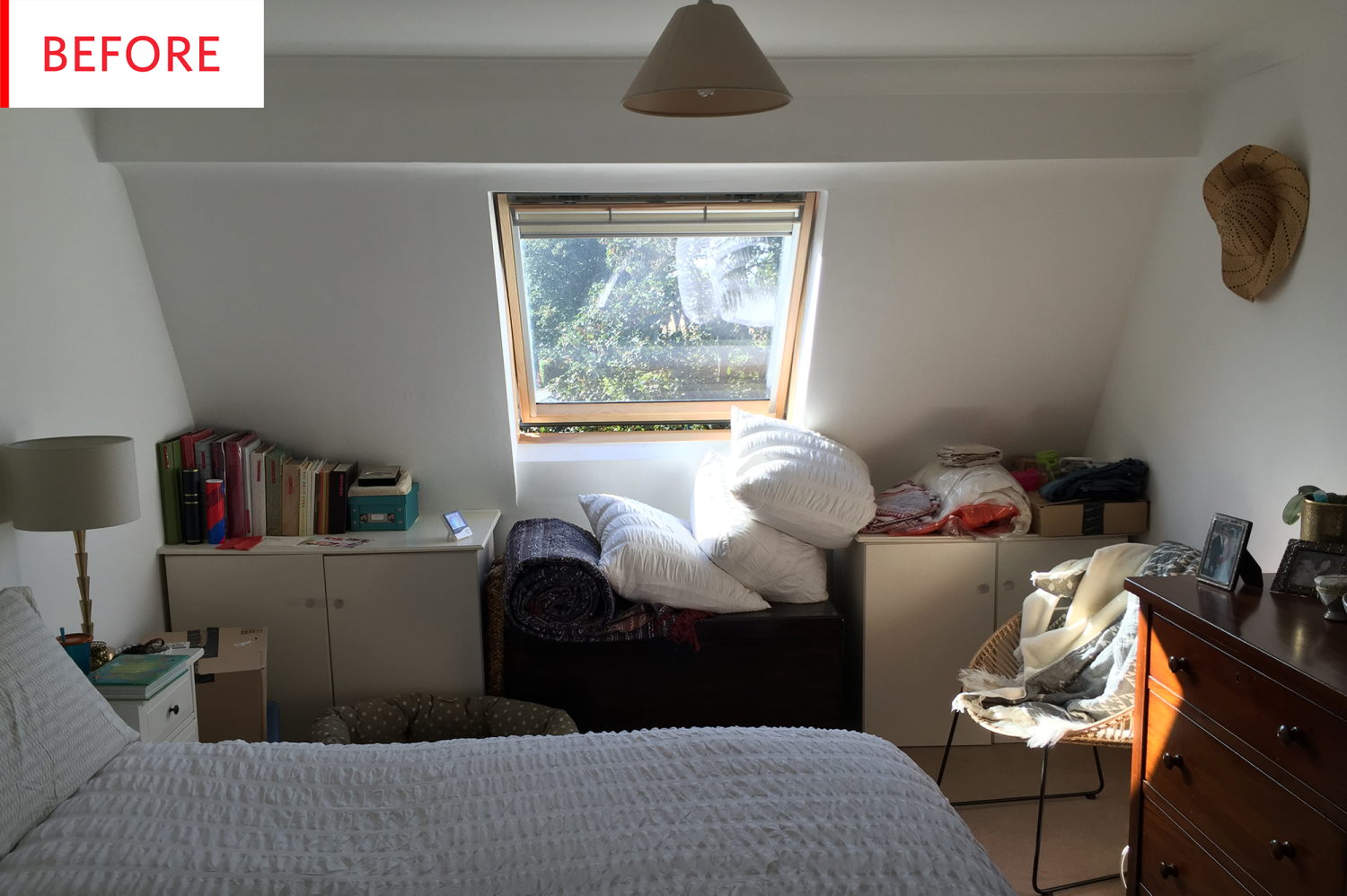 The window in this bedroom is absolutely dreamy, but the space below it was a bit of a waste—until inspiration struck, and one room became two.
Here's the scoop on the under-window situation:
Before we had two slightly tatty built-in cabinets either side of a Velux window. They didn't look great, and the space in the middle was wasted. It became a catch-all for junk. Because the home is rented, though, we couldn't make any permanent changes.
The bedroom is on the third floor and we wanted to make the most of the lovely view out of the window. We also needed an extra workspace, and this seemed like a perfect spot.
Clear up clutter and create a home office in one fell swoop? What could be better!
Lizzie Ravn of Emmerson & Fifteenth has created a true statement piece that's all about the beauty of natural wood, and the juxtaposition of the live-edge desk, the wood window frame, and the glimpse of trees outside is simply perfection. The workspace is so roomy, allowing for organization and flexibility, with space left over for bits of life and beauty.
And let's be real: Lizzie has transformed the entire room, adding classic furniture pieces and fun, fascinating accessories, all in a restrained palette of mostly white, black, and wood/wicker. The small amounts of metallics truly shine, standing out from the more neutral backdrop without looking flashy.
Lizzie was good enough to share all the nitty-gritty of what it took to make this project a reality—and a reminder that DIY undertakings are rarely straightforward:
The most difficult part was getting the materials. I wanted a solid wood slab for the desktop, to sit on top of the cabinets and span the width of the room. The room is 3.3 meters wide, though, and there are not a lot of places in the UK that stock wood that long as standard.
I did eventually find a timber mill a couple of hours away. To keep costs down, we compromised and had two planks cut from the same stock rather than one solid piece. One plank is straight, and we kept the waney (live) edge on the other. I don't think it detracts from the overall look to have a seam in the middle, and it meant that we saved literally hundreds of pounds. We had to wait almost a month once we'd ordered the wood, and delivery would have cost almost as much as the wood itself. Fortunately, my father has a van and offered to help get it home. Getting the wood up the stairs was another challenge! Once that was done, though, the rest of the DIY was super simple.
The cost of the wood, including having it planed and cut to size, was £330. Additional supplies—hardware and Danish oil—added another £30, bringing the total to £360.
eBay or even large DIY stores are good places to shop for live edge wood up to 3 meters long. If you want anything longer than that, look for a local timber mill. The desk is made of sycamore planks, which are a lovely light wood tone. Sycamore is more affordable than oak, but still very strong.
That comes to about $305 for a truly unique, gorgeous piece of wood that can be taken from home to home. Someday it could be used as a bar, a bookshelf, or freestanding desk.
That wood is so beautiful. It's one of the more understated live-edge pieces I've seen, which is perfect for a desk since it will be appreciated up close on a daily basis. Now that this project is complete, Lizzie has both a beautiful desk and the knowledge that a stunning piece can distract from any subpar pieces:
It's completely transformed the whole room! I work from home and I am thoroughly enjoying my new office—I spend hours up here now. We don't notice the cabinets anymore, just that lovely wood grain and the view!
Thank you, Lizzie Ravn of Emmerson & Fifteenth!