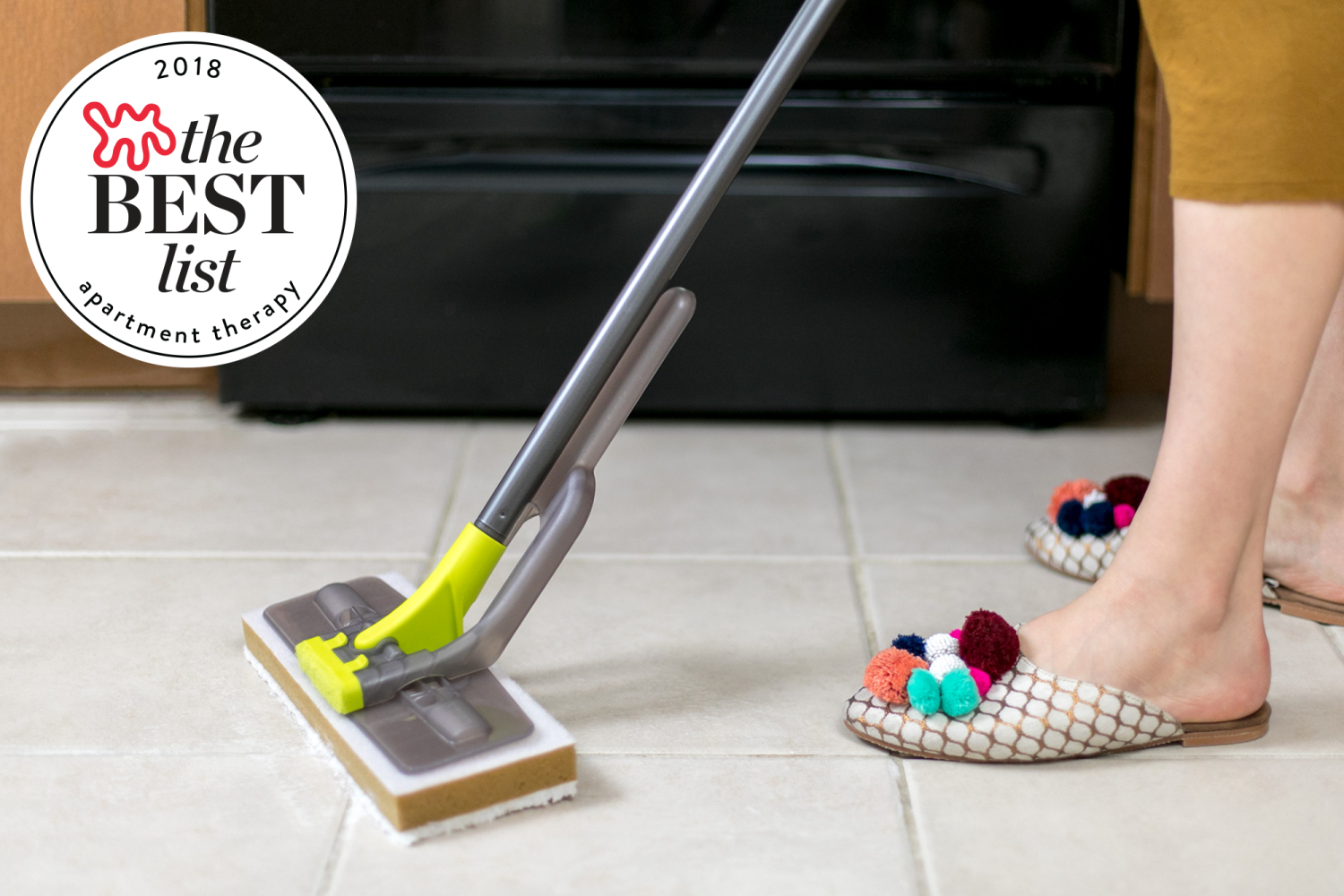 On the list of most tedious household chores, mopping ranks pretty high. You have to clear the area of any obstacles, sweep beforehand and get a proper amount of water and cleaner ready to roll. It's a necessary task, and in the grand scheme of things isn't a big deal, but it's not the most fun thing to do on a Saturday afternoon. Things have changed in the past few years though—no longer dependent on a bucket and string mop, we have a ton of different mop styles to choose from, each with their own list of pros and cons. To help you make a clean break from your old mop, we rounded up our list of favorites, from the classic spin mop to the newer robot mop.
---
How This Works
Every week we research new product categories and bring our final picks into the office, where we haggle and decide which ones make the final list. Everything is based on quality, appearance and price. These are what we could choose for our own home.
---
STEAM MOPS


Steam mops are a great alternative to your classic mop and bucket combo — they're more efficient, don't require the use of detergents or chemicals and get rid of bacteria (99.9 percent!). They're not ideal for heavy messes that require a lot of water and scrubbing, but for light cleaning they're a great option. This steam mop from Bissell has three steam settings depending on the cleanup, comes with two microfiber pads (both soft and scrubby), and has a flip-down scrubber to make those tougher stains easier to get out.
---
This versatile steam mop comes with a detachable handheld component that can be used to steam clothing and furniture, or clean windows and mirrors. Like other steam mops, it sanitizes as it cleans, and works on any sealed surface, plus has three steaming settings. I'm a huge fan of steam cleaning myself, and this mop is a great example of why—it's so easy and works on pretty much anything.
---
Similarly, this Shark steamer is super functional with an attached handheld component, plus comes with a few extra features that really make it stand out. Steam isn't known for its effectiveness at handling tough messes, so this mop has a Steam Blaster that directs the steam into a concentrated area for better cleaning. It also comes with a triangle scrubber head that'll make for easier corner cleaning (it's the little things).
---
SPIN MOPS


For a more traditional (and therefore less expensive) mop, consider this no-frills option found on Amazon. The O-Cedar EasyWring mop comes with a bucket with built-in wringer that's activated by a foot pedal for total ease of use. The mop head is made of microfiber, a material that's highly absorbent and ideal for deep cleaning (it's also quick-drying). If you prefer to use an old-fashioned mop and bucket, this one is a great update—no bending over or wet hands necessary.
---
The infomercial-famous mop touts itself as the "original spin mop driven by hand push"—it's actually a pretty simple, yet smart feature. Rather than controlling the wringer with a foot pedal, this one works by pushing a button on the mop itself. Doesn't make too much difference in terms of time, but it is a bit more intuitive and user-friendly. The detachable head is made of that super-absorbent microfiber and is machine-washable, which is a huge improvement on the typical single-use pads.
---
A more heavy duty option from Bissell, this mop has two spinning pads for a serious deep clean. The powerful spin action and spray feature take pretty much all the work out of cleaning your floors, and the slim design is great for small space storage. It's on the high end, but the increased power and quality make it better than just any old mop and ultimately worth the investment.
---
SPRAY MOPS


A good simple spray mop can do wonders for floors that need a quick and easy touchup. This O-Cedar one is $20 and comes with a large, dual-sided microfiber head that can be flipped to ensure you're getting the most out your cleaning pad (while saving time). You can use the pads both wet (for mopping) and dry (for dusting), and the spray bottle is easily removed for refilling. Nothing fancy, but it gets the job done.
---
The most well-known floor cleaning brand, Swiffer, has products that are tried and true. Unlike other spray mops, the WetJet has two ultra fine mist nozzles that coat the floor evenly, and are even illuminated so you can see exactly where the mist is going. It also comes with its own quick-drying cleaning solution, so you're getting a pretty good deal for the price. While it's made with hardwood floors in mind, the WetJet is safe to use on just about any sealed surface.
---
With its reusable microfiber pad (good for 100 washes!), this mop from Rubbermaid is less wasteful than other spray mops. Plus, you'll save money in the long run by not having to purchase new pads every few weeks. Aside from that, this model is super basic and isn't exactly pretty, but it's great for quick cleanups and is one of the more cost-effective options out there.
---
ROBOT MOPS


You already know about robot vacuums—but have you ever considered trying out a robot mop? For a truly hands-free mopping experience that requires very little work on your end, a robot mop is the way to go. The iRobot Braava Jet 240 is compact, quiet and, of course, smart. It can clean around obstacles, avoid stairs, and knows when to power down. If you're worried about it mopping areas that don't need it (like carpeted spaces), you can create an invisible boundary with Virtual Wall mode.
---
Another iRobot option, the Braava 380t is pricier, but is better for larger spaces. It can mop for up to 150 minutes on a single charge, expanding coverage to multiple rooms up to 1,000 square feet. It's also a pretty good sweeper—it won't vacuum, but it does effectively pick up dirt and dust so you don't have to sweep the area beforehand.
---
On the very high end is this vacuum-mop hybrid robot. This cleaner really does it all by synchronously mopping and vacuuming your area with a much stronger suction than a typical sweeping/mopping machine. It runs for 150 minutes on a full charge, and has seriously smart navigation capabilities—it'll map your house, plan routes and avoid obstacles, including stairs. Since it self-charges and can be controlled from an app, it's truly hassle-free—perfect for the super busy among us.
---
Tips for Choosing the Right Mop for You
Steam mops are eco-friendly and efficient. Because you don't need to use chemicals or cleaners with steam mops (the hot steam kills bacteria), they're very safe and simple to use (just be careful not to spray the steam on anyone). They're also fast—most steam mops take just 30 seconds to heat up.
Spray and spin mops are inexpensive and heavy duty. There's nothing wrong with the traditional spray and spin mops—they're the most budget-friendly mops out there and are pretty easy to use. They're also the best for tough messes, as you don't get the same scrubbing power from other mops.
Robot mops are self-sufficient and hands-free. If you feel like you have no time to mop (it can get pretty time-consuming) and don't mind spending the extra money, robot mops are ideal. They go on their own, typically charge themselves, and can be controlled from an app.
---
More Inspiration:
---
Other Good Resources:
---
Apartment Therapy supports our readers with carefully chosen product recommendations to improve life at home. You support us through our independently chosen links, many of which earn us a commission.