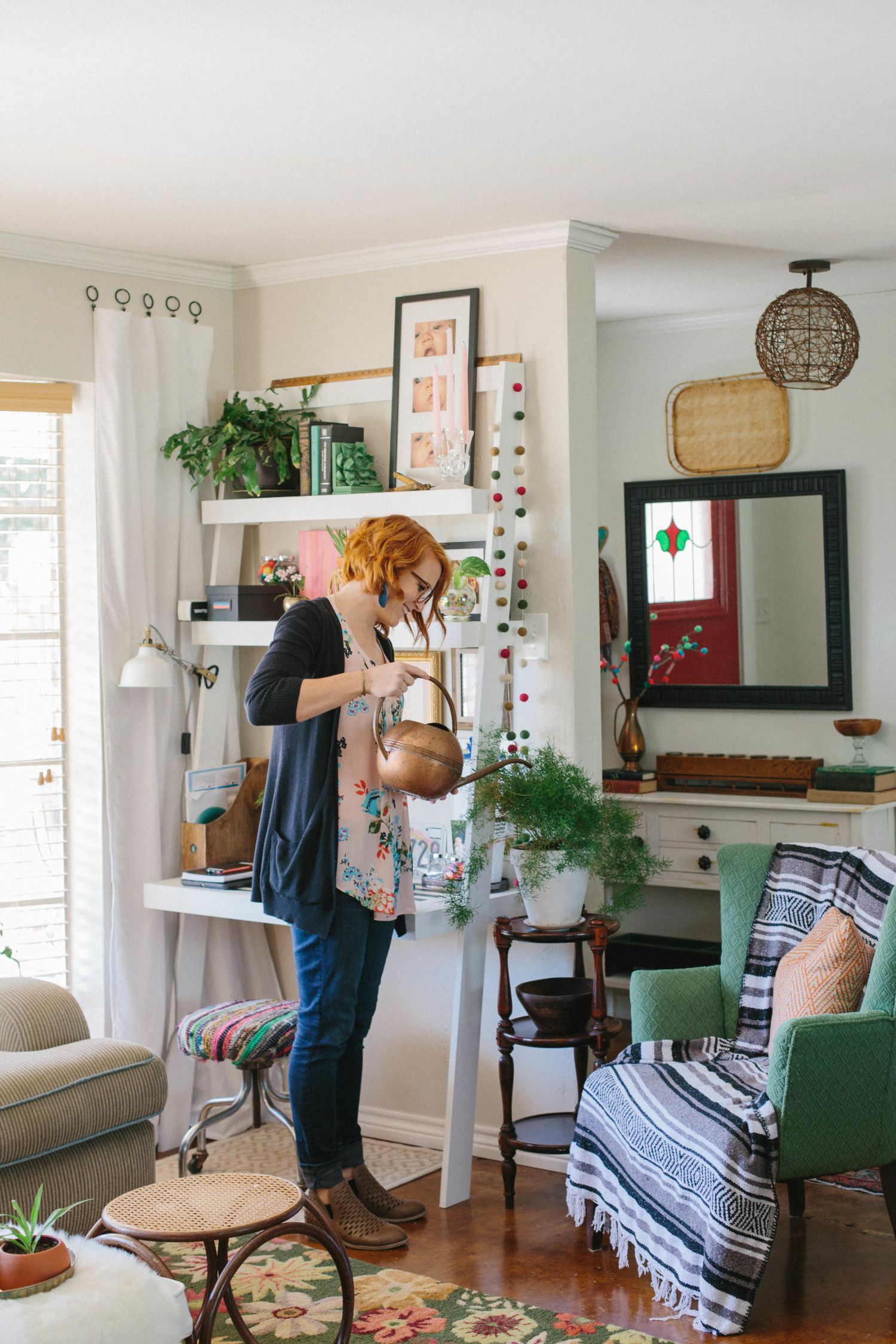 Nothing says you can't start preparing for fall, even if it's still pushing 80 degrees. Between faint breezes that rustle heat-drenched leaves and the snarl-toothed ghouls sneering at us from Costco aisles, it's clear that the change of seasons is, in fact, upon us. Even if you refuse to pumpkin-spice anything until the calendar page flips to October, it's not too early to get a jump start on preparing for fall.
Apartment Therapy Weekend Projects is a guided program designed to help you get the happy, healthy home you've always wanted, one weekend at a time. Sign up now for email updates so you never miss a lesson.
This Weekend's Assignment:
Do one thing to prepare for fall.
As the harbinger of the busiest season of the year, fall is, in many ways, the calm before the storm. This weekend, we're going to take on one or a few of the following small projects (or one you come up with!) to deliberately and consciously transition to the temperate season so many of us love the most.
Clean out your gutters
Make sure your gutters aren't already choked with leaves before this season's begin to fall.
Inspect weather stripping
Be sure your doors and windows are properly sealed before the cool weather strikes. Make repairs as necessary.
Bring out your blankets
Dig your seasonal throws out of storage and freshen them up as necessary. Take the opportunity to keep only your favorites and donate the rest.
Read more: How to Clean a Quilt & How to Wash a Down Comforter
Decorate
It's time to set up your own red-eyed grinning skeletons and spider webs, if you're into that sort of thing. Pull out the fall wreath, hang the pine cone garland, and set out those pumpkin and apple cider candles.
Read more: Your Halloween Mantel 3 Ways: Modern, Glam Goth & Classic
Stock up on seasonal food
Pumpkin everything is out in full force and if that's your jam, you probably don't need to be told to grab it while you can. But take a few moments and think of the other foods that make fall "fall" for you and jot them down in your shopping list. For me, it's treats like vanilla chamomile tea, pumpkin Kringle, and fresh apple cider.
Take care of indoor and outdoor plants
For most indoor plants, spring and summer's heightened growth is slowing. Adjust your plants' fertilizer and water requirements as necessary. Think about which plants may need extra humidity when the heat comes on, and make sure you have a mister or humidifier for them.
Schedule a chimney inspection
If your home as a traditional, wood-burning fire place, make sure it's safe and in working order before your first fire.
Make a fall bucket list
Sit down with your household and make a list together of things you want to eat, see, and do between now and Thanksgiving. This will help keep you thoughtful in your use of time and make sure that everyone gets to do their favorite fall activity, whether it's carving pumpkins or getting lost in the corn maze.
Switch out clothes and/or take inventory
Depending on where you live, this weekend might be a good time to put away your summer clothes and take your winter gear out of storage. As you're doing this, purge what you can and take note of clothing and accessories you need to purchase.
You can catch up with weekend projects right here. Share your progress with us and others by posting updates and photos on Instagram and Twitter with the hashtag #atweekendproject.
Remember: This is about improvement, not perfection. Each week you can either choose to work on the assignment we've sent you, or tackle another project you've been meaning to get to. It's also completely okay to skip a weekend if you're busy or not feeling the assignment
Apartment Therapy supports our readers with carefully chosen product recommendations to improve life at home. You support us through our independently chosen links, many of which earn us a commission.