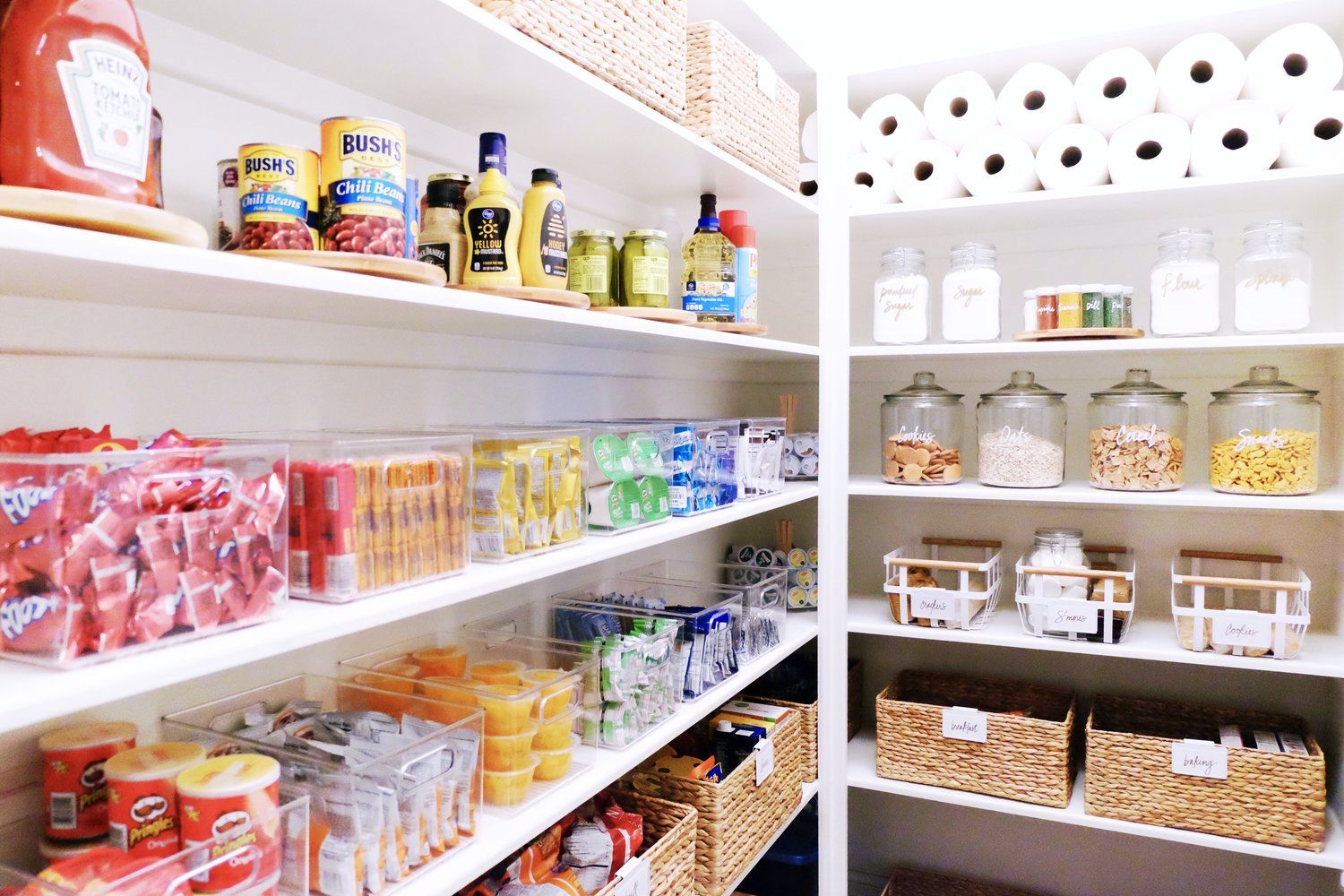 Here at Apartment Therapy, September is meant for decluttering and getting organized—so what better time to check in with some organization experts? You may already be fans of The Home Edit founders Clea Shearer and Joanna Teplin from their excellent Instagram account where they share both professional and personal antics, but they've recently taken their gorgeous organizational aesthetic (and their fun friendship) a step further.
The Home Edit has teamed up with Reese Witherspoon's Hello Sunshine to bring you Master the Mess, a 12-part series currently airing on DIRECTV, DIRECT NOW, and U-Verse, that follows Clea and Joanna as they transform rooms for clients and tackle organizational projects big and small.
Although extremely busy these days, the ladies of The Home Edit took some time to answer our questions about their new show (plus share some clips!), give us some tips to get organized, and talk about everybody's favorite Canadian TV show: Schitt's Creek.
Apartment Therapy: Congratulations on Master the Mess! Were you excited to finally see your show out there, or was it nerve-wracking? How'd you celebrate?
The Home Edit: Thank you very much! We've never felt more excited and undeserving. To be honest, it's been quite the experience seeing ourselves on TV for the first time. Getting through each episode takes an ever-flowing stream of champagne (or water for Joanna) and the freedom to yell at the screen the entire time. Now that we've made it into a drinking game, we're definitely enjoying it!
AT: Was having your work featured on a television show something you always thought about? Your Instagram stories are so entertaining—did the idea stem from there?
THE: We started The Home Edit together three years ago as a way to transform the way people think about organization. Although our Instagram feed is a collection of aesthetically-pleasing and functional spaces, we weren't satisfied by just that. We both felt it was important to show the more real side of our hot mess lives and that if we can do it, so can you. Who knew that the Instagram Stories and our "messier side" would help lead to a television show?! I guess someone found our #LowBarLifestyle acceptable, and now here we are!
AT:Partnering with Reese Witherspoon's Hello Sunshine seems like the perfect fit. How did that relationship come about?
THE: Reese actually found us on Instagram… which will never, EVER seem real!! Then, she had her company, Hello Sunshine, reach out to us to discuss ways we might want to collaborate. At the exact same time we were shopping a TV sizzle around. And, the stars just aligned, allowing us to have our show find it's perfect home with Hello Sunshine.
AT: Can you walk us through your process? What's step one when tackling a new project or client?
THE: No matter what the project is, the first step is to evaluate the space and eliminate the things you don't need. It's a lot easier to see the full scale of what we're working with by removing every item and grouping them into categories on the floor or table in front of us. With a pared-down supply, we can then decide on a functional container system that fits your space and lifestyle.
AT: Did you have to change your process for your clients featured on the show at all? Did you need to approach things differently, were timelines sped up, etc.?
THE: We didn't change our process but we definitely had to get used to cameras following us and work very quickly. I guess you could say it puts a lot more pressure on the final result of the project, especially since we're filming the reactions of the clients.
AT: Tell us about your dynamic as partners. Do you each have specific and separate responsibilities on each project, or is it a complete collaboration?
THE: It's an actual miracle that two people who are this neurotic could make such a great team. In general, I bring more of the form or aesthetic to a project, while Joanna brings the function. It's definitely a collaboration. Also, as Sumner so eloquently put it, I'm the H.B.I.C (Head Bitch In Charge). I plan on making a t-shirt with that acronym, and it will be my new uniform. However, we each keep each other in line. Whenever I get distracted, Joanna yells at me. If Joanna starts getting frustrated, I yell at her. You know, just your typical business partners!
AT: What's been your most challenging project on the show or otherwise? Why? Do you have a project you're particularly proud of?
THE: All projects are challenging in their own unique way. However, we're particularly proud of the projects where we know the newly organized space will transform their day-to-day routine. As far as our MOST challenging project… probably one in which the client didn't want to purge a single item and their space was completely maxed out. We were literally crawling on the floor AND climbing a ladder looking for (literally) any inch of open space that we could repurpose.
AT: I'm about to move into a brand new apartment and I want to start off on the right organizational foot. What are some tips you have for someone moving into a new place who wants to get organized from the beginning?
THE: If you want to start off on the right foot, purge before you pack. Because let's be honest, who wants to move extra boxes when you don't have to? Also, before unpacking anything in your new apartment, map out a plan for each room. Consider what will go inside each closet, cabinet, and drawer, and place a sticky note to mark the location. Prepping your space in advance makes the process less overwhelming and more efficient.
AT: Like you guys, I'm a huge fan of Schitt's Creek, so I have to know: Which Schitt's Creek character would you most like to help organize his or her living space? I mean, you must want to get your hands on Moira's wigs.
THE: Moira, obviously. But we can't help but think that David may be need of a functional system to suit his AM/PM skincare regimen from a motel bathroom. Also, his primarily black and white wardrobe is very on-brand for us.