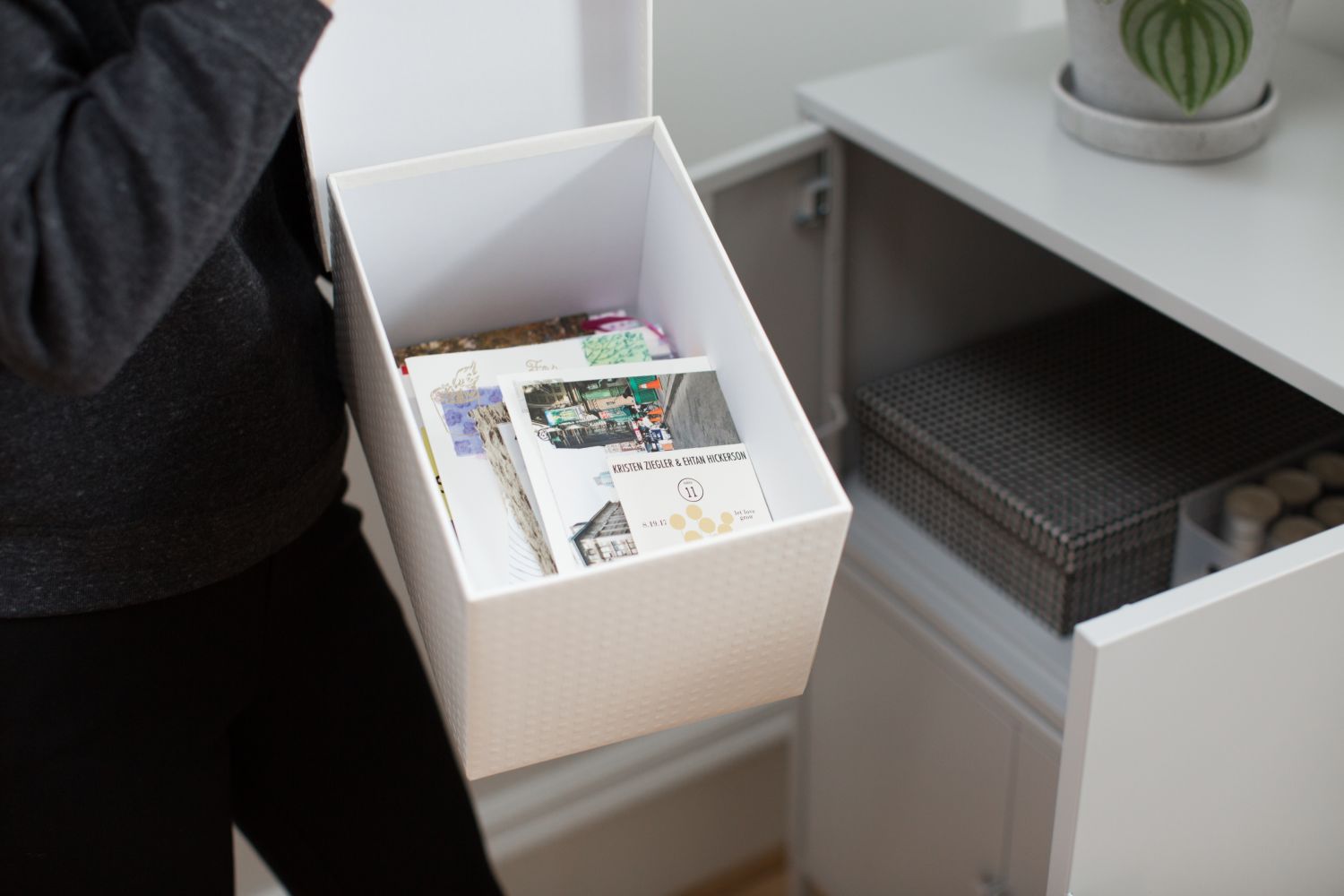 This is it! The final day of the September Sweep decluttering program. I hope that you're feeling great about your space, and that each day's assignment got you just a teeny bit closer to the organized and in-control home you've always wanted.
The very last step of the sweep is where we take those boxes we've been sorting into since day one and finally get all of our discarded items out of the house for good.
Today's Assignment:
It's "deal with it" day. Collect your "wanderers," "sell," and "donate" boxes and deal with the stuff inside.
There is lots to do from here. You can and should take the weekend to handle it all. Make it so that the last thing you have to do on Monday is drop off the donation, mail the package, or post the listings.
First the wanderers:
The wanderers box we set up on day one was our temporary home for things that didn't exactly have one. Item by item, pick up the things in your wanderers box and decide what you want to do with them. There are a few options:
I don't want this anymore: Easy! Toss it out to the trash or recycling, or set it into your "sell" or "donate" boxes.
I still want this: Find a home for it. Easier said than done, I know. But answering these questions might help: Where will I be when I use this? Where will I look for this the next time I need it? How often will I use this?
I'm… I'm not sure: This one is the toughest spot to be in, to be sure. But you've been such an ace all month at deciding what to keep and what to toss, that you should proceed through your wanderers with clarity. Use the five questions if you need to. But ultimately, remember this: Did you miss it all month long? No? Feel good about saying goodbye.
The things you want to donate:
Your donation pile is likely a mixed bag of goodies. If you're craving some instant gratification for getting these things out of the house, take the whole box to a place like Goodwill and let them sort it out.
If you have the energy to do a little sorting yourself, however, there are plenty of specialized charities that will take certain items off your hands and give them deserving new homes. Just check out 10 Charities That Will Give Your Old Things New Life.
The things you want to sell:
For all of the things that you know have some value and it's worth your time to sell them, you have a few options.
If there's not much in the box, or if a few things stand out to you, you can post individual listings on local sites like Craigslist, Apartment Therapy Marketplace, LetGo, or OfferUp to connect with individual buyers directly.
Local consignment and thrift stores are great for when you have a lot of one type of thing to sell. If you have a box of clothes in good shape, for instance, you can search online for a local consignment clothing boutique that might buy much of it off your hands, or sell it on your behalf.
Another great option, if you have a lot of clothes to sell, is ThredUp. You mail them a big bag of clothes (ThredUp's "Clean Out Bag") and they'll sort and process what's inside and provide you with cash or credit for items they want to accept. They say they accept 40 percent of items in the average Clean Out Bag, and reuse or recycle the rest.
That's it for the September Sweep this year! Thanks so much for joining us! Please leave a comment (or use the #septembersweep hashtag) to tell me what you loved, or what you wish we had focused on more. I hope to see you again next year!