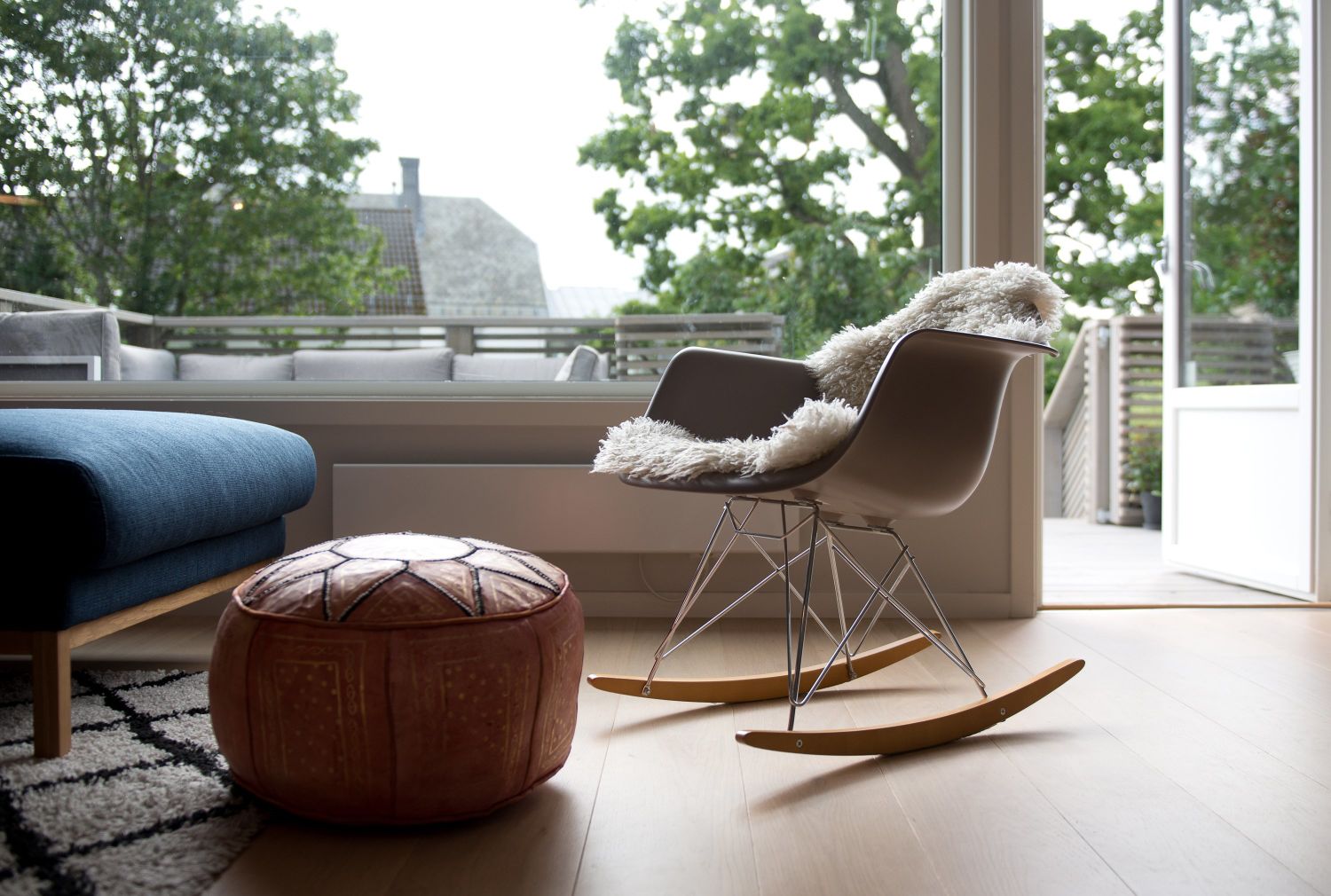 Welcome to Scandi Week—Apartment Therapy's seven-day focus on all-things Scandinavia (often defined as the countries of Sweden, Denmark, and Norway). Sometimes it seems like the whole world is obsessed with trying to copy this corner of the globe, from its timeless style aesthetic to its now-famous coziness rituals. For the next week, we'll take a look at all of it—cleaning, pop culture, and of course tons of eye-popping design inspiration. Pull up a blanket and get hygge with us.
When it comes to design, the Scandinavians are certainly onto something. I mean, haven't we all been enthralled with IKEA, light woods, and white walls for like the past decade? But there's more than meets the eye when it comes to Scandi interiors. Overall, the aesthetic can seem a little spartan, but the design choices made are deliberate, and function is often just as important as good looks—and who can really argue with that? It's no wonder the world went hygge-crazy last year. Everybody wants their place to be comfy and homey, right? Well, Scandinavian design principles will get you there and then some. So in honor of AT's Scandi Week, we polled a bunch of designers well-versed in the style for their thoughts on the 10 commandments of Scandinavian Design. Here goes nothing!
1. All White Everything
Well, not quite, but an authentic Scandi palette would have no more than four key shades and rely heavily on whites and lighter hues because, well, it's dark over in that region for a much of the year! Plus, white and lighter colors reflect the natural light better. "Neutral colors dominate the color palette—calm muted tones of white, gray, pale green and pink," says Lotta Lundaas, founder of Norse Interiors, which creates pieces for upgrading and personalizing IKEA furniture. "These colors blend well with natural wood, which, in addition to minimalism, I see as a trademark for Scandinavian design."
2. Form Follows (Multi-) Function
In Scandinavian design, less is truly more, and every item really must earn its keep. "Because housing was generally expensive and smaller in Scandinavian countries, creating furnishings that were multifunctional was also a goal," says Beverly Solomon, creative director of Beverly Solomon Design. So in Scandi style, you might find, for example, a coffee table that acts as a storage chest. Or a bench with a built-in shelf. Point is, double-duty furniture and accessories aren't just smart in Scandi design—they're a necessity.
3. Nature is a Big Design Influence
"The Scandinavian love of nature is well-known and a huge part of life is dedicated to the great outdoors," says Nicola Croughan, an interior designer with Blinds Direct UK. "This is reflected in the home through plenty of untreated wood and natural stone." All the plain blonde wood isn't just a matter of taste—it's a deliberate statement of respect and an appreciation for nature's beauty. "Wood is treated with great care and never camouflaged with stains or paint," says Croughan. "The natural wood grain should always be seen." So shop for those simple but beautiful bare woods to nail this style.
4. Clean Lines and Simple Profiles Give Scandinavian Style its Breadth
Think of Scandi style as sort of an addition through subtraction. Rooms really derive their decorative punch through a "less is more" philosophy. Furniture is beautiful but not ornate. "Wood arms and legs typically have a handcrafted nature to them with radiused corners and flowing edges," says Kayla Hein, creative director of Modern Castle, a home products review site. "Despite their soft hand, the profiles were famous for sharp angles and tapered arms and legs." This is where classic Scandinavian design really comes in—think of a Hans Wegner wishbone chair, for example—and the style really became a predecessor to mid-century modern.
5. Cozy is a Way of Life
You're probably sick of the Danish word and phenomenon, "hygge," by now. But Scandinavians take comfort and coziness seriously, and that's certainly reflected in the way they decorate and what types of materials they use. Think fuzzy sheepskins, smooth leathers, woven rope, chunky cable knits, and lots of homespun ceramics for, you know, warm beverages like tea and coffee. It's all about using texture to create warmth, says designer Christa O'Leary of Home in Harmony. The simple organic furniture that's characteristic of the Scandi style is a nice backdrop for all this coziness.
6. Minimalism > Maximalism
"Classic Scandinavian looks were sometimes confused for simple minimalism," says Hein. "Marked by its simplicity, lack of visual clutter, and purposeful placement of featured items, Scandinavian design relies on a few perfect pieces to tie a complete design together." So, quality is always better than quantity when it comes to Scandi design. At its best, the Scandi style focus is on solid woods, handmade ceramics, and wool floor coverings.
7. Eco-Materials and Efficiency are Important
"Eco-friendliness is a big focus in the typical Scandinavian home," says Croughan. "Houses are designed carefully and built efficiently, utilizing ecological techniques and materials." Inside the home is no different. "Scandinavian interior design focuses on sustainability, minimalism, and environmental influences," she says.
8. Lighting is Key
There's some crazy stat that says Danes burn more candles than anyone else in Europe. But when it's dark for so much of the year, a candle's warm glow can really make a difference. And layered artificial lighting can supplement as well. A cool pendant overhead, task lighting, table and floor lamps—these are all essential in Scandi interiors for that extra bit of warmth and visibility.
9. Put a Graphic Pattern on it
Scandinavians love pattern play—the bolder, the better. Remember: This region has given us the likes of Marimekko and Josef Frank (Swedish by way of Austria). Lundaas says Scandinavians are known to incorporate patterns and designs into wooden floors, paneling and draping fabrics. Florals and geometrics are common. While a lot of the larger Scandi upholstered furniture pieces are streamlined and simple, they're definitely down for a pop of print on a pillow or two.
10. Plants, Plants Everywhere, Please!
Embrace your crazy plant lady or fella for a certified Scandi vibe in your space. "To connect the outdoor and indoor environments, live plants are often incorporated indoors," says Amy Bell, owner of Red Chair Home Interiors. Bell also says window treatments tend to be minimal in Scandinavian design, so greenery is put on display—and all available natural light can shine in.
Now go get your Scandi on! There's a reason this region is known for its widespread happiness. It just might have something to do with their carefully designed homes!