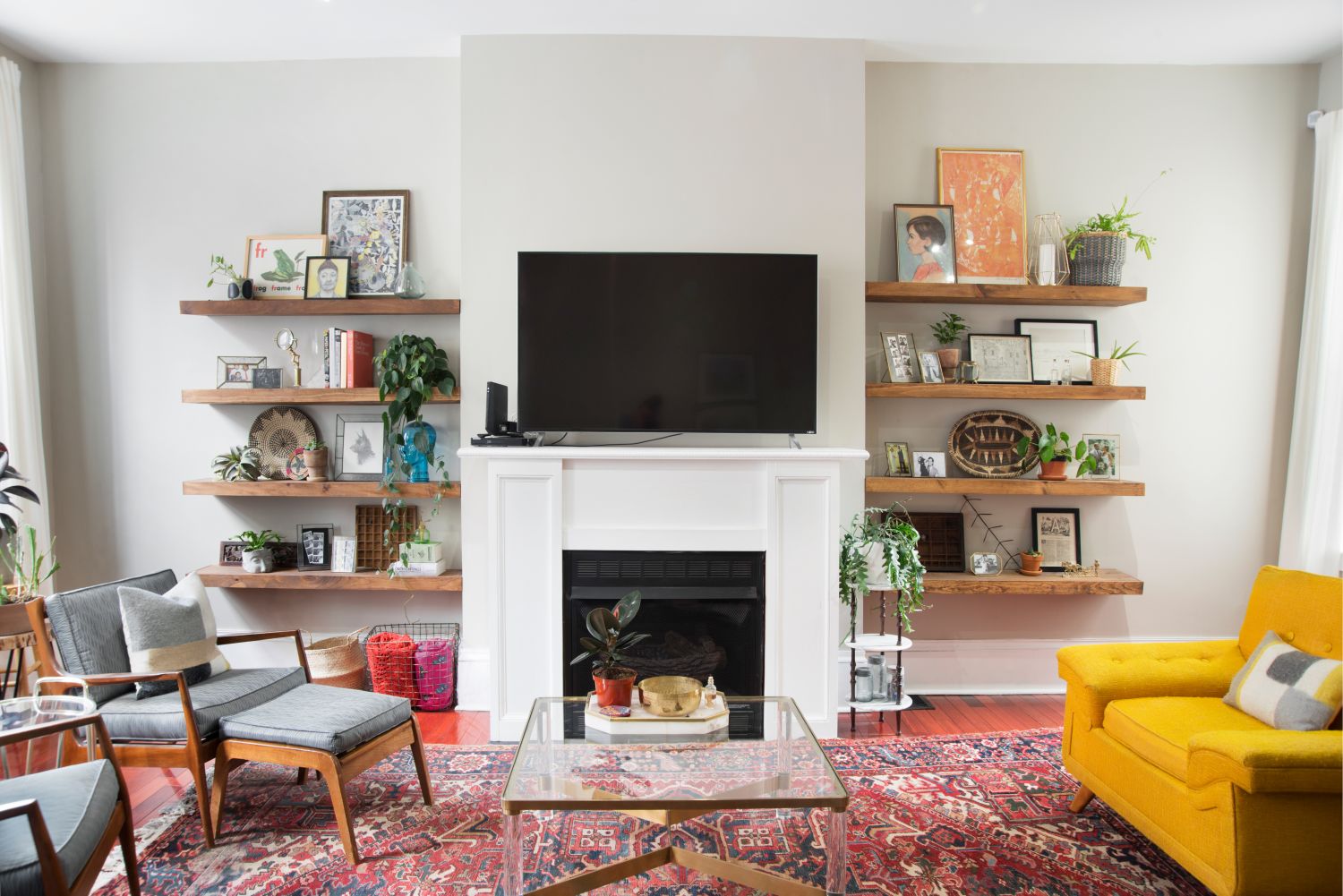 Shelf styling is a low risk/high reward way to practice your interior design skills. While there are a million and one ways to do it (don't quote us on that number), it doesn't get much better than these eleven floating "shelfies." Read on to see how each of the shelves' designers used some genius styling tricks that are easy to implement in any home.
1. Juxtapose
Sometimes it's not always what you put on your shelves, but what you put next to them. Here, photo stylist Rachel Hornaday used one large scale piece of art to fill in the space next to her three small staggered floating shelves. The juxtaposition of small clustered shelves next to one big streamlined painting is a satisfying contrast.
2. Focal Point
Justin Power grew up with an interior designer for a mother, so it's no wonder his bedroom shelf styling is on point. Here, he draws focus to an otherwise subtle figure drawing in a neutral palette by making it pop against a dark blue wall and surrounding it with small-scale accents.
3. Backlit Bar
When Timothy Kolstad moved into his childhood home, he decided to give it a modern twist. He custom made this backlit bar in his kitchen out of IKEA shelf brackets.
4. Color Coordinated Bookshelf
Shelves were practically invented to hold books. The floating shelves in Kaisa and Otto's teeny office nook are beautifully styled by alternating vertical and horizontal stacks and color coordinated for maximum impact.
5. Go for Extremes
For a striking minimal look, accentuate the size of a large scale piece of art by adding a couple accessories, like photographer Chloe (Crane) Leroux.
6. Clean and White with a Pop of Color
Interior design maven Amber Lewis gives these laundry room floating shelves her signature effortless beachy aesthetic by styling with minimal accessories in a neutral palette and one, single pop of color in a rich blue seascape.
7. Repeat Elements
There are several reasons why this shelving situation should receive a gold star in styling, from the cohesive color palette to the similarly-themed artwork.
8. More is More
Layers of propped portraits and still lifes don't feel overwhelming on Mila of Jest Cafe's floating kitchen shelf. Keeping to one subject (in this case, unframed oil paintings in an impressionistic style) will ensure a more streamlined and less chaotic aesthetic for your collected items.
9. Double the Float
Shelves are great for putting things on, but don't let that limit your styling approach. Here, Jessica Brigham has hung/floated items on the wall just above her shelves to give the vignette a little more space to breathe.
10. Switch It Up
Interior design Carol Estes loves to restyle her shelves on the reg (it's therapeutic!). When we toured her Euro Eclectic home last year, her floating kitchen shelves appeared much different than this streamlined black-and-white version.
11. Top Heavy
Brett Foken opted to display her larger items on the upper shelf of her double open kitchen shelving, which also features a jaw-droppingly gorgeous muted color palette.
The possibilities are endless, but if you're stumped on how to style your floating shelves, these inspirational shelfies are sure to point you in the right direction. What are your favorite shelf-styling tips?