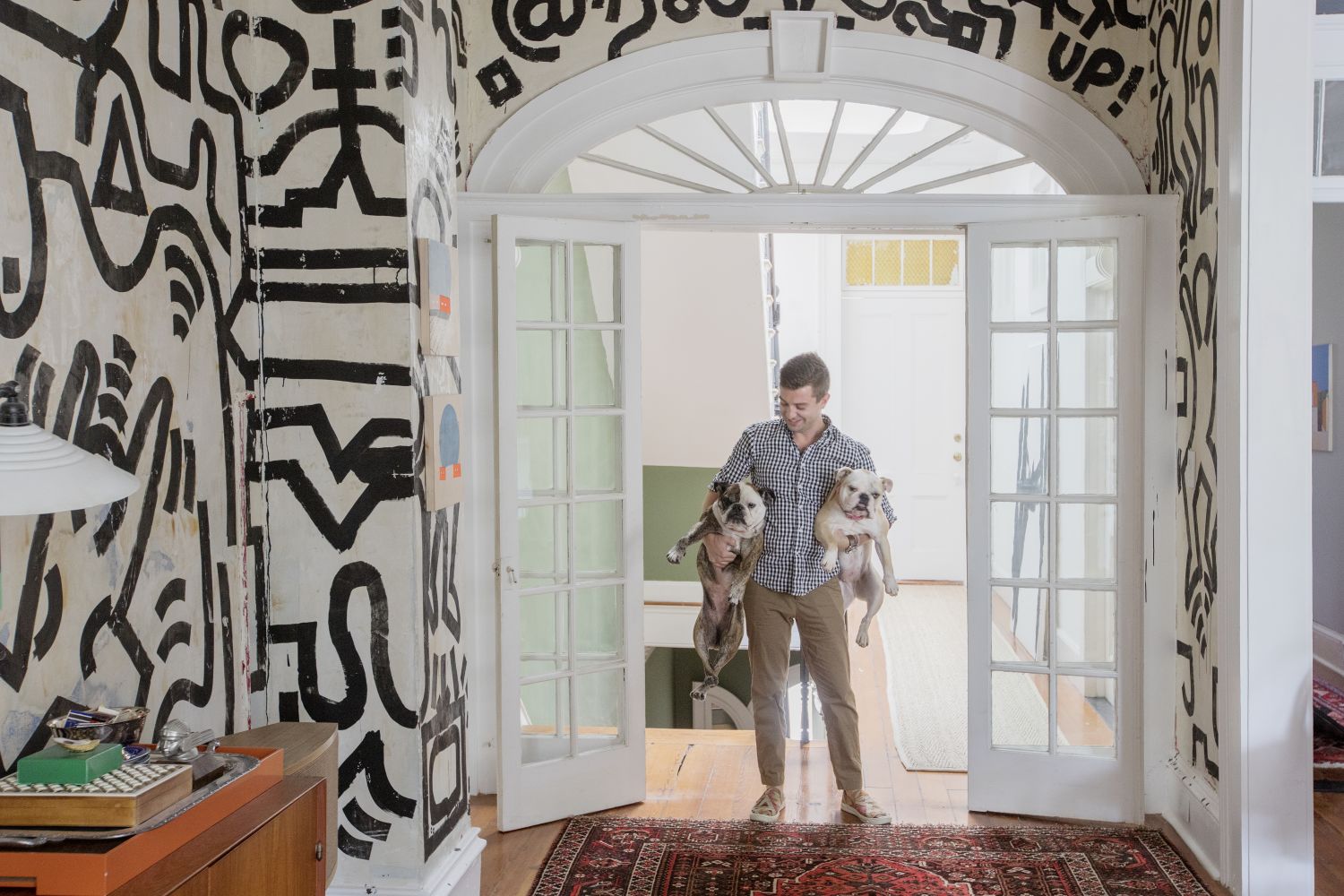 Name: Taylor DeBartola and husband, Will Shalosky, and two bulldogs, Lady and Trish
Location: Harleston Village — Charleston, South Carolina
Size: 1,400 square feet
Years lived in: 1 year, owned
"There's a centuries-old piece of Charleston advice that goes something like 'Don't drink wine on your porch and look at real estate listings.' Okay—perhaps not, but that is how we wound up with our apartment in this antebellum row home," says interior designer Taylor DeBartola. "I saw the listing a couple hours after it went live and was on the phone with our realtor at 10 p.m. that night."
The interior designer instantly fell in love with the home's plaster walls and soaring ceilings, tall windows, the original hardwoods, and cast-iron fireplace mantels. DeBartola and his husband, Will Shalosky, a consultant, were also won over by the history of the place; it was used as a Confederate blockade running firm during the Civil War. "We love history—the good parts and the not so good," DeBartola says.
While the home wasn't much of a downsize in square footage from their former place, the couple did swap bedroom and bathroom count for more square footage in the living spaces when they decided to purchase the apartment.
"We love to entertain and we got sick of having a yard and guest rooms to take care of," he says. "Even though there had been years of neglect and deferred maintenance, we could see the potential for a grand space with fantastic interplay between the outdoor and indoor spaces. Though not included in the square footage, the outdoor patio adds more than 200-square-feet of living space, where we spend a great deal of our time with our two bulldogs, Lady and Trish."
"Living here is a bit of a dream come true for us—the view, the light, the history of the building and its proximity to all the best of Charleston. It will be hard to pry us away from this place," he says.
Apartment Therapy Survey:
Our Style: "If you like it, it goes" is how I'd describe the style of our home. The goal is that our home is both functional and aesthetically shows who we are, telling our story without us having to tell it.
Inspiration: The inspiration for this house came from the October 2017 Architectural Digest cover featuring Julianne Moore's living room—painted in black with natural shutters. I borrowed those two elements and looked to other sources of inspiration like Ralph Lauren, Keith Haring, Halston, Jonathan Adler, and RuPaul Charles from HOTlanta, Georgia.
Favorite Element: The double French doors leading to the porch. It's a quality in a space I've always wanted because we can throw them open and take an indoor party outside in a snap. I also love the fireplaces as they create visual interest, center the main rooms, and eliminate the need for unnecessary furniture.
Biggest Challenge: When we moved in there was no overhead lighting, the walls had not been painted in 15-20 years, and the bathroom was easily one of the least comfortable and least functional bathrooms I'd ever come in contact with, even in all my college years of renting run-down Charleston houses. Our challenge was to take this two-bedroom, one-awful-bath and create one bedroom with a renovated closet and private master bathroom, change the second small bedroom to an office, and add a half bathroom.
Proudest DIY: I really am not a DIY person. The results of most of these projects end up looking like things people should pay someone to fix. But, I did paint the half-bathroom floor piano-key black and I think it turned out great!
Biggest Indulgence: The piece above the fireplace. "Your Head is on Fire," an etching by Louise Bourgeois, was a piece I purchased from artist Raphael Fodde's 5+5 Gallery. Bourgeois was best known for her immersive sculptures, but was also a prolific print maker. This piece stopped me dead in my tracks when I saw it, although at the time I did not know the artist or her work. Fodde, now a dear friend, has generously invested in my art education and has also helped us to acquire other works in the living room, like David Wojnarowicz's "One Day this Kid."
Best Advice: Know your brand, deliver at all times.
Best tool in your home that keeps you organized: Having a separate living and work/studio space that is outside of our home is essential. Our office, which was once a guest room, has its own separate entrance from the main hallway. Now, clients can visit without having my dogs jump up on them or seeing my dishes in the sink.
Where do you find decor inspiration that you think most people aren't looking: In the words of Diana Vreeland, "The eye must travel." I have found that to be an integral part of my interior design practice. To be and create the best, you must see and experience it.
Travel gives you the opportunity to watch how people interact in all kinds of spaces and how (often) those spaces could be improved upon. I find myself either taking astute notes or redesigning places in my head as I move through a space—whether it's a hotel, restaurant, resort, or museum.
What's the last thing you do before people come over: Before any party, I take the sage advice of my mom, herself a gracious and lovely host, and I light a candle, put on some music, and then "Pour half a glass of wine and sit down before your guests arrive," she says. "It'll make you a better host!"—and I agree and put this into practice before any gathering.
Resources:
PAINT & COLORS
All black areas in living room, thresholds, floor of half bathroom, border on porch, and mantels — Benjamin Moore Black Panther
All the trim in the living room and the hallway, dining room, living room mantel, exterior porch and doors — Benjamin Moore Swiss Coffee
Walls, trim and doors in the master bedroom, bathroom, and closet — Sherwin-Williams Agreeable Gray
LIVING ROOM
Sofa — Robin Bruce
Chairs — Vintage Century
Reading lamps — Amazon
Drapes — Designer's fabricated French pleated panels in P Kaufmann "Pencil Me in Koi"
Ottoman — Article
Floor Lamp — Robert Abbey
Rug — Vintage
Console — CB2
Elephant Garden Tables — Curbside find
Art above fireplace — "Your head is on Fire" by Louise Bourgouis
Art above couch — "Accordian I" by Catherine Booker Jones
Art by French door — "One Day this Kid" by David Wojnarowicz
Art by front door — "Hyperbole II" by Trever Webster
DINING ROOM
Dining room table and chairs — Habitat Restore
Danish modern flat file and media cabinet — Scott's Antique Market
Rug — Manhattan Rugs
Lamp — Vintage
Speakers — Vintage
Art — Tim Hussey
Art — Alex waggoner "Fraternal Twins"
Chair — Vintage
KITCHEN
Cookware — Le Creuset
BEDROOM
Bed — Room and Board
Lamps — One Kings Lane
Nightstands — Vintage Henredon (RH Lee Auction House)
Rug — Manhattan Rugs
Art above bed — Tim Hussey, "True Story"
Art above mantel — Brian Coleman
BATHROOM
Art — Judith Giggliotti
Rug — Vintage
Bathroom Vanity base — Rejuvenation
Vanity top — Custom-cut soapstone
Faucets — Newport Brass Mira
Lighting — Shades of Light
Medicine Cabinets — Pottery Barn
HALF BATHROOM
Faucet — Brizo
Mirror — Rejuvenation
Lighting — Shades of Light
Art — Getty Images Tina Turner
Hallway
Art — Brian Coleman
Art — Layered Forms – Spoleto Art Auction
Art — 1989 Brian Rice Lithograph, "May Day"
Art — Trever Webster
Art — Alex Waggoner
Thanks, Taylor!
---
Apartment Therapy supports our readers with carefully chosen product recommendations to improve life at home. You support us through our independently chosen links, many of which earn us a commission.