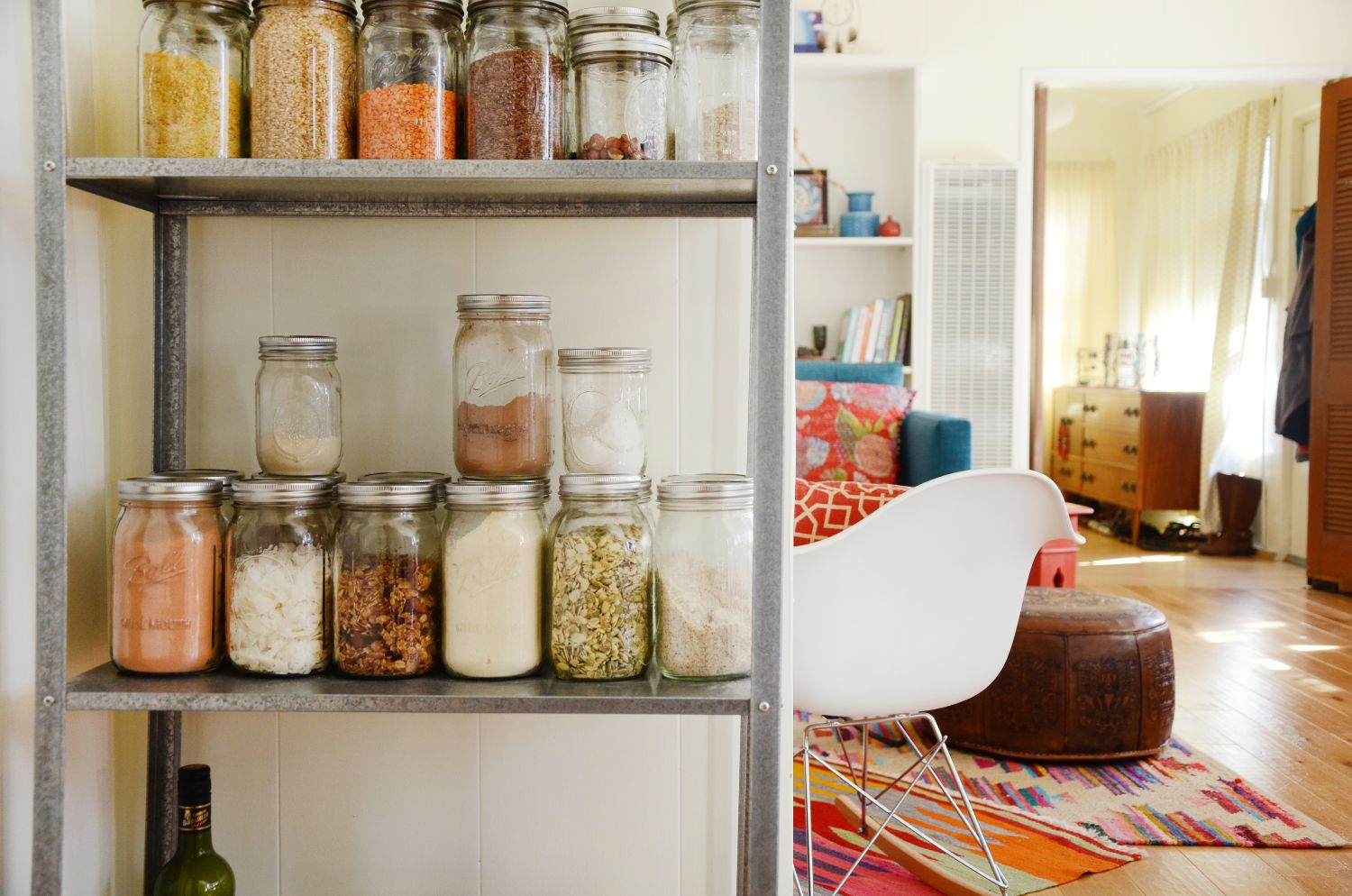 There's nothing more satisfying than a good organizational moment, and these pantries do not disappoint. Prepping lunches and cooking dinner don't have to be miserable experiences, and whether you have the walk-in pantry of your dreams or a tiny studio with no storage, these beauties prove that you can up your pantry game no matter where you live.
Coupled with her design skills, Savannah of Classy Clutter used her organizational prowess to transform her walk-in pantry into a showroom-worthy space. Not only has Savannah streamlined her containers and labeled the goods inside (pantry organization 101), but she went the extra mile by choosing a calligraphy style that fit the overall design (which I like to call Whimsical Farmhouse). The bold wallpapered accent wall works especially well when contrasted with the clean, white shelving and containers.
Sarah from Rocky Hedge Home beautified her built-in pantry by adding a sliding barn door and rustic containers that fit the style of her charming farmhouse in Missouri. When it comes to dry goods, she shops in the bulk bins at her local health food store and purchases exactly enough to fill her matching glass jars, meaning no leftover boxes or waste. In order to maintain a #goals pantry like hers, Sarah advises to always keep it clean. In addition to dusting the tops of the jars once per week, she wipes down each jar and its surrounding space with each use.
Lucas Migliorelli takes pride in his kitchen space, stocking it with handmade pottery and stunning copper cookware. His open-shelving pantry is cleverly organized and dotted with these eye-catching pieces to enhance the overall aesthetic of his eclectic kitchen. Affixing mason jar lids to the underside of his pantry shelving allowed him to increase the surface area and maximize storage space in his petite kitchen. Check out the full tour for some more detailed photos.
We toured designer Carol Estes' Euro-Eclectic home last year and barely scratched the surface of her home's drool-worthy details. Hidden behind a beautiful rustic door in her bright and airy kitchen is this walk-in butler's pantry. While storage is the main purpose of a pantry, Carol understands the importance of paying attention to detail. Here, she's taken the opportunity to display classic pantry staples, like aprons, cake stands, and fancier seasonal decor (i.e. candelabras) for maximum eye candy appeal.
Most of us aren't blessed with an ample walk-in pantry, which is why this closet-less Brooklyn home gives many of us hope. Storage savvy homeowners Rachel and Jon have lined their empty living room walls with sturdy open shelving to maximize storage space and create an opportunity to showcase their unique style. An unconventional twist: A portion of the living room shelving acts as the couple's pantry. Lined with pretty jarred dry goods, it bridges the gap between their kitchen and living room.
Those with a large family will appreciate the sheer scale of the pantry in Phil and Ruth de Vos's Eco-Friendly Home. When they set out to build their home in Western Australia they knew they wanted it to have enough space to house their family of eight. While their pantry may span the length of most people's living rooms, it is ultimately space-efficient with a narrow design that allows for just enough room to comfortably access their well-stocked and organized pantry goods.
While this petite pantry space from the Montenapoleone Home may not compare in size to the walk-in above, it rivals it in efficiency. Here, vertical space is maximized with shelving that reaches from the floor to the ceiling and crates that sit directly on the floor to allow for organized groupings where junk may have a tendency to pile up. You can't go wrong with a clean, white palette in the kitchen, and canvas-lined wire crates are the perfect washable options for food storage.
Another inspirational DIY for those without the luxury of a walk-in pantry is this one from Big Family Little Farmhouse. This charming pantry was squeezed into a small space just off the kitchen and made from an affordable metal shelving unit, similar to those found in a commercial kitchen (legit). While this unit may feel cold and industrial on its own, a few rustic farmhouse-style storage bins and visible whole ingredients make it feel like a cook's dream (read: Sookie from "Gilmore Girls").
A common thread to keep in mind here is decanting and labeling. If you're not sure where to start in creating your dream pantry, start by streamlining your containers and labeling them. Soon your pantry will look good enough to eat (okay, technically it already should be).