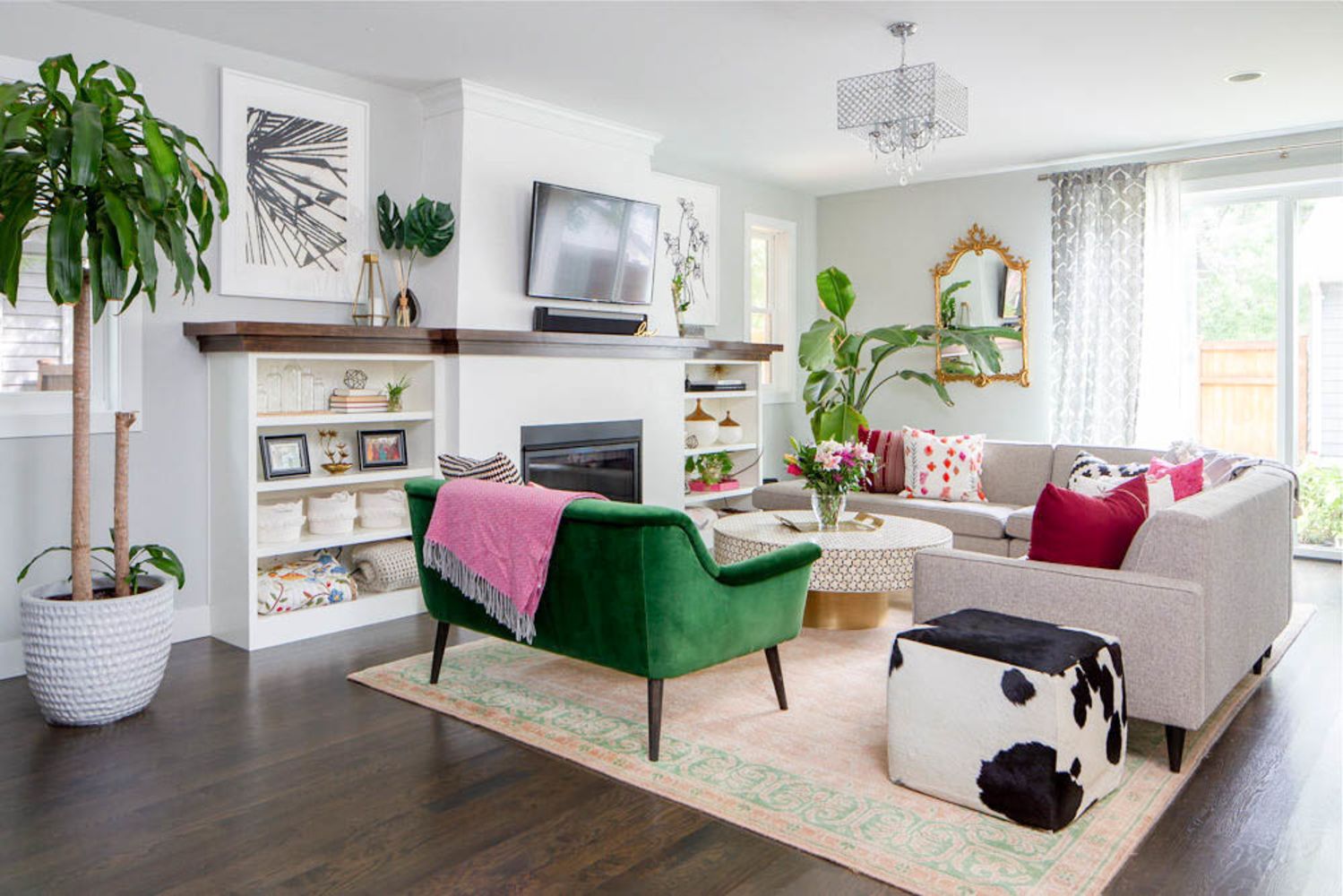 Name: Jennifer Biswas, husband, son (2 years), daughter (8 months), dog
Location: Minneapolis, Minnesota
Size: 3,600 square feet
Years lived in: 3 years, owned
When my now-husband, Rishi, and I got engaged we started looking for a home to purchase. Since he's a California kid living in Minnesota, he was dead set on getting a new construction home so we didn't have to deal with frozen pipes and all the joys of older homes. I, on the other hand, wanted an old home full of character that we could update and make our own. After walking through countless sterile new builds that felt like a hospital and just as many older homes that felt like you were going to fall through the floor, we pulled up in front of a spec home for its open house. One look at it and its adorable pergola out front, I knew it was the one. Yes, it had some of the elements of new construction that I disliked, but it had so many things about it that we both loved.
Over the past three and a half years we've added a dog, two children, and a whole lot of memories. We've curated pieces from artist friends, local shops, and bigger brands, added in 50+ plants, and accessorized with scratches on the floor and dings on the wall from our dog, kids, and friends. We love the open floor plan for entertaining our friends and the growing number of kids they all have and also for letting our own kids run around!
Apartment Therapy Survey:
Our Style: Someone recently described it as "California Boho" so I'm going with that! My husband is Indian and from California so we have a mix of Indian/Cali-inspired pieces paired with our love for vintage and antique finds coupled with pieces we stumble upon from random shops. I've always figured out ways to make what I own work and then supplementing with new pieces as needed!
Inspiration: We find inspiration from our copious amount of traveling (I spent a year abroad in 12 different countries when I was 25), our different cultures, and of course places like Anthropologie!
Favorite Element: There are so many things I love about this home that it's hard to pick one! I really love the location and how it's so walkable to so many things—restaurants, shops, parks, etc.
What is your favorite room? My office! It's bright and cheery and welcoming. It's right off of our entryway so everyone sees it when they walk by, so I wanted it to be a good reflection of who we are as a family. We spend a ton of time in there between my work and the giant windows facing the street where my kids love to hang out. It was a six-month process to revamp it to where it is today and it's exactly how I wanted it.
Biggest Challenge: We have a tiny yard! Our front yard is basically one giant hill (read: not usable and major hazard when mowing the lawn ha!) and the back is teeny tiny. We fenced it in to keep our dog and kids from running away and added café lights to make it more cozy but it's not ideal!
What Friends Say: The most common thing is "I wish I could do gallery walls like you"! I love gallery walls and do them all over (and redo them yearly!). Friends often just remark how they never would have thought about mixing certain colors or displaying things a certain way.
Biggest Embarrassment: We have a pesky woodpecker who has started to destroy our pergola in our front yard!
Proudest DIY: With two kids and a business I don't have time to DIY like I want to, but I did make the wreaths in Penelope's room that I love!
Biggest Indulgence: The light fixture in our dining room. My husband found it from Restoration Hardware, fell in love with it, and the rest is history! It's so heavy that it took four men to install it. Yikes!
Best Advice: If you have a physical response to something, buy it. I saw a painting of two dark-haired kids jumping on a bed and it basically brought me to tears thinking of my kids doing that in a few years. My husband insisted we buy it since it moved me so much.
Resources:
PAINT & COLORS
Master bedroom – Behr Compass Blue
Office – Benjamin Moore White Dove
ENTRY
Bench – Anthropologie
Dresser – Anthropologie
Mirrors – Antique store
Pillow – Target
Rug – Overstock
Light Fixture – Williams Sonoma
Candles — Thymes
OFFICE
Custom Desk – Midwest Woodcraft
Rug – Anthropologie (old)
Light – West Elm
Weaves – JunahWoods
Wood Art – Anna Bailey
Fashion sketch – Al Johnson
Family illustration – A Spoonful of Faith
Solo illustration – cestriley
Vintage art — Sourced from Clarabel Vintage
Print/Art from the following — Foster Art; Ashley Mary; Shasta Bell Calligraphy
Plants — Bloomscape
Wall Plants — Wayfair
Reed Diffuser — Thymes
Chair — Hayneedle
Gazelle Pots – Anthropologie
Stationary – Wit & Delight
Mirror — Ikea
LIVING ROOM
Couch – Room and Board
Loveseat – Room and Board
Coffee table — Anthropologie
Art – Minted here
Baskets — Target
White pillows – Anthropologie
Lanterns – West Elm
DINING ROOM
Table – Room and Board
Chairs – Room and Board
Rug – Overstock
Light Fixture – Restoration Hardware
Hanging pots – Anthropologie
Blue chairs – Anthropologie
Curtains – West Elm
KITCHEN
Vintage table and rug – Antique shop
Reed diffuser + candle – Alora Ambiance
Tray – Crate and Barrel
MASTER BEDROOM
Bed – Room and Board
End Tables – Vintage shop
Dresser – Room and Board
Rug – Anthropologie
Light Fixture – Anthropologie
Pillows – Anthropologie
Blanket – Anthropologie
Chair – Anthropologie
Reed diffuser + candle – Alora Ambiance
Woven Wall Hangings – Junah Woods
Eyelashes and cloud – Pink Linen Design
Mirror – West Elm
Plant Hanger — Amazon
Candles — Thymes
ROY'S ROOM
Crib – Room and Board
Dresser — Room and Board
Wallpaper – B Darling
Letters – Pottery Barn
PENELOPE'S ROOM
Crib – Room and Board
Dresser – Room and Board
Rug – Anthropologie
Chair – West Elm
Art – Brooke and Lou
Wreaths – DIY
Woven Wall Hanging – Junah Woods
Eyelashes and cloud – Pink Linen Design
Name – Common Oak
Curtains — Target
White blanket – Sarah Lou Co
BATHROOM
Wallpaper – B Darling
Thanks, Jen!
---
Apartment Therapy supports our readers with carefully chosen product recommendations to improve life at home. You support us through our independently chosen links, many of which earn us a commission.