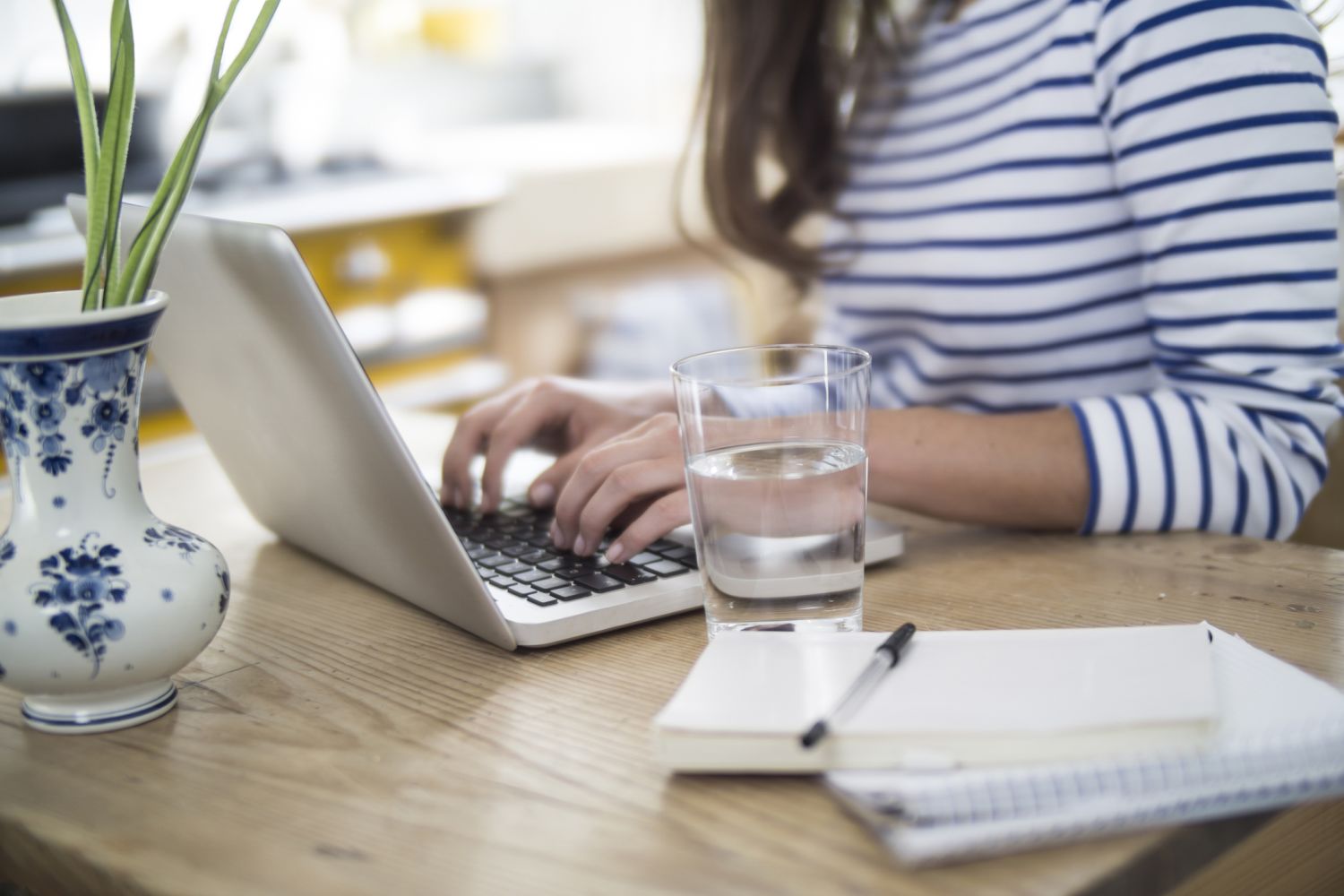 I will be the first to admit that I do not drink enough water during the work day. It's not for lack of good intention: I start the day strong, but by mid-morning I slowly start falling off track. I'm certain that the culprits (okay, excuses) are the same ones that plague you (i.e., not getting up from my desk enough to refill my glass, forgetting to keep a glass on my desk, or when I do, simply forgetting about it).
No more excuses! Here are seven easy ways to drink more water during the work day (and stick with it!):
1. Keep a glass on your desk at all times.
Remember, out of sight, out of mind. The first step in drinking more water throughout the day is keeping your glass (or water bottle) where you can see it. And for most of us that means front and center on our desks.
2. Swap your glass for a large Mason jar.
If you struggle with getting up from your desk to refill your glass as often as you should (that's me!), reach for a bigger glass, or better yet a large Mason jar. Go for a one-quart, or even 1.5-quart jar, and you only need to fill it up once or twice during the workk day. Plus, let's be honest — there's also the novelty of drinking out of a jar over a glass.
3. Treat yourself to a nice water bottle.
I like this approach for a couple of reasons. Similar to using a large Mason jar, it makes it easier to put away more water without refilling the jar as often and makes an easy way to keep track of exactly how much you're drinking. And, while this won't hold true for everyone, drinking out of a pretty bottle just feels nice.
Find your favorite: The Best Water Bottle for Every Situation
4. Give your water a boost of flavor.
Make your water more exciting, and you just might be surprised at how easy it goes down. If plain water gets boring for you, give it a boost with a few muddled mint leaves, a squeeze of lemon juice, some cucumber slices, a cut-up strawberry, or some orange slices.
Get inspired: 10 Simple Infused Waters That Will Help You Hydrate
5. Create a contest with your coworkers (or just yourself).
Surely you're not the only one in the office who wants to drink more water! Corral your coworkers who have the same goal and create a contest. Not only does competition increase motivation, but it also adds a layer of accountability that can be helpful.
6. Set an alarm on your phone.
I've come to appreciate that my FitBit buzzes on my wrist if I don't take a certain number of steps every hour. It can be annoying, but that's also what makes it so effective.
To mimic this, set an alarm on your phone periodically throughout the day as a reminder to drink more water or refill your glass or bottle.
7. Download an app to help.
Don't want to rely on your alarm? There are also plenty of apps, like Daily Water or Waterlogged, that allow you to track your water consumption and alert you to up your intake when it's falling too low.
Your turn! What are your tricks for drinking more water during the work day?