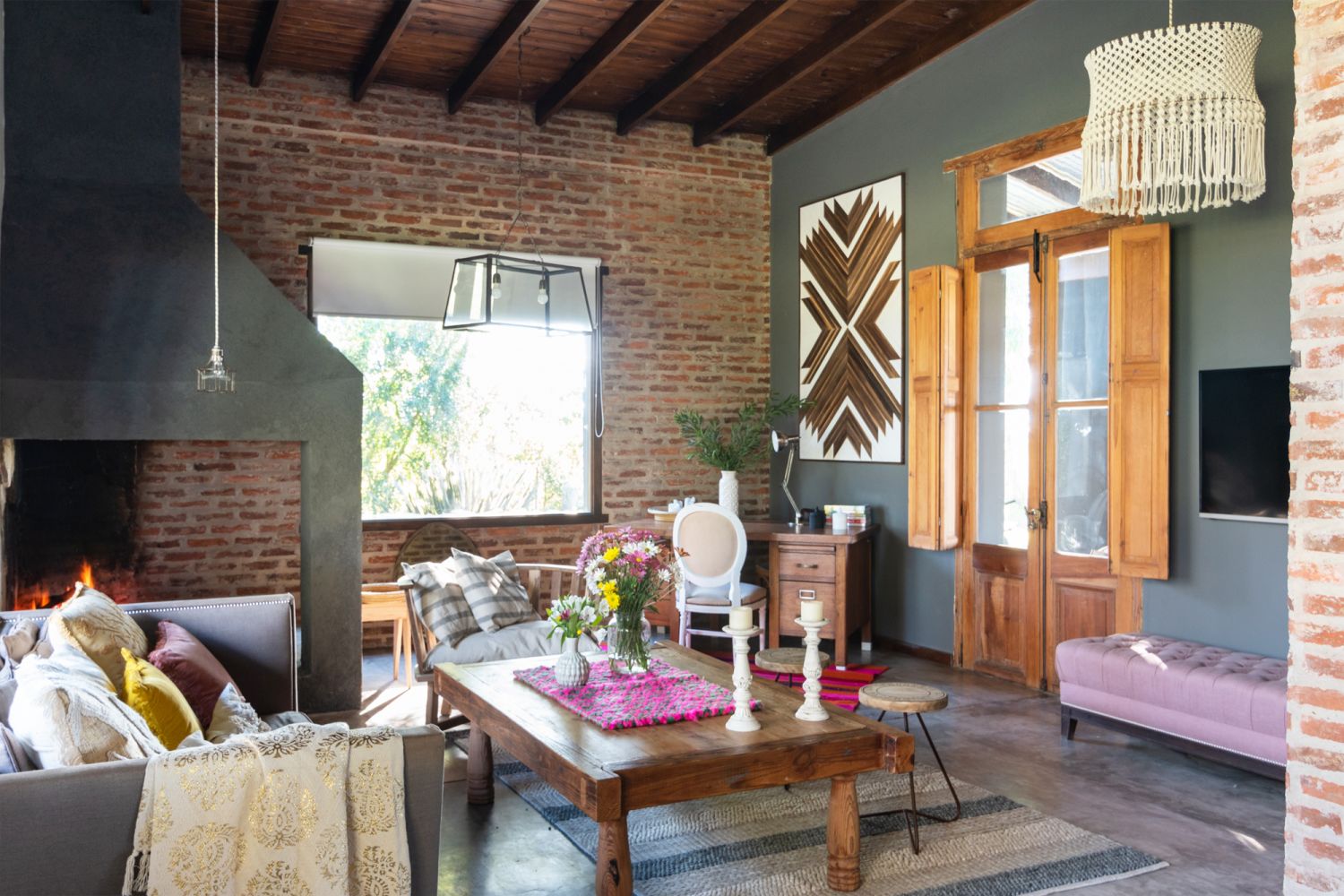 Name: Majo, Arturo, and their daughter Sofia
Location: Bartolomé Bavio — Buenos Aires, Argentina
Size: 2,400 square feet
Years lived in: 8 years, owned
Imagine having your nearest neighbor at a far enough distance that it's unnecessary to set a password on your Wi-Fi. Welcome to Bartolomé Bavio, a rural town of 2,000 people located a couple of hours south of Buenos Aires and home to a lovely family made up of Majo, her husband, their daughter, and three rescued dogs.
When deciding where to raise their family, the couple knew that the busyness of the city just wasn't for them, so they tried to live by the sea for a year. After that adventurous year, they came back craving a life surrounded by nature. When they found a plot of land in the country, they decided to build their house there.
What Majo enjoys the most is inspiring everyone to live a simpler life by sharing the way she and her family lives in the country. She runs a beautiful Instagram account called Mercado Decoracion, where she shares the story of her making her home, plus all the fun and oddities that she's been discovering while settling in to their life in the country. She succeeds in showing that to decorate your home you don't need to go very far, "just go to the nearest woods and pick up some branches."
Any other day you can find Majo panning the horizon with her cellphone, dedicating her Instagram stories to those working in windowless offices: "Close your eyes and be here with me for a moment…"
Apartment Therapy Survey:
Our Style: I guess I'd call it "rustic modern." It's hard finding a name for it; I feel represented by so many different things!
Inspiration: I'm heavily inspired by the nature around us, by the original country homes from this area and the restored homes I see in magazines and online.
Favorite Element: Surely our doors and windows. We bought them salvaged and had them restored by a local carpenter. We love how they bring history to the new construction.
Biggest Challenge: It was figuring out the style of the house. My husband and I worked with several architects who did their best to interpret all our dreams and needs, and ultimately decided to draw it ourselves.
What Friends Say: They really love the result. They point out the mix between rustic and contemporary elements.
Biggest Embarrassment: Here in the Pampas heavy rains don't wash as fast as in other geographies. One time the delivery person got his vehicle stuck in the mud between the road and our home and had to spend the night here.
Proudest DIY: It may seem simple now that it looks all even and green, but we cleaned the plot of land ourselves, pulling out weeds and thistles with our hands. It took a ton of hours and helped us appreciate every inch of our garden.
Biggest Indulgence: It was installing radiant floor heating beneath our concrete floors. Back then it was a huge splurge but now it allows us to feel warm all year round. Winters can be rough here!
Best Advice: Do not just think about the looks, always keep functionality in mind first. Take for example the heating I just mentioned, we could've splurged on custom drapery but we wouldn't enjoy it that much if we were chilled!
Dream Sources: I'd love to bring in items from every home of this town that I visit, specially the ones from my elder neighbors. Over our years living here, I had the chance to meet many of them and they tell me their stories about how their homes became to be.
Resources:
PAINT & COLORS
Living room — Sinteplast 8302
Fireplace — Recuplast Agreste 8302
Master bedroom — Sinteplast 8444
Exterior — Recuplast Textura 8302
ENTRY
Bookcase — Antique find
XL woven baskets — Sentido Jose Ignacio
Small baskets (on top of bookcase) — Quiero Norte
Dotted baskets — Fraternidad Buenos Aires
Striped vases and wire mesh basket — Landmark
Painting — Romina Haiatzanian
Terrarium — Al Alma
Vintage mirror — Pasion Chic
LIVING ROOM
Cushions and vase — Rapsodia
Rug — Bazhars
Wooden armchair — GEA interiores
Candles — Blasfor
Throw blanket — Johann
Stools — Mercado Decoracion
GALLERY
Iron bed — Antique find
Big gray cushion — Sol Palou
Big beige cushion — Propia Home
DINING ROOM
Dining table — La Charrúa Deco
Rattan chairs — Estilo Ratan
Eames style chairs — Garden Life
Vase — Rapsodia
KITCHEN
Mugs — Sentido Jose Ignacio
Dinner plates, cutting board, cups, dish and table cloths — Rapsodia
Tolix and vintage chairs — Garden Life
BEDROOM
Pillows — Propia Home
Nightstand — GEA Interiores
Rug — Bazhars
Vases — Landmark
BATHROOM
Sink — Ferrum
Baskets — Quiero Norte
Thanks Majo and family!
---
Apartment Therapy supports our readers with carefully chosen product recommendations to improve life at home. You support us through our independently chosen links, many of which earn us a commission.