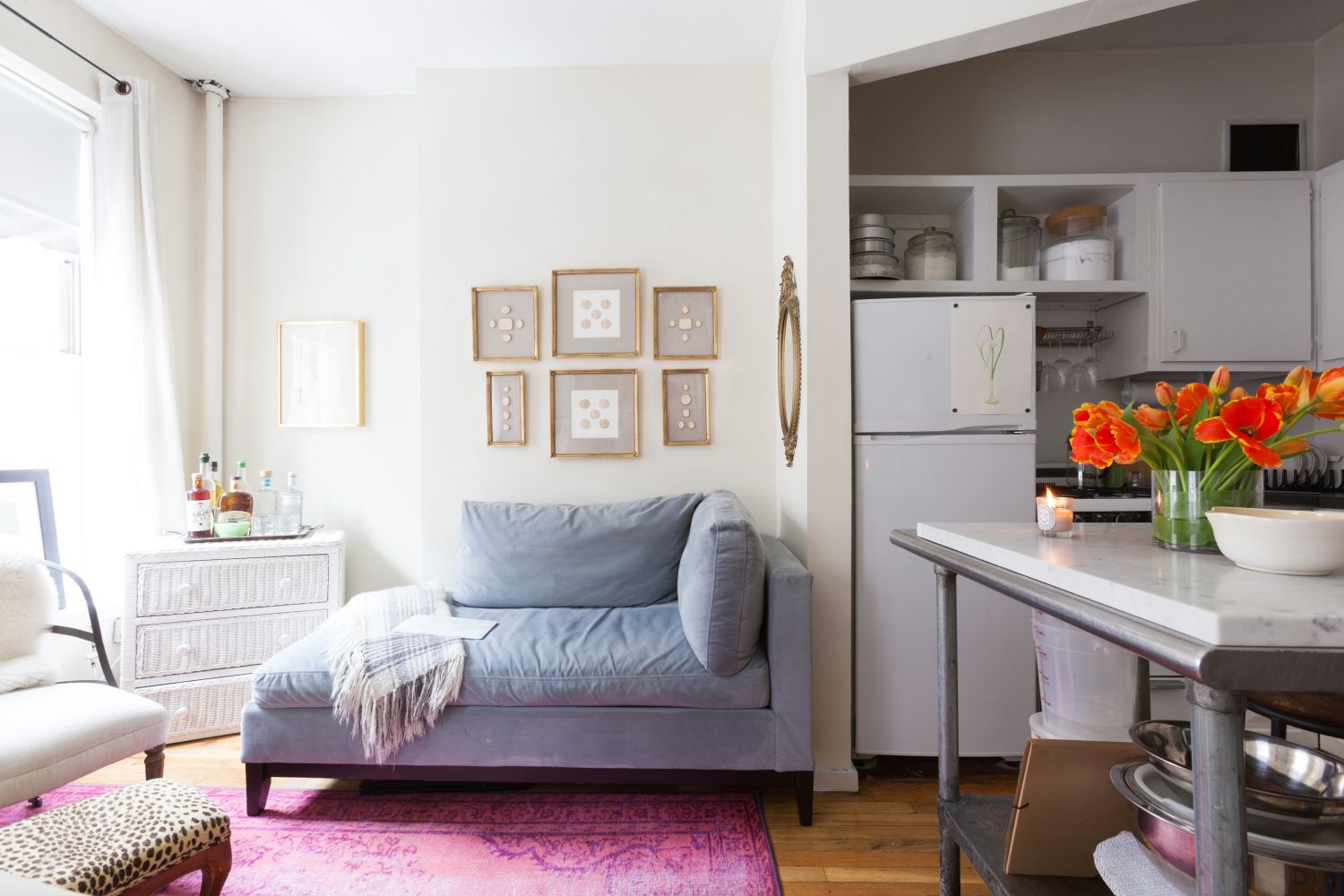 You may dream about an enormous kitchen with a jaw-dropping kitchen island— but for city-dwellers, those fantasies often stay in the realm of the imaginary. Renting a small apartment comes with a number of benefits, like getting to live in an awesome location, but "tiny kitchen" is a common drawback.
But just because your kitchen feels plucked from a dollhouse doesn't mean you have to sacrifice the glorious benefits of a kitchen island. (You deserve extra prep space and additional seating, too!) These 10 small-space kitchen island solutions help your kitchen feel a little more dreamy, and functional.
Mimic a Long Narrow Countertop
When adding more furniture to your already squished kitchen is simply out of the question, add an "island" with a countertop feel. In this Providence condo, a floating countertop runs along the length of one wall. The minimal under-countertop cabinetry makes this DIY update less cumbersome—but you'll still get the benefit of extra flat space. For renters, adding a single skinny countertop isn't a difficult update, as long as you have permission to screw into the studs.
Double-up with a Bar Cart
Accommodating both a bar cart and an island in a small apartment can be a tall order. You need the extra chopping space—but you want somewhere to store your growing wine collection, too. Pick an island that does double-duty, like this Comet Kitchen Cart ($349). There's plenty of room for bottles and glasses down below, and the 36-inch counter makes dinner prep less cramped.
Give Your Kitchen Table Two Jobs
A four-person dining table can work two jobs: as a place to eat and a place to work. Consider getting a counter-height table, but there's no reason a standard dining table can't get the job done, too. (Although you may need to sit down when chopping your veggies.) In this San Francisco home, a kitchen island provides enough sit-down room for a family dinner—and adds precious counter space to a small kitchen.
Put the Island on Wheels
For a tiny kitchen, there's nothing more valuable than flexibility. Perhaps you can fit an island into your space—but things get tight once friends join you for dinner. Consider a kitchen cart, instead, which can roll against the wall to accommodate more guests. Many of these models give off a sweet industrial vibe, like the Maison Rouge metal frame cart ($166).
Go Ahead and Fill the Space
Some kitchens are made for cooking and entertaining. Other kitchens need to do just one job, and do it well. If you love crafting elaborate four-course dinners, don't shy away from stuffing an oversized island into your space. (Just make sure there's enough room to walk around.) In this renovated Montreal duplex, a sizable IKEA VADHOLMA ($449) commands attention.
Put It off to the Side
If your itsy-bitsy apartment is super-squished, wasting precious space on an island may be an impossible ask. The added furniture may make navigating your kitchen difficult or impede an important home thruway. If a pre-bought island doesn't work jutting out across the floor, push it up against a wall to get it out of the way, and extend your counter space, like in this colorful Los Angeles rental kitchen. Refresh an IKEA STENSTORP ($399) to add chic color and counter space to your kitchen.
Add Extra Seating
No room to stuff a full-fledged kitchen table into your space? Mimic a true island by adding a small selection of counter-height seating. West Elm's Rustic Kitchen Island ($599) is a small-scale option that still provides room for two or more extra seats—perfect for a fast breakfast or chowing down a quick-cook dinner before heading out to a friend's party. Plus, the stainless steel top makes a fantastic, easy-to-clean prep station.
Rehab a Vintage Table
Want to add a country-chic vibe to your kitchen—and increase your usable counter space? Head to your favorite vintage shop and pick up an old wooden table, like the one used in this countryside Buenos Aires home. Vintage tables come in all shapes and sizes, however, so take time to search for exactly what you need for your space. Here, the wide, square tabletop is ideal for chopping veggies, and the additional seating is essential when you're on the go and don't want to muss up your full-sized dining table.
Go Minimal
Small kitchens can feel extra-cramped when stuffed with heavy, blocky furniture. Instead, choose a streamlined, high-top table to serve as your kitchen island. This marble-topped table ($1,099) from CB2 has no shelving or storage—just four beautiful, streamlined iron legs. Taking the minimal approach promises to make your space feel expansive.
Get Colorful
Small apartment kitchens often feel cramped and boring. Add some pizzazz to your space by choosing a brightly-colored kitchen island (or painting one yourself). This wood-top kitchen island ($249.99) from Target comes in a number of scene-stealing shades, including the teal above, and vivid red. You'll be surprised to find how much more enjoyable meal-prep becomes with something bright and fun to draw your eye.
Apartment Therapy supports our readers with carefully chosen product recommendations to improve life at home. You support us through our independently chosen links, many of which earn us a commission.