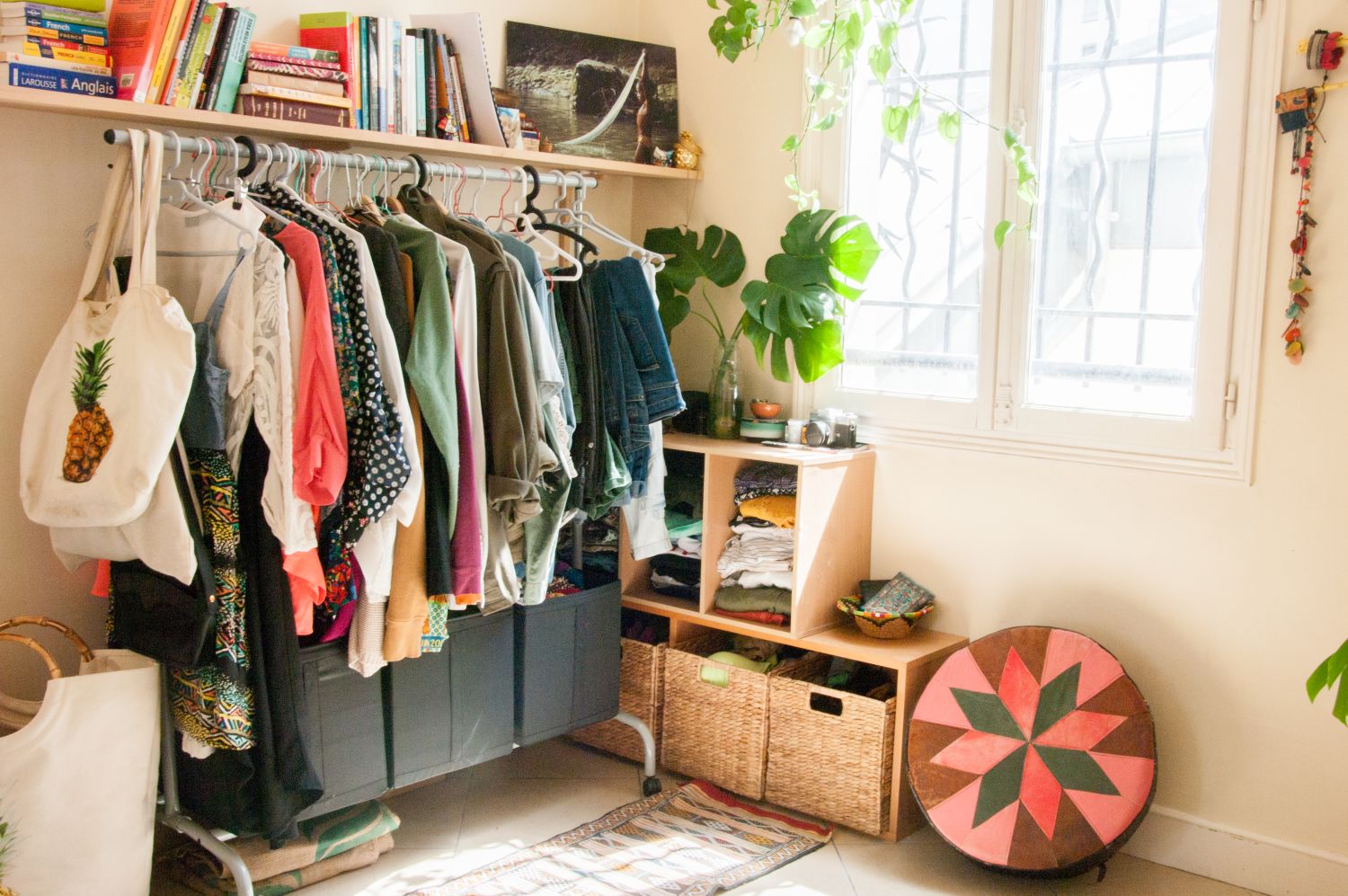 When you picture your dream house, chances are it features a big, beautiful closet. You know, kind of like Mariah Carey's wardrobe in her iconic episode of MTV's "Cribs." Or maybe like Cher Horowitz's, complete with a computer that puts together great outfits for you. Or maybe it has a rotating shoe cupboard like Goldie Hawn's closet did in "Overboard." You get the picture, right?
In reality, however, your wardrobe is a far cry from what you see on television. Not only is it considerably smaller, it's probably decked out in unsightly hooks, rods, and fluorescent lights. Um, no thank you.
The good news is you don't need a massive space—or budget—to turn your closet into a design moment. To kick-start your inspiration, here are seven closets that make a statement:
1. Air Your Laundry
With an exposed closet, your clothes double as design accessories. You can either install shelving units and cabinets—as Rachael of Made From Scratch did—or add a rolling rack to the mx.
2. Golden Hour
(Image credit: Pablo Veiga)
As far as we're concerned, it's always a good idea to include metallics to your home—especially your closet. We love the gilded details in Sydney's Curatorial House, which was designed Arent & Pyke. Best of all, you can easily recreate this look in your own space—all you need are some shiny door knobs.
3. Get Lit
(Image credit: Julie Soefer Photography)
Replace those fluorescent bulbs with a cool light fixture. As interior designer Marie Flanigan proves, a change in lighting can make the world's difference.
4. Wall to Wall
Take your rental apartment's closet to the next level with some temporary wallpaper. We love the speckled style Diana Elizabeth used in her space.
5. Behind the Curtain
If square feet are at a minimum, trade in your closet door for some curtains a la this Vancouver house tour. They'll look nice without taking up too much space.
6. Fairest of Them All
When in doubt, add some mirrors to your closet. Not only will they make your closet appear brighter, they'll come in handy when you're choosing an outfit. Let the Decorista show you how it's done.
7. Double Duty

Don't have enough room for a fancy walk-in closet? Think again. We love how Styled Snapshots' Kendall Kremer turned her spare room into a home office slash closet. Now that's how you make the most out of your space.
What you should do with your actual closet in that case, you ask? Turn it into a wet bar—here's how.