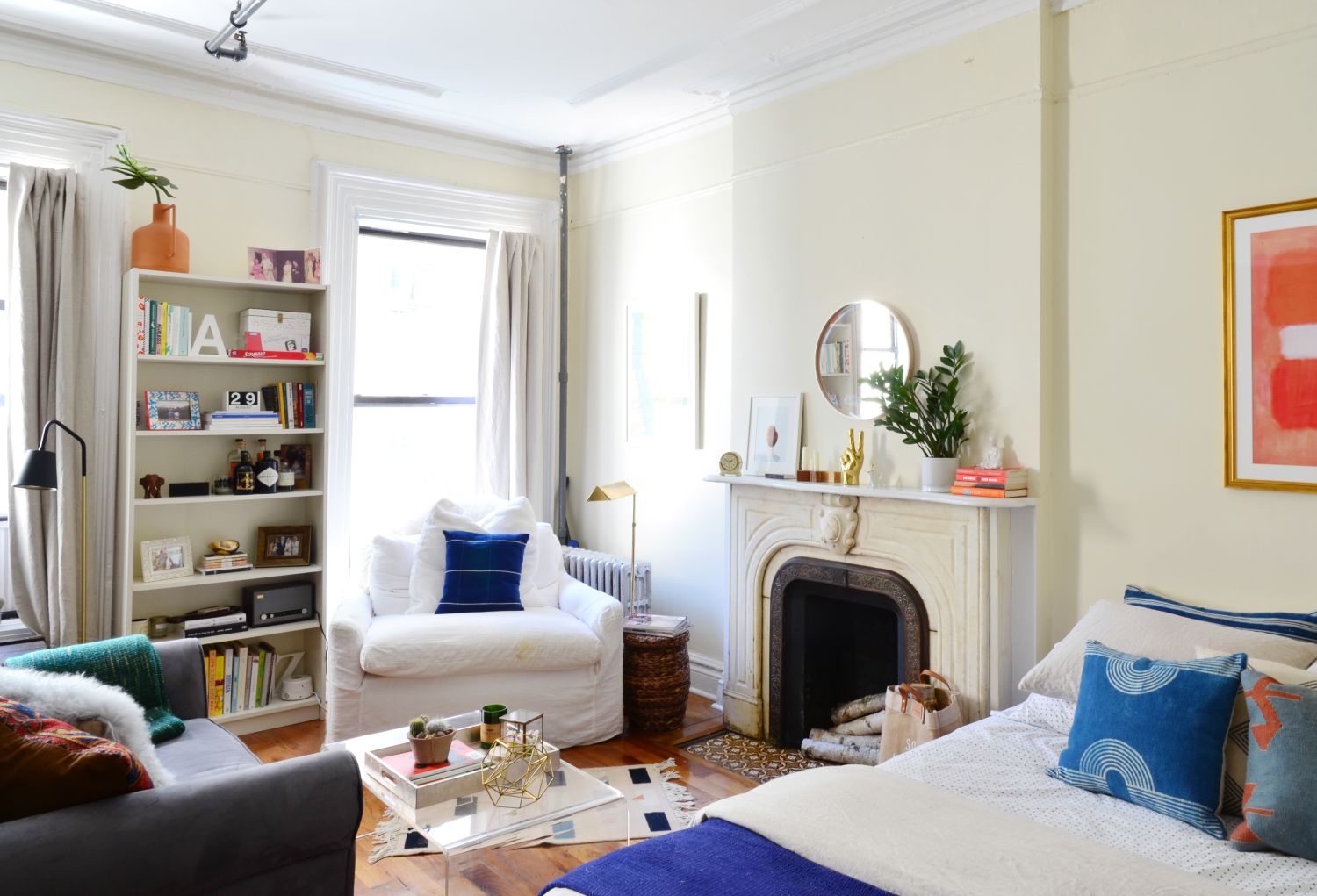 Renters deserve beautiful, functional homes too. I recently combed through the conversations happening in the comments on hundreds of our posts and identified nine products that our readers use and love—all of which help you fix up your space as if you own it. Here are 10 renter-friendly products that won't risk your security deposit, and make your space better than the day you moved in.
We've written about our obsession with YAMAZAKI, a modern line of small-scale storage solutions that are perfect for apartments. Reader Lucy321 owns two of their items—the rolling cart (which she says is nice and slim and not flimsy), and the 5-tier shoe rack that makes a perfect landing strip for her family of four.
If your rental apartment comes with a dryer, congratulations. For other renters, drying racks are pretty commonplace. We recently rounded up a series of our favorite options, and C. Mulligan says this one is worth taking a look at. "It rolls, so I can move it as needed, and folds flat when not in use, so it's easy to store."
Our readers recently got into a debate about hand washing dishes, with some bemoaning the daily chore and others saying it wasn't a big deal—just do them and be done with it. Tiff B piped in to remind everybody about countertop dishwashers, which hook up to the kitchen sink and don't need permanent installation. She owns one and loves it (and convinced at least one other reader to go buy one.) This model from Edge Star is highly rated and holds up to the equivalent of six place settings.
Damage-free ways to hang curtains let you maintain your privacy and your security deposit. Reader Robertb34 found these curtain brackets, similar to picture hangers, which use small nails to install. As he says: "There is no measuring for correct height and width and are perfect for renters as only small pin size holes are left once the brackets are removed."
If you are so (un)lucky as to have slatted blinds in your rental, and you'd prefer not to see them, try these curtain brackets (or these more substantial metal ones), which slide right on to the existing window coverings. Nottoserious says these little items are "great for apartments where the blinds are not allowed to be removed."
Last month I posted an ode to the Lazy Susan, which I keep in several of my cabinets at home for cleaning supplies and pantry items. Mine are from IKEA, but Bethany JPH brought up OXO's version, which she says has one key feature: a rubber lip that's both easy to grab and prevents stuff from flying off when you spin it.
Sometimes when you move into a new place, you inherit things the past tenant left behind, and sometimes that includes hair and gunk clogging your drains. If you have a slow-draining sink, and your landlord is less than responsive, ngnerd recommends these plastic snakes, which are cheap and anyone can use them. "I just used one of these in a laundry sink at a relative's house. It removed a matted lint ball the size of a mouse. Drain is good now."
If you are looking for ways to increase your rental bathroom storage, three commenters agree that these slide-out drawers fit nicely underneath the sink, are sturdy, and the wire lets you see what they've got inside. They are available both on Amazon and at Bed, Bath & Beyond, where our commenters used coupons to score a better deal.
Where GlenEllyn lives, the houses sit very close to each other, and it's easy for the neighbors to peek over and see if her bed is made in the morning. She tipped us off to Artscape removable window film (also available at places like Home Depot), which provides privacy even when shades are up—yet still lets in light. She says it's bit pricey but worth the cost. It was "easy to put up, easily movable if you don't get it straight the first time, and peels right off."
Related Posts for Renters: