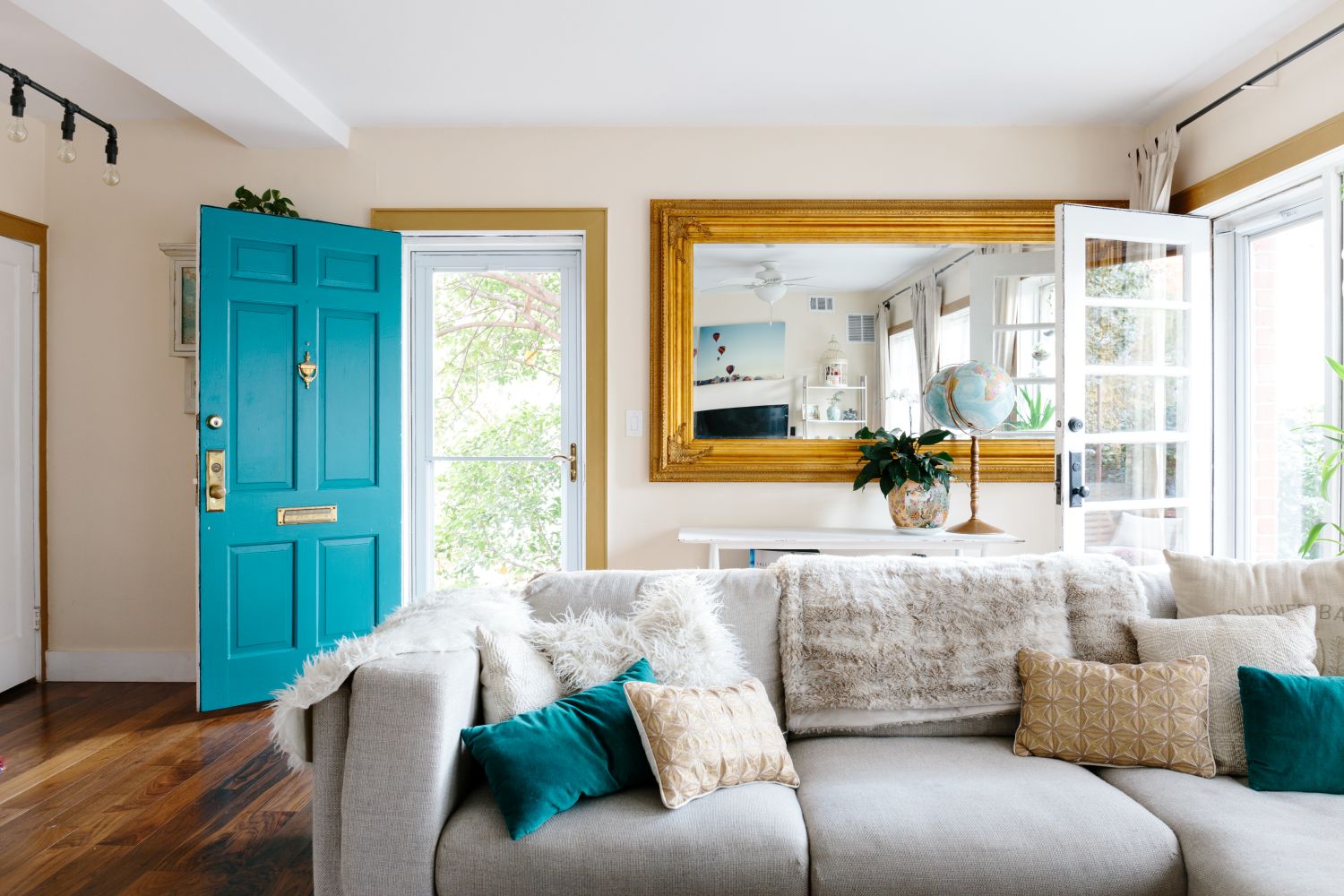 When guests walk up to your home, the first thing they see is ususally your front door. If it's chipped and peeling or dull and drab, trust us: Your guests (or potential buyers) are going to notice.
The front door is your opportunity to make a great first impression, so it's important not to treat it as an afterthought, or worse, forget it altogether.
"The front door greets us daily and is a key design element when considering curb appeal," says Sue Kim, Valspar Paint senior color designer.
Paying attention to your front door can pay off in less superficial ways, too. According to a recent analysis of more than 135,000 photos from sold homes around the country, the color of your front door can affect your home's resale value.
Turns out, homes with black or charcoal gray front doors sell for $6,271 more than expected. "For a seller, painting a front door is one the least expensive home prep projects, but also one that can have a powerful impact on a home's sale price," Zillow design expert Kerrie Kelly said in a statement.
Sherwin Williams Tricorn Black
(Image credit: Sherwin Williams)
Try a color like Sherwin Williams Tricorn Black in a high gloss finish, suggests Decorist creative director Jessica McCarthy. And if gray is more your style, try Benjamin Moore Graphite 1603, says San Francisco Bay Area-based interior designer Cecilie Starin. "The gunmetal gray makes an especially dramatic choice for a front door. Plus, it's very versatile and goes well with many different architectural styles."
Though a neutral front door may win you top dollar on the market, that doesn't make it the right choice for everyone. Experimenting with color is a great way to mix things up—without doing major renovations. "Updating the color of your front door is a fun way to create impactful change in an attainable way," says Kim.
If your door is in need of a colorful makeover, consider these designer-approved colors:
"A deep red front door is classic and timeless. Try a shade such as Salute from the HGTV HOME by Sherwin-Williams Sophisticated Whimsy Color Collection (SW7582)—a 2019 Color Collection of the Year—which can be paired seamlessly with cool or warm neutrals and is a beautiful accent to natural elements like stone and brick. It draws your eyes to the entry of your home and is nicely complemented with wrought iron." — Ashley Banbury, Senior Designer of HGTV HOME by Sherwin-Williams
"We're super excited about the color Make Waves [by Clare], a light blue-green, which would be a gorgeous doorway color on a singled beach house or a proper city townhouse. The easy peel-and-stick paint samples are absolute genius and will make presenting it to our clients a breeze." — Anne Maxwell Foster and Suysel dePedro Cunningham, Tilton Fenwick
"A Valspar 2019 Color of the Year, Spring Squash (2008-1B), is a light-hearted yellow with a touch of active orange to reflect a positive and playful attitude toward our home life" — Sue Kim, Senior Color Designer, Valspar Paint
"My favorite color for the front door is Hague Blue No. 30 by Farrow and Ball. The rich, green undertones complement red brick to white siding to subtle orange tones in stonework. It is a dark neutral with daring tones." — Sara Touijer, Touijer Designs
"It's bold but I love a red front door, specifically Sherwin Williams Red Barn SW 7591. It works well as a bold accent on otherwise neutral exteriors. Red doors are also steeped in historical and cultural significances, making them that much more appealing. In early American culture a red door was a sign of welcome. Also, during the Civil War a red door indicated a safe place for slaves. If you look even deeper into history, there are many biblical references to a red door in the old testament and many churches still paint their doors red in order to fend off "evil spirits."
In addition to historical significance, in some cultures a red door indicates a mortgage has been paid off. In others, red indicates good luck and positive energy (as explained in Feng Shui)." — Leigh Spicher, director of design studios at Ashton Woods