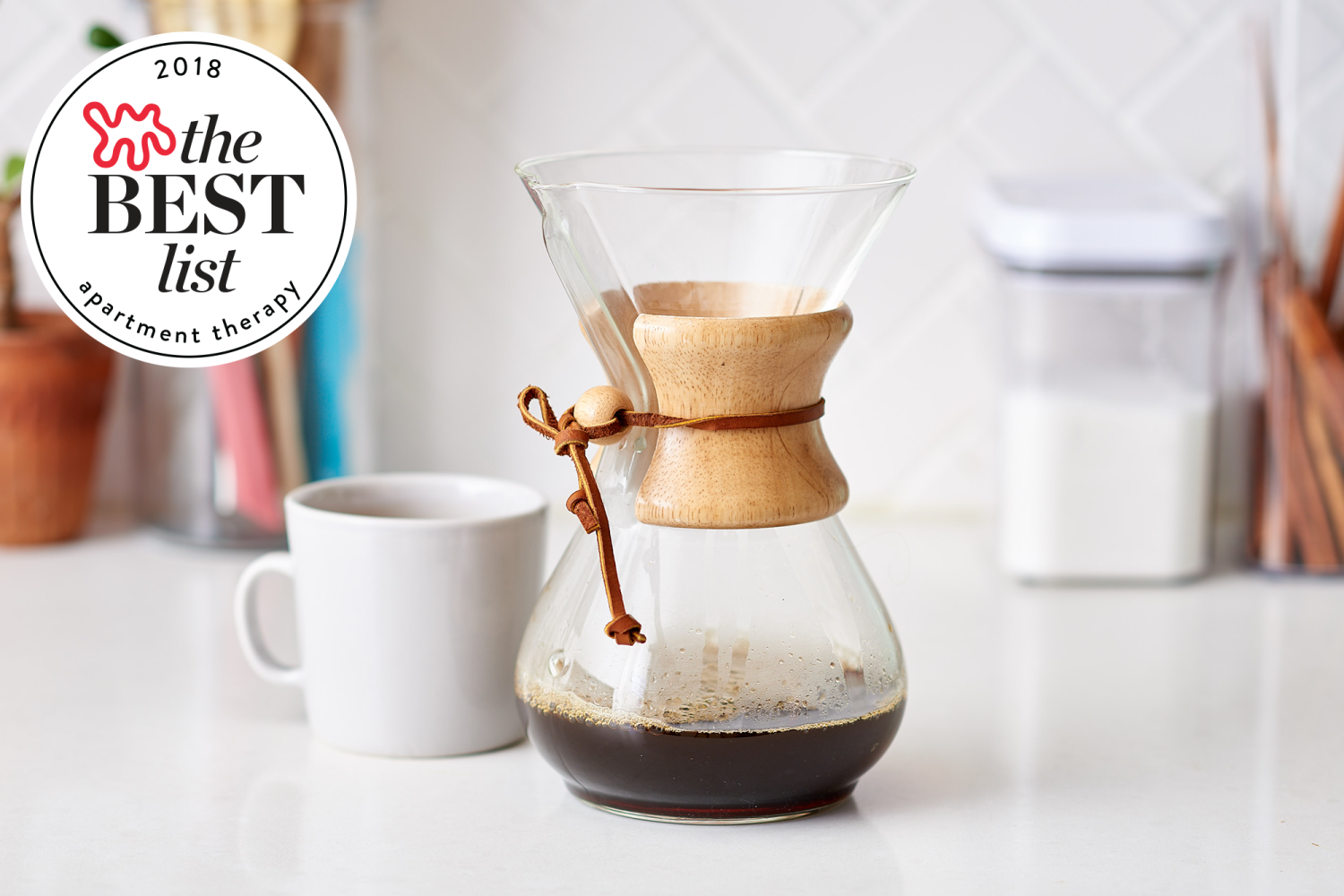 Maslow's Hierarchy of Needs includes five tiers of requirements humans need in order to thrive. Typically illustrated by a pyramid shape, the hierarchy includes a baseline of physiological needs: food, water, warmth, etc. Those are all fine — but what about coffee? I don't know about you, but our office seems to run mainly on caffeine. We take coffee very seriously here, from the flavor to the variety to the brewing process. And we're obviously not the only ones: Few things seem to be as sacred as one's coffee making ritual, and a huge part of that is the machine used to make it all happen. We've rounded up our very favorite coffee makers in four popular variations: drip, single serve, espresso and cold brew. Enjoy, and let us know your own coffee making habits in the comments below!
---
Maxwell's Favorite:
There are many ways to make coffee, but I will admit that my favorite—and the one that makes the best cup IMHO—is any nicely updated classic drip machine with an insulated carafe. Why? These machines drip slowly and accurately for the fullest taste, keep your coffee warm all Sunday morning, and you can set them, forget them and come back to ready coffee after you do your morning run.
For this review we looked at a range of machines, including the non machine kind (Chemex). I ended up going with this new OXO design that does a perfect pour-over job, has a decent price, and looks great doing it. The set-up was simple, the controls a breeze (not too many bells and whistles), and the super thermal carafe a welcome addition. Note to self: while I'd never heard of this before, this OXO machine makes "SCAA-certified perfect coffee"!
---
DRIP & POUR OVER COFFEE MAKERS


The Chemex is probably the most aesthetically interesting coffee maker you can buy. It kind of looks like it belongs in a science lab, which makes sense—it was invented by a chemist in 1941. Aside from how it looks, the Chemex makes pretty amazing coffee by a pour over/drip process. Simply pour hot water over the filter and coffee grinds, being careful not to pour the water in all at once. It'll take some practice to get your pouring method right (like a science experiment!). After about 3.5 minutes you'll have pure, sediment-free coffee that won't lose its flavor, even after storing and reheating.
---
An office favorite, the Bodum Bistro offers a more streamlined coffee making process. With no paper filters or pods necessary, you'll save money and be less wasteful (and if you're worried about clean up, don't be — everything is super easy to clean). The double-walled thermo jug keeps your coffee warm for hours, and the sleek design looks nice and tidy on your countertop.
---
The very favorite coffee maker of Kitchn's Lifestyle Director Lisa Freedman, the Moccamaster is heavy duty in both aesthetics and functionality — it's a pretty sizable machine and brews 10 cups of coffee is six minutes. One of the best things about it is the lack of dripping after pulling out the carafe, which is a major annoyance of other drip machines. With two stoppers included to keep your coffee hot, you can brew a large batch in the morning and keep coming back for me throughout the day without worrying about reheating.
---
For the uber design junkie, this hand-assembled, Portland designed machine is the most beautiful coffee maker we've ever seen — and we've had the coffee too, so we know it's good. Another one of Maxwell's favorites, it's very much on the high end but delivers your morning coffee in true style with minimalist design and your choice of dark walnut or blond wood trim. It works as a pour over maker, with precise temperature regulation and one button functionality.
---
SINGLE SERVE COFFEE MAKERS


A perfect small-scale option for coffee on the go, this machine from Hamilton Beach brews a cup of coffee in under 90 seconds (or a travel mug in 2.5 minutes). Plus, no paper filters are needed because of the steel mesh scoop, which acts as both a scooping tool and a filter. It's a no fuss, straightforward option that brews your favorite ground coffee quickly at a seriously low price.
---
The popular (and controversial) Keurig is king of the coffee world with a wide variety of models available for every type of person and coffee needs. The K Classic is, well, a classic, delivering fresh coffee in under a minute while accommodating three different mug sizes. Keurig machines are great for their versatility — aside from coffee, you can make cocoa, tea and iced beverages, making them worth the investment. One major downside to consider, however, are the pods, which generate a great deal of waste and are certainly not environmentally friendly (check out our best ideas for re-using them here).
---
This one is kind of a cheat since it's a full-fledged coffee center and is capable of producing both large pots and single serve coffee. On the one side is a fully automatic 12-cup coffee maker, and on the other a convenient single serve maker. The single serve side is K-Cup pod compatible, but also has a filter cup so you can brew your own coffee if you prefer. Like the Keurig, it accommodates three cup sizes (6 oz., 8 oz., 10 oz.). Despite being a 2-in-1 machine, it's surprisingly compact, delivering convenience that'll still fit on your countertop.
---
ESPRESSO MACHINES


Espresso machines tend to run on the expensive side, so this Delonghi model found at Target is a steal at under $100. Capable of brewing single and double shots of espresso as well as cappuccino, this is great for both afternoon pick-me-ups and entertaining guests at home. The 3-in-1 filter is designed for both one or two espressos and pods, giving you a variety of brewing options.
---
The espresso machine we use in our own office, the Essenza Mini is compact, easy to use and reliable (it's probably used at least 50 times a day here). If red isn't your vibe, check out the other five color options, as well as the other, more classic shape. There are a ton of Nespresso flavors to choose from, although they come in not so environmentally-friendly capsules. Unlike with K-Cups, however, Nespresso provides customers with recycling bags that you can fill with your used capsules and ship free of charge to be recycled.
---
The result of a collaboration between Breville and Nespresso, the Creatista makes barista quality coffee from the comfort of your home. This machine is totally customizable, allowing you to choose from a menu of eight pre-programmed drinks (espresso, flat white, cappuccino, café latte, latte macchiato, ristretto, lungo and hot milk) and adjust the coffee volume, milk temperature and milk froth level. The integrated milk frothing system lets you play around with your "latte art" skills, and you have the full range of Nespresso pods at your disposal.
---
COLD BREW COFFEE MAKERS


Buy now
Love cold brew but don't want to spend a ton on another coffee machine? This pick from OXO is your answer — it's budget-friendly at under $50, and small enough to not take up too much space on your countertop. It can brew hot coffee as well and is super easy to use — just add grounds and water and steep overnight. The glass carafe is a good size to fit in your fridge, and everything comes apart easily for cleaning. It's a bit odd-looking, but it's small and very effective.
---
This automatic cold brew machine from Cuisinart is fast, taking just 25 minutes to brew. It works with spin technology that circulates the coffee through the water for improved flavor and quicker turnaround, making the process as easy as possible. With three flavor strengths and the option to refrigerate in the glass carafe for up to two whole weeks, this cold brew maker is a great investment to fuel your coffee addiction.
---
We couldn't not include this absurdly over the top cold brew maker. While the Chemex looks like science class equipment, this one looks like it belongs in a full-blown lab. Instead of using the immersion process to brew the coffee, the Yama utilizes drip technique for an even richer, fuller flavor. The final product is delivered in 3-4 hours. While this machine won't save you space, it is made with 100% real wood in a beautiful design, making it a truly unique feature in your home.
---
More Inspiration:
---
Other Good Resources:
---
Apartment Therapy supports our readers with carefully chosen product recommendations to improve life at home. You support us through our independently chosen links, many of which earn us a commission.