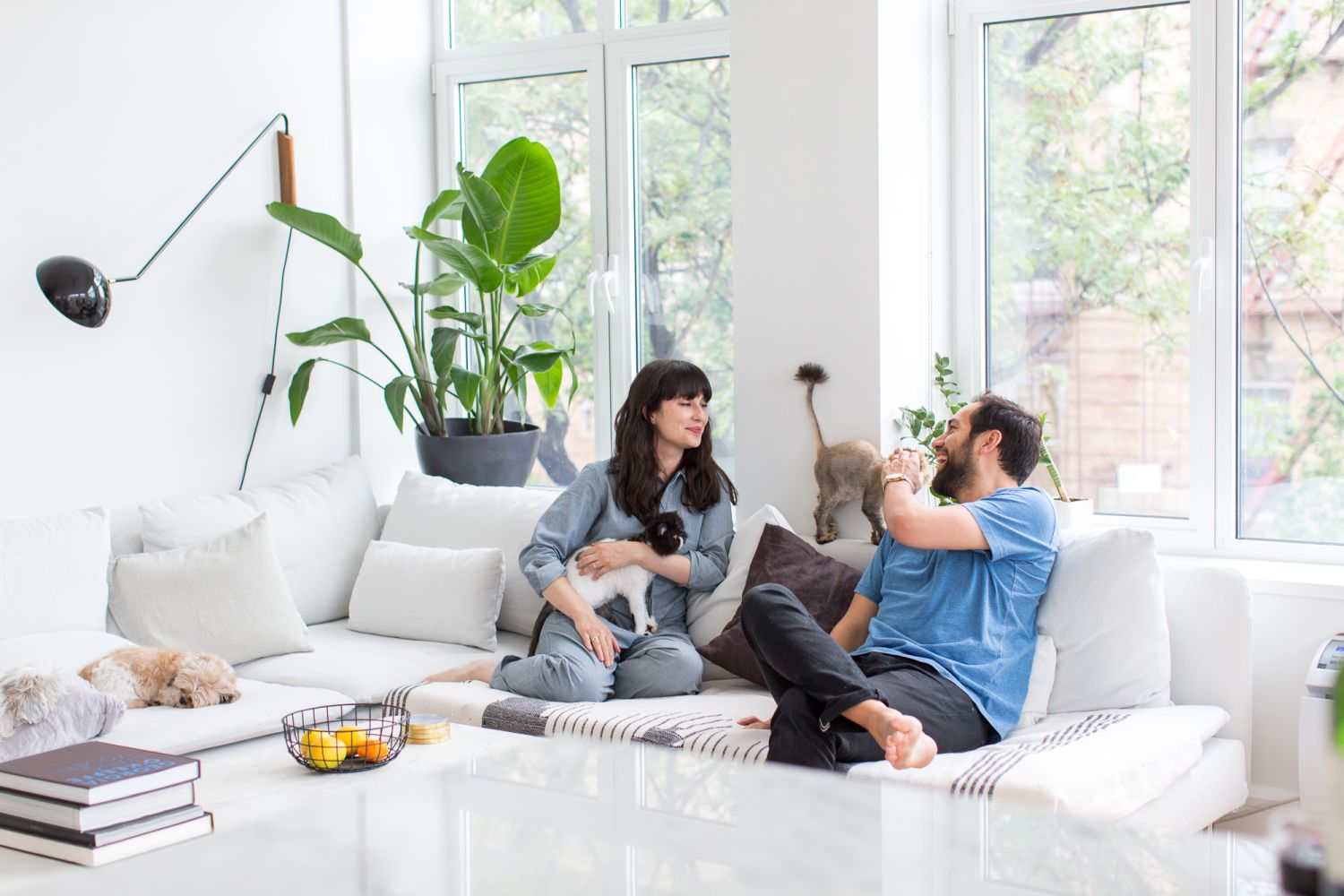 There's nothing like coming home and plopping on the couch at the end of a long day—unless you happen to be less than thrilled with your space. Scientific research has proven over and over again that the way your house looks, including the colors it's painted, the amount of light it gets, how cluttered it is, and even its ceiling height can affect your stress levels and overall feeling of contentment. The good news is that you don't need to give your space a drastic overhaul to inject a little bit of cheer. These ideas are simple, cost less than $20 (or nothing at all!), and for the most part are actually fun to do. Let the happy-making begin!
Ditch your curtains
While curtains do a great job cozying up a space and adding privacy, they can become a serious downer if your space doesn't get much natural light. Researchers have found that sunlight pouring through a window can boost serotonin levels, which improve your mood and even help fight depression. Instead of heavy, dark drapes or blackout shades, try sheer panels, or better yet, get rid of your curtains altogether. Bonus: Waking up to the sun makes getting out of bed in the morning easier!
Wash your windows
If you really want to maximize the amount of daylight you're getting at home, break out that bucket and rag and clean your windows. You may be surprised at the amount of grime that can accumulate over time, especially if you live in a large city or near a busy street. All that dirt not only clouds your view, but may be increasing air pollution. Find our how-to for making your windows gleam here.
Light candles
It ain't called aromatherapy for nothing! Smelling a fragrance you like can make you happier, and you don't have to shell out big bucks for a nice candle. Anthropologie and smaller companies like P.F. Candle Co. sell deliciously scented options for less than $20, and dozens of high-end companies like Diptyque also make mini travel candles that can be bought for a fraction of the price of the full-size versions. Try lavender, which aids with sleep, in the bedroom, or an invigorating citrus scent in the kitchen.
Pull out those souvenirs
Too often we collect knick knacks and mementos from trips, school, or family members only to bury them in the back of a cabinet. But looking at these items can be a powerful reminder of adventures you've had or meaningful interactions, says Gretchen Rubin, author of "The Happiness Project." Instead of stashing them out of sight, corral them on a tray and move them to a prominent spot: your coffee table, dresser, or the front of a shelf. If you don't have room to spare, line them up along a windowsill.
Buy a bouquet
Fresh cut flowers may seem like a frivolous expense, but keeping them in your home is scientifically proven to make you smile. And it's not like you need dozens of pricey peonies or exotic orchids to reap the benefits. Just a stem or two of any flower can perk you up. Shop the grocery store for bargains, or ask a neighbor with a garden if you could snip a couple of blooms. Then pop them in a pretty vase or even a drinking glass, take a big sniff and let the endorphins wash over you.
Turn up the tunes
You know that feeling you get when you're blasting Spotify and your favorite song comes on? Listening to music you love, whether it's thumping rock or peaceful piano sonatas is practically guaranteed to make you feel more joy. (And this tip isn't scientific, but we've always found dancing around and singing along at the top of your lungs helps too!) Of course you can't practice this advice at all hours— especially if you'd like to avoid your neighbors hammering on your door at 7 a.m.— but a Saturday afternoon singalong sesh may be just what you need.