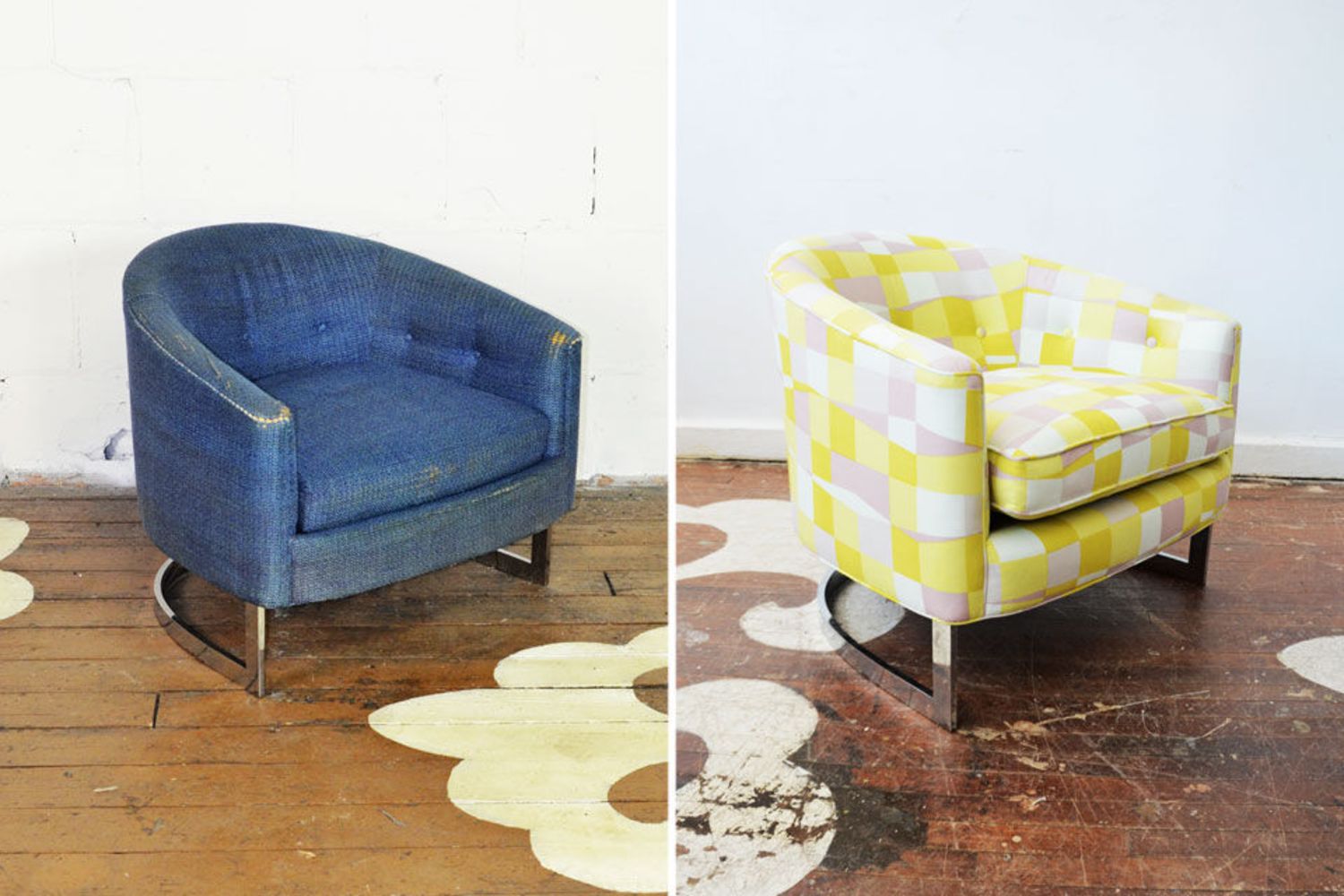 Last Sunday we had a glorious day in Brooklyn with Molly Andrews Burke of Chairloom and more than a dozen remarkable, chic textiles designers from all over the country for the first Textile & Upholstery Tent Revival. Apartment Therapy was proud to help sponsor the day, and loved being back in touch with so many artists that we knew and others we hadn't met yet. Reupholstering lovely old chairs, sofas or headboards has never been easier with Chairloom's presence—they will even pick up and deliver your treasure door to door. Check out profiles of everyone who was there below, and follow your faves on instagram.
Eskayel is a New York-based textile design studio that weaves fine art with exacting craftsmanship. Dedicated to sustainable innovation and lasting beauty, it treats all environments conscientiously. Each of Eskayel's one-of-a-kind designs originates from a painting inspired by nature or travel and created by studio founder Shanan Campanaro.
Founded 30 years ago, Malabar is a leader in hand loom fabrics, with all weaving done in southwest India using traditional methods. Malabar fabrics are known for their rich and vibrant hues, which are especially present in their cotton collections — all the cotton fabrics are dyed by hand and woven without machines in the Kerala region of India.
A lover of the bold, eclectic and imperfect, Erin Flett is anything but minimalist. Her line of textiles, including pillows, bags and wallpaper, are fun and fresh — you can't help but smile while looking at them. Best of all, Erin works out of an old cotton mill in Maine and is committed to using domestically-produced materials.
An interior designer, textile maker and style consultant, Anthony Gianacakos has worn many hats throughout his career while still managing to cultivate a clear, recognizable aesthetic. Describing his look as "masculine modern," Anthony uses a mix of old and news styles in a mix of bold and elegant colors.
Founded by designer Mili Suleman, KUFRI values authenticity and imperfection. By embracing production "flaws" in their products and ensuring that no two designs are exactly the same, KUFRI is preserving the way weaving has been for centuries: raw, genuine, and utterly artistic.
Coral & Tusk is a truly one-of-a-kind textile company, as each embroidered creation begins on paper with founder Stephanie Housley's whimsical illustrations. The next step is recreating each drawing stitch by stitch using computer software, which is then sent to India for production. The result is heirloom quality textiles that are also environmentally-friendly — fabrics are left unbleached, and packaging is made with recycled and sustainable materials whenever possible.
Based in Istanbul and NYC, Clare Louise Frost started out with a line of hand-stitched kimonos, but now specializes in producing handmade fabrics and sourcing Turkish rugs. Her fabrics are created in Afghanistan, India and Turkey, and are full of bright colors and funky patterns — many of them including animals!
A lover of contemporary, bold patterns, Kate Loudoun Shand specializes in linens. Each design starts as a hand-painted pattern, done in ink, house-paint, or gouache, which are then either screen-printed or digitally printed in small batches. Kate creates with intention, with every fabric complementing the others in her line, and makes sure to "live" with the early samples in her own home.
Having spent time in some of the most inspiring cities in the world, including San Francisco, London and New York, Savannah's work relies on urban influences. Her signature aesthetic is graphic and elegant, and wide range of work includes fabrics, pillows, throws and, come January, even wallpaper. Now based in Pittsburgh, Savannah also hosts a podcast on creative entrepreneurship called Gamechangers.
Designer Elizabeth Hewitt began her work as an antique textile dealer and collector before branching out and creating her own fabrics. A frequent traveler who is always collecting and exploring, Elizabeth's creations all have a story to tell, from the design choices to the influences behind their names.
Based out of North Carolina, Cat's work is infused with both tradition and color. Her vibrant textiles are often inspired by nature and folklore, and strike a perfect balance between sophistication and whimsy. Cat draws all motifs by hand first before digitally printing the fabrics in small batches out of a Pennsylvania mill.
A partnership between fine artist Alex Mason and textile producer Brian Ferrick, Ferrick Mason creates distinctive fabrics that are classic and elegant yet also bold and refreshingly modern. Rendered by hand by Alex, each design is organic and influenced by nature, and the fabrics themselves are all produced in the US. The team utilizes a variety of printing methods, including hand silk screening and rotary printing, to fully capture the depth of Alex's work.
A company that's been around for over 70 years, Pindler has perfected fabric design and development. With its wide-reaching and ever-growing product assortment, Pindler has a fabric for any and all home decor needs (including outdoors!). From the standard cotton and linen options to more unique offerings like faux leather and vinyl, Pindler's stock can seem overwhelmingly vast — but is ideal for the design perfectionists out there.
Brooklyn-based designer Hana Getachew started Bolé Road as a merging of her two passions: Ethiopian handwoven fabrics and her long career in interior design. Her love of brights colors and vibrant patterns is a direct reflection of her Ethiopian heritage, and her work directly supports Ethiopian artisans — all of her fabrics are designed in Brooklyn and handwoven in Ethiopia.
Launched by designer Brit Kleinman in 2014 with a flagship collection of hand-dyed leather rugs, AVO has since expanded to include leather pillows and upholstery. Each product is created and dyed by hand in house, and AVO is committed to producing pieces that are made to last and get better with age.
Artist and designer Sue Henry began her career with ceramics before opening her first home goods store and moving to the East Coast. Her recently-relaunched brand Tulusa is all about home textiles, including both block printed and embellished products like clutches, napkins, place mats, and pillows.
Check out photos of the designers from our event here: