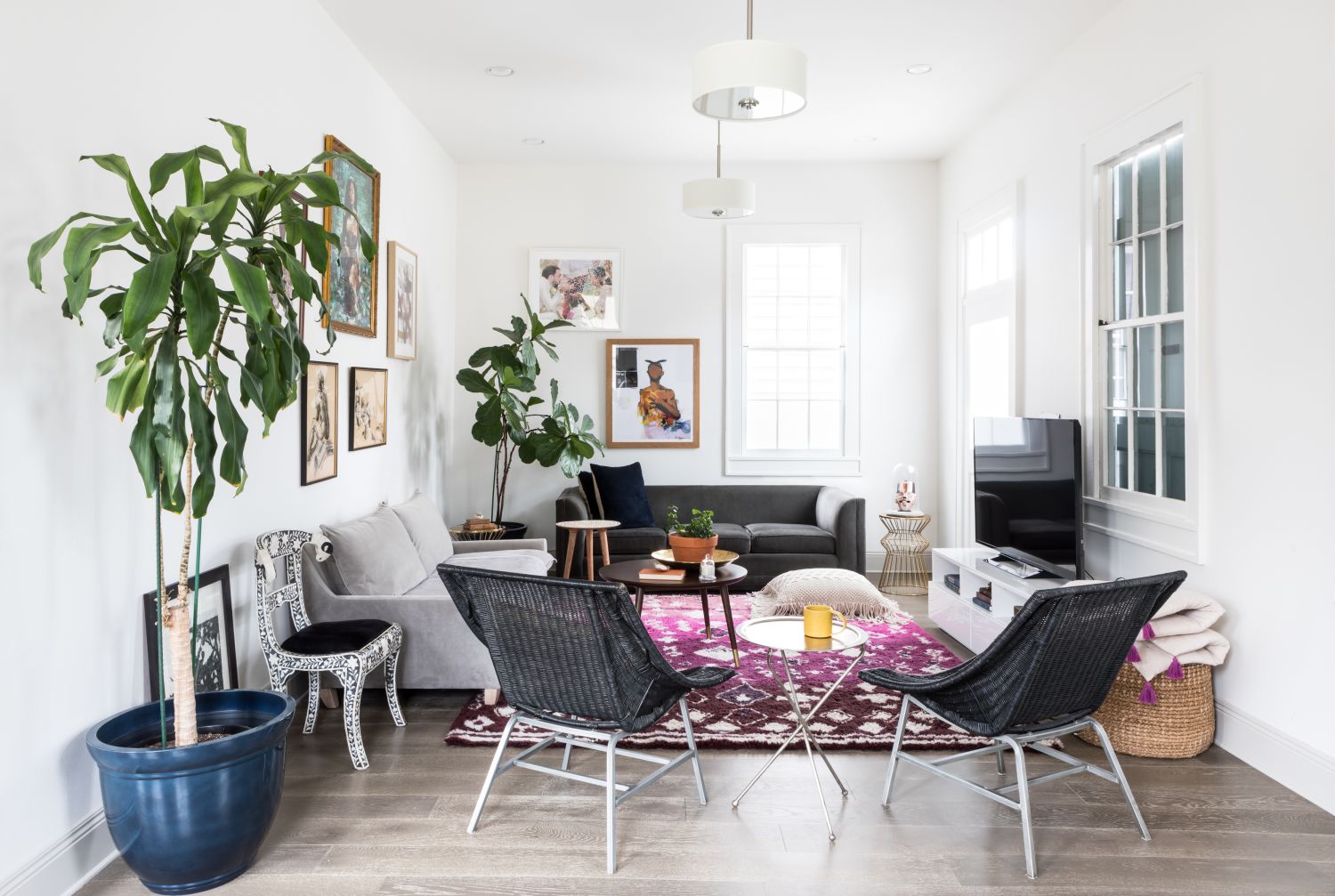 Name: Swathi Narra and Jay Miller
Location: Marigny — New Orleans, Louisiana
Size: 2,200 square feet
Years lived in: 1 year, renting
Swathi is a worldly woman of fashion while Jay is a man of science. Combine these seemingly disparate influences inside a sun-drenched New Orleans "dream rental," and you get a perfectly balanced environment that's sophisticated, personal, and inviting.
Swathi, co-founder of the Indian fashion rental and retail portal Luxemi, is a Louisiana native with a love for beautiful textiles, unique art, and anything brass. She draws design inspiration from color combinations in old saris, black and white family photos, and the vintage tableware and dishes she's inherited and collected during her frequent world travels. Magazine tear sheets neatly taped to the couple's kitchen wall offer a hint of her current fashion influences and act as a mood board for her next Mardi Gras costume or styling gig.
Jay is a medical fellow with a passion for science, gardening, and sneakers. His design influence is evident in the anatomical pictures and skulls that decorate his office and the framed drawings of sneakers sprinkled about their home. Having an outdoor space for the first time as an adult has allowed Jay to fully indulge his love of plants and create a backyard oasis they call their "magical fairy garden." His green thumb also adds life to their home's interior where large house plants and garden cuttings grace each room.
The couple met at a New Year's Eve party in New Orleans in 2003. Although it would take another three years for a romance to blossom for Swathi and Jay, the Indiana-native did find love that fateful year. While earning his Master's degree in Human Genetics at Tulane University, he fell head over heels for New Orleans and knew he needed to find a way to return.
"When people visit New Orleans there are usually two types of reactions," Swathi muses. "There are those who are happy to visit for the weekend and they have a great time but know their 'real life' is somewhere else, and then there are those who visit and it just gets into their bones and they can't possibly imagine living anywhere else. The latter is what happened to Jay."
The Crescent City has always held a special place in Swathi's heart. Although she left her childhood home in nearby Baton Rouge after high school, she loved returning to Louisiana for visits with friends from other places to "show New Orleans off." "It's where I met Jay, celebrated my 30th birthday, and where we got married," she says of her beloved city.
Together, Swathi and Jay, married in 2014, dreamed of the day they could put down roots together in New Orleans. That opportunity came when Jay was offered a medical fellowship at LSU Health Sciences Center in 2016. The couple packed up their life in Chicago and headed down to New Orleans.
The life they are building together in their Marigny rental is living up to their expectations. Artistic inspiration is abundant with places like Studio Be and the Music Box Village nearby and their neighbors have become friends. "Everyone looks out for each other. We socialize together, we share plant cuttings—it's all the little things that make a community feel like you are a part of something," Swathi says. "I genuinely get excited to chat with Karen, our local mail lady, and I love that our neighbors take the initiative to have pot-hole filling parties (it's a thing!) and to clean up trash and clear our catch basins. It's pretty darn special."
Swathi sums it up like this: "After having lived all over the U.S., I can unequivocally say there is no place in the country quite like New Orleans. It is vibrant, soulful, challenging, hedonistic, and magical all at the same time."
Apartment Therapy Survey:
Our Style: Global. Personal. Comfortable. It's important to us that our space reflects our personalities and you can hopefully see that in the decor. Jay is a man of science so the anatomical picture of the lungs, the skulls, and the black and white picture of Charles Darwin are all representative of him. I love beautiful textiles, unique art, and anything brass. We both love Tupac, good coffee (our board in the kitchen is papered with coffee packaging), and items that have an interesting story or history attached to it. Our home is a work in progress with some quirky decor moments happening but it is reflective of us.
Inspiration: Riads in Morocco, boutique hotels in Mexico, and bungalows in India make me absolutely giddy with excitement. I also love the mix of Indian influence with a French sensibility and I'm especially inspired by the homes in New Orleans that are brimming with soul and personality. I'm drawn to interesting color combinations and usually find inspiration in old Indian saris and textiles. In fact, the color story of the linens in the master bedroom was inspired by a salwar that a guest wore at a wedding.
Favorite Element: One of my favorite elements is something I can't take credit for. This house gets amazing light all day because we are on a corner lot with a wall of windows. I work from home quite frequently and having bright light is a wonderful mood booster and is one of the things that drew me to the space initially. My other favorite element is our wall of black-and-white family photographs. I collect them every time I visit family in India or when we visit Jay's family in Indiana. It's so special and I hope to rotate them every so often to showcase them all. Can I add one more thing? Our china cabinet! Despite the fact that I can't believe I'm adult enough to actually have a china cabinet, looking at it every day brings me immense joy. It's filled with vintage finds, inherited items, and a lot of brass from India and various other travels. I bought it on a late night Craigslist session and we wallpapered the back in removable paper just for kicks.
Biggest Challenge: To be honest this house is a dream rental. It was already renovated before we moved in and is a perfect blank canvas. Generally, we aren't "white wall" kind of people but since we are renters we decided to keep it "as is" since I didn't want the responsibility to paint it back if and when we move out. It allows us to incorporate more color through our furniture and accessories and of course makes the space feel airy and bright.
What Friends Say: "Is this house available to Airbnb?" (No it's not but you can come stay with us!)
Biggest Embarrassment: This isn't an embarrassment per se but I don't love all the light fixtures in the house. They lean a bit more contemporary glam than our personal taste but it's a good exercise in self-restraint. I'm sure we could swap out the light fixtures but it's totally unnecessary and feels indulgent since everything is brand new and works perfectly well.
Proudest DIY: Our garden. This is Jay's baby and all his handiwork. He spends considerable time out there in the sweltering Louisiana heat planting, pruning, weeding, and mowing our little plot of grass in the city. We added a few artificial blooms to the salvaged windows for some extra NOLA whimsy. There are always butterflies flitting about and in the evenings you can hear jazz music wafting in the air from nearby practicing bands. We call it our magical fairy garden.
Biggest Indulgence: Our bed. We splurged on a new king mattress and bed frame when we moved to New Orleans and don't regret it for a second. It's a statement piece that makes me happy every time I look at it.
Best Advice: Buy things that you love or that elicit an emotional response. Granted, some things only serve a functional purpose but for those items you see and touch every day—make them count. Also, art goes a long way in making a home feel more personal. Admittedly, a lot of our furniture comes from big box stores but I try to incorporate as much original art as I can to make things feel special. Original art is not always in the budget but purchasing prints by local artists or inexpensive thrift store pieces can really put the exclamation mark on your home.
Dream Sources: Antique markets in Pondicherry, Jayson Home, Sunday Shop, Natural Curiosities in L.A., all the flea markets, and any place we travel to. I love picking up reminders from our trips!
Resources:
ENTRY
Wood console — Nadeau
Ganesh wall carving — Purchased in Hyderabad, India
Yellow vase — Jonathan Adler
Silver bowl — Jayson Home
Cow rings — Antique, purchased in Mumbai
Umbrella stand — Thrift store find
LIVING ROOM
Gray couch — West Elm
Large Gray couch — A random furniture store in Indianapolis that is no longer in business
Wicker chairs — Vintage purchased at The Find in Chicago (no longer in business)
Ram's head chair — Nadeau
Media console — CB2
Rug — Anthropologie
Brass side tables — Target
Floor cushions — Jayson Home
Coffee table — World Market
Brass platter — Jayson Home
Side table books — My grandmother's from the '30s
Kilim pillows — Repurposed donkey saddle purchased at Kilim Evi in Cappadocia, Turkey
Mask — Purchased in Mexico City
Tupac print — Hebru Brantley
Female print — Artist Unknown, purchased in Jaipur, India
Female nude sketches — Vintage, purchased at Randolph Street market in Chicago
Lung print — Society 6
Asian etching — Purchased in Bangkok
Abstract print — Target
DINING ROOM
Dining table — CB2
Chairs — IKEA
Rocking chair — Olindes Furniture in Baton Rouge
Bench — HomeGoods
China cabinet — Craigslist
Rug — World Market
Mirrored side table used as a plant stand — Craigslist
Artwork — Victor Uhthoff from Mexico City
KITCHEN
Stools — World Market
Coffee Cart — The Home Store
Chair — Anthropologie
Artwork — Vintage from Caravan Finds in New Orleans
Bookshelf — IKEA
Pink Rug and black rug — Purchased at Kilim Evi in Cappadocia, Turkey (pink rug); and World Market (black rug)
MASTER BEDROOM
Bed — Anthropologie
Side table — Craigslist
Campaign desk — Target
Rug — Rugs USA
Dresser — IKEA
Indian artwork — Vintage from my mom that she purchased in the '70s
Accent chair — Royal Standard Antiques in Baton Rouge
Blue female artwork — Maddie Stratton; purchased from Oleander Gallery in New Orleans
GUEST BEDROOM
Bed — IKEA
Dresser — Found in a random furniture store in NYC in 2002
Side tables — Target
Rocking chair — Thrift store find in Ponchatoula, Louisiana
Horse artwork — Second Floor Studio in New Delhi, India
Indian artwork — Vintage from my mom that she purchased in the '70s
Blue pillows — Boehm
Various textiles — Purchased all over India
Bamboo shelving — Wayfair
Rug — Anthropologie
OFFICE
Silver desk — IKEA
Sinker cypress table — Monkey Wid a Fez in New Orleans
White desk — Cb2
Shelving — CB2
Rug — Rugs USA
BATHROOM
Painting — Vintage (Artist Unknown) from Sunday Shop
Floor mat — Beija Flor
Towels — Jennifer's Hamam in Istanbul
Shower curtain — Target
Thanks, Swathi and Jay!
---
Apartment Therapy supports our readers with carefully chosen product recommendations to improve life at home. You support us through our independently chosen links, many of which earn us a commission.