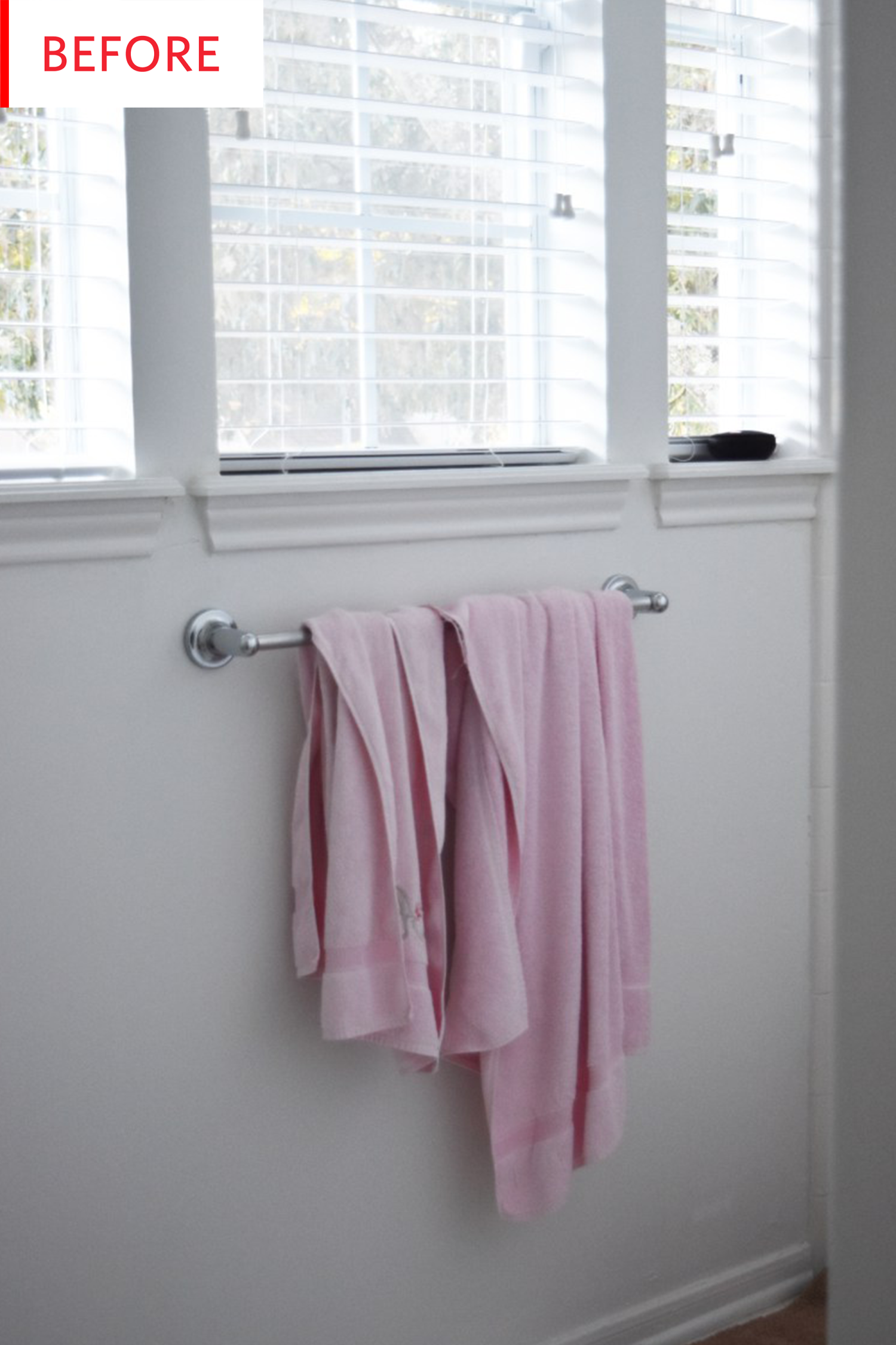 When pink towels weren't enough to liven up an entirely white bathroom, one intrepid DIYer spent the weekend—and just $100—transforming the room with color.
Here's what was behind this weekend makeover:
Even for someone who loves white, like me, this space was way too sterile and cold. All I wanted was to add a little character without committing to too much color.
Wow! Angelica of My Dear Irene did such an amazing—and efficient—job. This is bright and vibrant thanks to the stripe of blue yet calm and tranquil thanks to that particular blue. I always love paint-dipped stools—or those dining chairs we saw in a recent Before & After—and this version is super cute, with the way it's practically camouflaged against the shower curtain and newly painted wall.
Angelica has provided my favorite Before & After task list ever:
I was determined to finish this bathroom refresh within a weekend's time while spending the least possible and using basic DIY skills.
SATURDAY MORNING
Made the shower curtain: I cut off the bottom ruffle part of an old white shower curtain and replaced it with a light blue cotton fabric (only basic sewing skills needed).
SATURDAY AFTERNOON
Ironed the shower curtain and hung it.
Wall painting preparation: I positioned painter's tape on the walls to create a blue "band" that would expand from the shower curtain blue part onto the walls.
SATURDAY EVENING
Shopped for blue paint, towels, bath mats, shower curtain liner, mini plant, frames, and heavy weight paper. Luckily all the stores were located within a half-mile range!
SATURDAY NIGHT
Painted the wall blue band (less than half an hour process for two small wall areas).
Painted the top part of a wooden stool.
Loaded the washing machine with the new towels.
SUNDAY MORNING
Jumped out of bed to examine the blue color under daylight. It was perfect!
SUNDAY AFTERNOON
Created the three DIY wall art pieces.
Painted the bottom part of the wooden stool.
SUNDAY EVENING
Did a quick cleaning.
Shopped my home for a couple more decorative pieces.
Styled the bathroom.
The custom shower curtain is an impressive achievement—it never would have occurred to me to "Dr. Frankenstein" some shower curtains and/or fabric together, but it looks amazing, opens up a world of possibilities, and is probably generally a lot more affordable than store-bought shower curtains.
This photo gives us a good look at Angelica's art; the slightly darker blue adds an edge, and the abstractions work perfectly with the room's peaceful, serene vibe. Apparently, the process was as enjoyable as the results:
Last, I spent a weekend doing what I like most: painting, sewing, creating art, shopping, and styling. And because everything was small scale, it was fun and not a bit tiring.
Here we can see even more white of the bathroom, plus a black-and-white shower curtain that I really support. Black and white looks great in a bathroom! But Angelica's blue and white is fabulous.
What I love about the result is the distinct band of blue color that goes around the walls, continues on the shower curtain and onto the stool. I purposely ended the color band about 12 inches above the baseboard trim—exactly where the shower curtain ends. It all gives such a fresh and clean feel.
And if I ever get tired of the blue color, it can be changed so easily!
Thank you, Angelica of My Dear Irene!