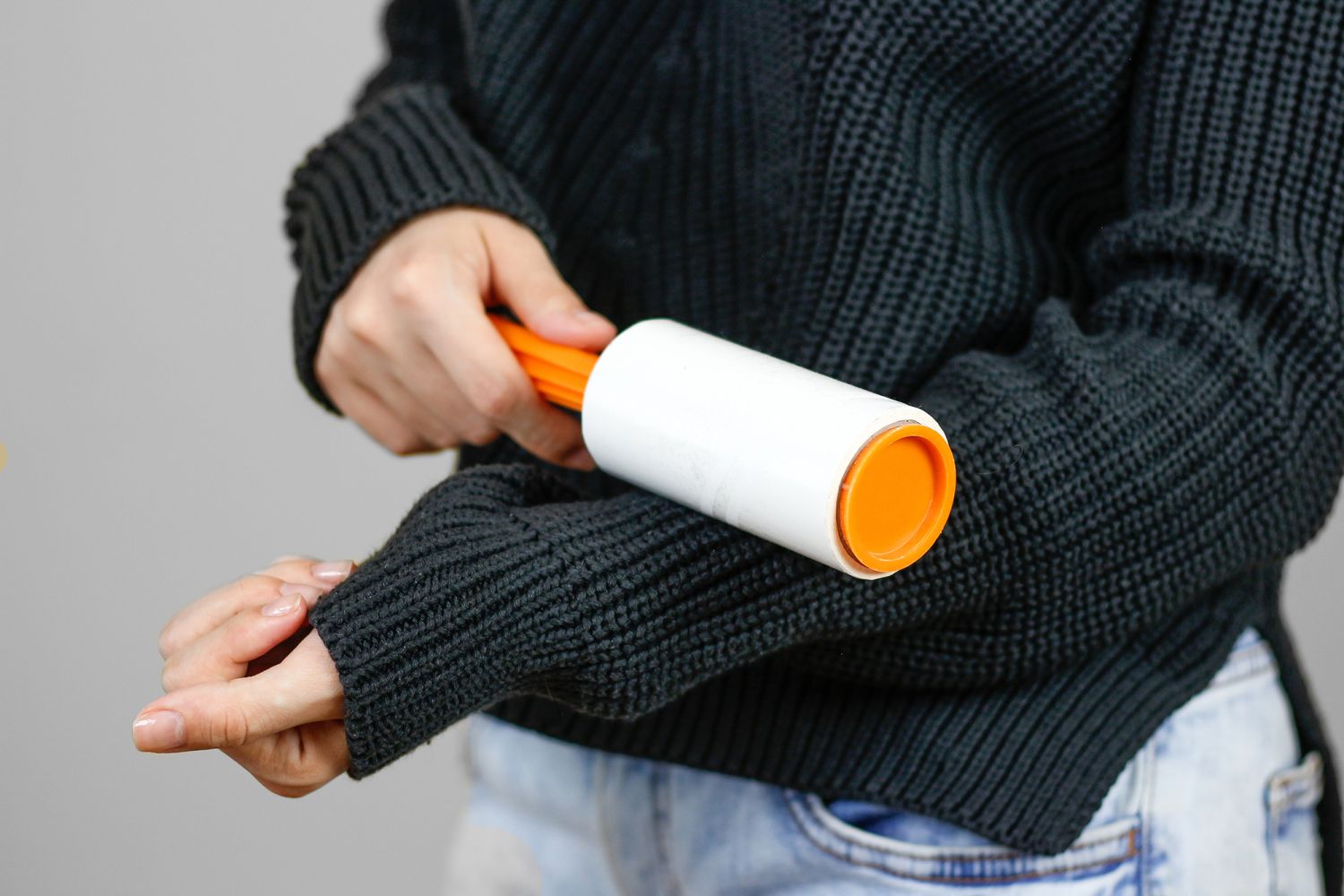 Nothing ruins an outfit faster than having a bunch of lint all over it. And while you can devote 15 minutes of your already chaotic morning to lint-rolling yourself back to perfection, it helps to have other ideas on deck to get all that cottony debris off you quickly.
So to help getting dressed—and your mornings—go more smoothly, we rounded up a bunch of tips, tricks, and hacks for removing lint, and keeping it away. From dryer sheets to drawer liners, here are 10 well-kept secrets that'll make sure you never, ever have to walk out the door covered in fuzz.
1. Grab a Dryer Sheet
It makes sense that dryer sheets, with all their amazing anti-static laundry properties, would have the power to remove lint from your clothes even when used outside of the dryer. All you have to do is rub the surface of your outfit with a single dryer sheet and voila: You're fuzz-free!
2. Use Masking Tape
Fresh out of lint roller sheets and covered in hair? Fret not my pet owner friends, masking tape can do the trick. Just use the sticky side to pick up each piece of lint to score a fur-free outfit!
(Image credit: Gallo Images Pty Ltd./living4media)
3. Employ the "Air Only" Dryer Setting
Put on an all-black outfit only to discover it's covered in lint? Don't panic. Just toss it in the dryer with a clean dryer sheet and run the "air-only" setting to rid your clothing of all that lint in a pinch.
4. Wash Your Outfit Inside-Out
We all have at least one article of clothing in our closet that we love even though it's a lint magnet. Luckily you can combat the fuzz ahead of time by washing the garment inside-out, to bypass sticky lint problems and minimize shedding.
5. Use Distilled White Vinegar
As if we needed another reason to always have distilled white vinegar on hand, it turns out it's great for removing lint, too. Add a cup of it to your laundry during the final rinse cycle and say "vamoose" to pesky fuzz from sweaters and bath towels.
6. Employ an Anti-Static Spray
If you thought anti-static spray was only good for preventing your garments from sticking to your body, then think again. Just like it can make your clothes less static-y, spraying your outfit with anti-static spray will help prevent lint from sticking to it, too.
7. Use a Pumice Stone
Believe it or not, that pumice stone in your bathroom can do a whole lot more than just smooth your skin. Next time you're faced with a pilling sweater, try rubbing it with your pumice stone to remove the balls and take any flecks of lint with it.
8. Try Contact Paper
Sitting on a roll of contact paper or a pack of self-adhesive drawer liners? The next time you're faced with a lint-covered ensemble on your way out the door, try using the sticky side of the paper to remove a larger surface area of lint on the go.
9. Use a Scouring Pad
Who knew scouring pads—you know, the scratchy green ones you use to scrub your pots and pans—could also get rid of fuzz and lint on your clothes? Just dampen a scouring pad to soften it and scrub off lint like a pro.
10. Use Your Hairdryer
When all else fails, you can always count on your trusty hairdryer to get you nice and lint-free on the fly. Simply dampen a new dryer sheet and gently rub it on your fuzz-covered garment while simultaneously blowing it with the cool setting on your hair dryer to achieve a crisp-looking outfit in seconds.
Apartment Therapy supports our readers with carefully chosen product recommendations to improve life at home. You support us through our independently chosen links, many of which earn us a commission.