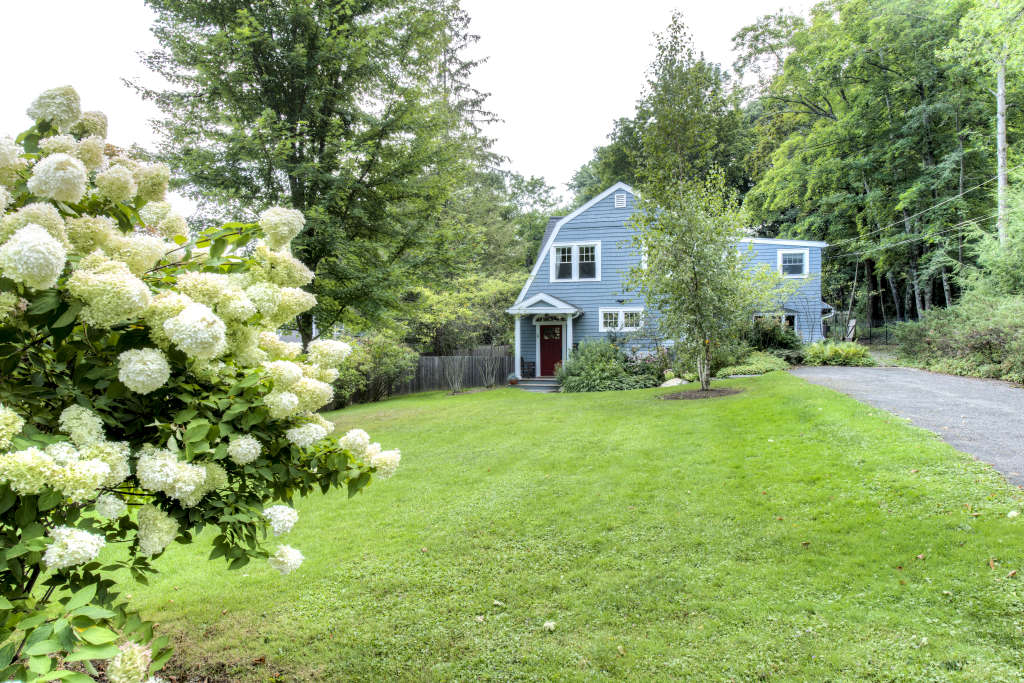 Name: Jess Cooney
Location: Great Barrington, Massachusetts
Size: 3,000 square feet
Years Lived In: 7 years, renting
New England-based interior designer Jess Cooney worked reno magic on an old carriage house a few years ago. Everything from an exterior paint job to a complete refresh of the interior transformed what was an outdated, dark space. Though she sold the home a little while ago after buying the original main house next door, her careful contemporary remodel of the structure's charming architecture is worth studying for inspiration.
"This house was completed right after we moved from Colorado to the Berkshires so there are some elements of our time in Colorado and some elements of the Berkshires reflected within," wrote Cooney. "The house was an old Carriage House barn from the late 1800s and was renovated into a home in the 1930s. The ceilings were dropped and the barn board was sheetrocked over. We were able to uncover all of that in the main area and back staircase area when we opened the walls up." See the before photos of this carriage house.
Apartment Therapy Survey:
Favorite Element: My favorite element of the house is the large open middle space—it's tucked away off the road and is quiet and relaxing in the house yet so close to town. The fireplace in that room heats the whole house in the winter and in the summer, the sliding doors open to a private bluestone patio.
What is your favorite room and why? My favorite room is the master bath. It was at one time a kitchen in an upstairs apartment and we were able to renovate the whole space into a master bath with a zen feel. The tub is amazing and when you sit in it you feel like you are sitting in the tree tops as you gaze out the windows on either side.
If you could magically change something about your home, what would it be? I would absolutely add a basement. The house was a challenge to renovate because it was on a crawl space only, so having a basement as a playroom for the kids would be amazing!
Which fictional character would be most at home in your place? My daughter reminds me of Ramona Quimby living in this house. She visited the neighbors and rode her bike around the neighborhood. It reminds me of an old-fashioned life that she got to have in this safe quiet place while also getting into a bit of trouble here and there!
Is there anything that embarrasses you about your home? No—I really do enjoy the quirks of living in an older home.
What do friends say about your home when they visit? They always say, "Oh my gosh, it's so much bigger on the inside than you would think from the outside and the road." They are also extremely surprised by how open and modern it feels when they walk in.
Biggest Challenge: The biggest challenge is storage in an old home with no attic and no basement. We have built some great built-ins throughout the house in the playroom and halls for books and toys and storage and I built a large walk-in closet in the master as well to give us just a little more space.
Proudest DIY: The proudest DIY in this home comes from when my husband and I tiled the guest bath ourselves each night from 9-12 p.m. after getting the kids to bed—we would tile the bathroom for a few nights until it was complete. It was really fun to mix the glass tiles in the shower and wrap it around the room. I'm not sure my husband will ever do it again, but it was definitely fun.
Biggest Indulgence: The master bath tub was definitely the biggest indulgence. I got it as a floor model—it still was quite pricey but worth every penny!
Best Advice: Smart storage for your family is most important in a home. A place for everything really matters. I always tell people you can't hold your kids accountable to put things away unless there is a designated place to put it.
Resources:
PAINT & COLORS
OC-10 from Benjamin Moore throughout main areas of the house
LIVING ROOM
Sofas — Mitchell Gold + Bob Williams
Chairs — Vintage
Jaipur Rug
DINING ROOM
Custom dining table — Made by my father 40 years ago that was passed along to me
Dining chairs — Vintage
KITCHEN
Crystal Cabinetry for base cabinets and island
Granite
Upper cabinets — Custom made from old windows
BEDROOM
Tate Bed — Crate & Barrel
Guest Room – Metal twin beds vintage from a tag sale
Vintage 1920s wallpaper reprinted
BATHROOM
Master bath
Wetstyle tub and sinks
Kohler Purist Faucets
Ann Sacks Linen Tiles on the walls
Guest Bath
Daltile Glass Tiles
Thanks, Jess!
---