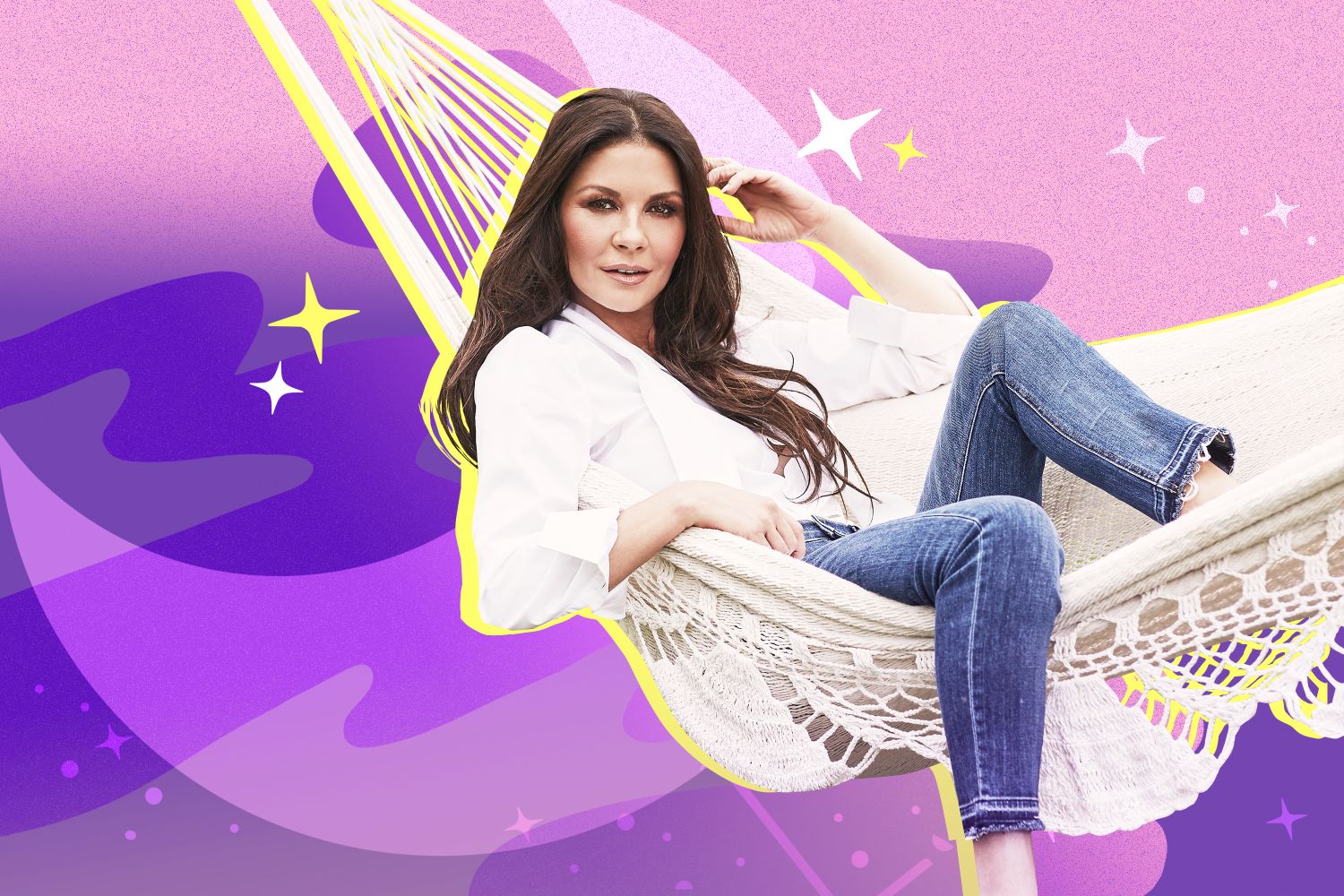 Perfect Night In is a series where we ask actors, artists, entrepreneurs, and beyond how they'd spend the ultimate luxury—a blissful evening at home.
Catherine Zeta Jones has left little to no stone unturned in the acting world—from portraying Velma Kelly in the screen production of "Chicago" to starring in the critically acclaimed Broadway show "A Little Night Music." But just last year, the actress launched herself into the world of design by debuting her home collection, Casa Zeta Jones.
Zeta Jones just launched her fall/winter line last week, including everything from velvet quilts to embossed blankets—which you can catch on QVC today, October 9, starting at 11 a.m. ET. To go along with the cozy vibes, we tapped the star for details on what her ideal night would look like—with some of her favorite home items included in the mix.
Set the scene
Your perfect homebody scene in five words:
Blanket, book, tea, and toast.
Product that relaxes you the most:
My reflexology electric foot massager. If I can't get a human reflexologist.
Your go-to piece of furniture to lounge on:
The sofa in my library in the winter with the fireplace ablaze. In the family room with my husband and children.
Favorite home items for your perfect night in:
Either my Casa Zeta-Jones Audrey or Gracie faux fur throw.
Are you alone or with someone else:
My husband Michael.
What's your night-in uniform?
My Casa Zeta-Jones caftan.
What two people, dead or alive, would you let crash your night?
Lady Gaga and Queen Victoria.
Now playing
TV or a movie?
Self-confessed news junkie.
What are you watching?
Re-watching some of my favorite Bollywood movies.
E-books or the real deal?
Both. I love to read. The real ones at home and an e-book edition when I travel.
What are you reading?
"200 Women: Who Will Change the Way You See the World."
Quiet or music?
Quiet is so good sometimes, but my music would be light jazz.
Board games, yay or nay?
Yay, Yahtzee and Texas Hold 'em.
What's cooking
Order in or cook for yourself?
Cook.
What are you eating?
Dover sole.
What drink are you pouring?
Iced tea.
What's for dessert?
Chocolate ice cream.
Late night snack?
Never.
Take care
Do you have a self-care ritual?
Yes. I love potions and lotions. I love to steam and sauna.
What do you try to avoid at all costs?
MSG.
Candles, yay or nay?
Yay, yay, yay! Love Jo Malone.
Face masks, yay or nay?
Yay. Natura Bisse. Barcelona.
Bubble bath, yay or nay?
Yay, with epsom salts.
Chores, yay or nay?
Yes. Closet cleaning constantly.
Ideal bedtime?
10 p.m.
Thanks, Catherine!
Apartment Therapy supports our readers with carefully chosen product recommendations to improve life at home. You support us through our independently chosen links, many of which earn us a commission.