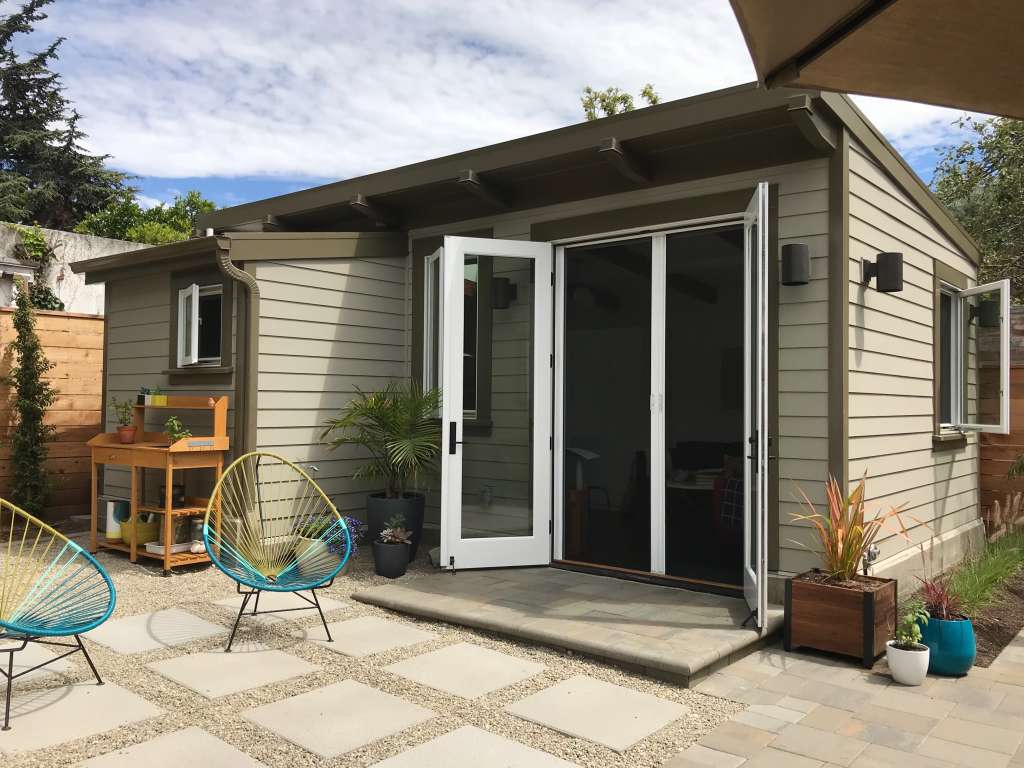 Here's the thing about tiny houses that doesn't get talked about much: They can actually be really expensive. A brand-new, completely finished tiny house can set you back somewhere around $80K, almost as much (in some places) as a much larger, more traditional home. A much more budget-friendly option is to build one yourself—but if the idea of building an entire house from scratch is a little intimidating to you, there is another way. Many manufacturers of tiny homes offer kits or partly finished shells, which take a lot of the work out of building your tiny home, while still saving quite a bit of money. Here are eight you can buy for under $30,000.
Easy Domes, Small Dome kit for $ 13,365
If you've always wanted to live in a geodesic dome, here's your chance. European manufacturer Easy Domes makes kits for dome houses that include walls, windows, and doors for a fairly low price. (The foundation and interior and exterior finishes are up to you.) The small dome doesn't include plans for a bathroom or kitchen, but with 270 square feet of interior space, there's plenty of space to add one in.
Liberation Tiny Homes, 12-foot 'Stage 2' shell starting at $16,000
Liberation Tiny Homes offers shells at two finish levels, Stage 1 and Stage 2. Stage 1 is pretty basic, with just the trailer and framing, while Stage 2 includes a completely finished exterior with windows and doors. (Things like insulation and electrical and plumbing rough-ins are available at an additional charge.)
84 Tiny Living, Roving Tiny House shell starting at $19,884
For less than $20K, you can get a pre-built shell for this 154-square-foot home. The "Semi-DIY" package includes a home with a finished exterior, windows, doors, and a shower. You take care of all the interior finishes yourself.
84 Tiny Living, Shonsie Tiny House shell starting at $22,884
Here's another option from 84 Tiny Living, with a metal roof, sliding French doors, and a cute little front porch. The Semi-DIY version of the Shonsie has a finished exterior, a shower, and blueprints to guide you in finishing the inside.
Mitchcraft Tiny Homes offers shells at several different finish levels, from "The Basics" (just framing, sheathing, and a roof) to the "Ready to Roll," which has a completely finished exterior, framed interior walls, and electrical and plumbing rough-ins. A shell that measures 8 feet by 18 feet is available for $28,000.
The Canada-based Tiny House Construction company offers a similar product (finished exterior, interior plumbing, and electrical rough-ins) with their "Package B," which starts at $27,000 for a 16-foot model. (If you just want a trailer with walls and a roof, that's just $10,500.)
Tiny Heirloom, 18-foot shell starting at $29,500
Tiny Heirloom makes some really dreamy tiny homes, many of which we've featured here on our site. They're known for their craftsmanship and high-end finishes, but if you prefer to tackle the interior finishes on your own, you can get a shell with a finished exterior for under $30K.
Bungalow in a Box, Brigadoon Cottage kit for around $30,000
Unlike the houses above, this charming cottage is designed to be built not on a trailer but as a freestanding house. You'll get everything you need to finish the exterior: The inside is up to you.
Remember, these little houses aren't move-in ready—most need complete interior finishing, so be sure to budget accordingly. And then invite us for a tour.