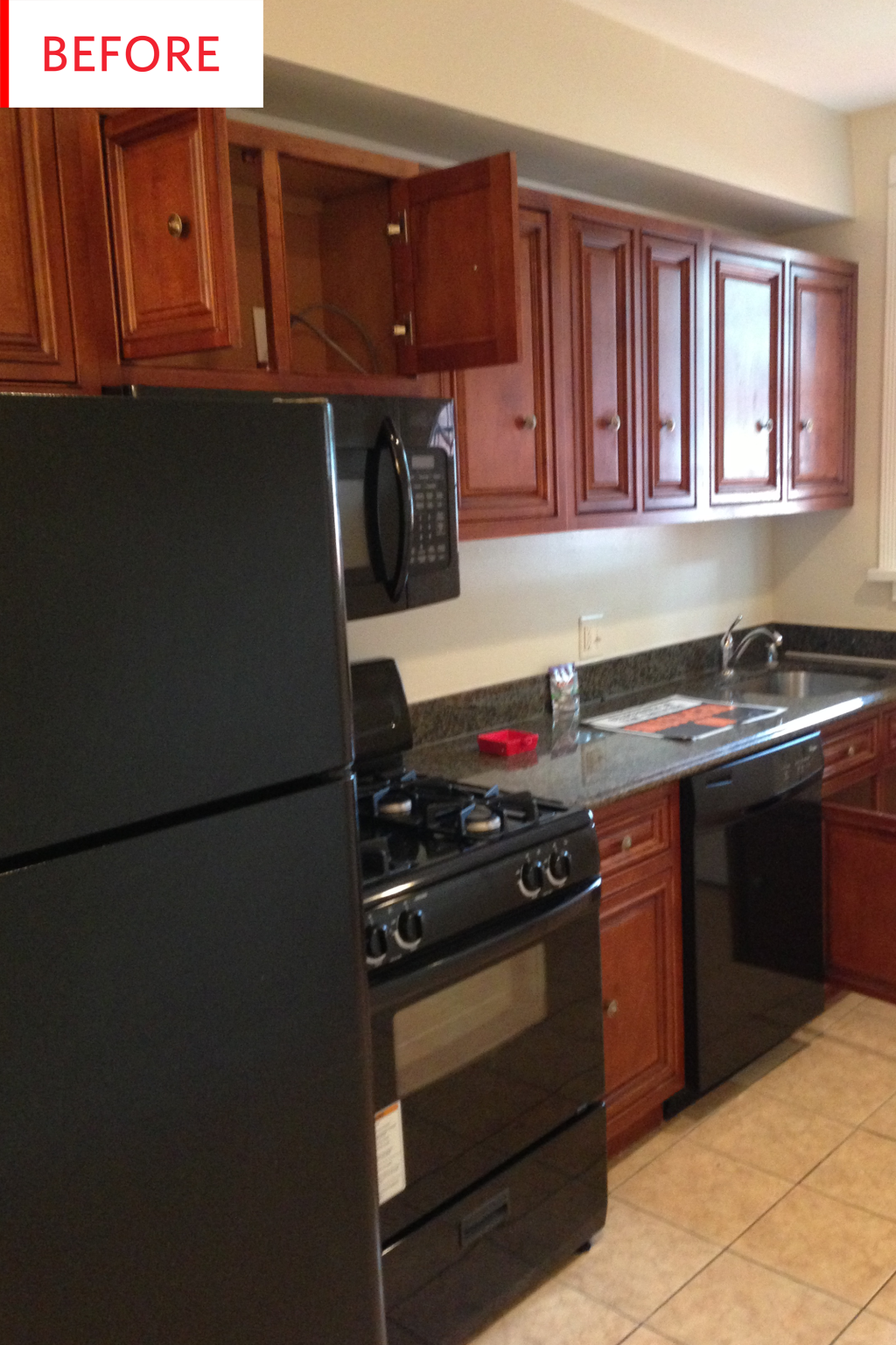 (Image credit: Jessica Leas)
If you're assuming that these early-aughts cherry cabinets are going to be replaced with white ones, you're correct (but only half correct). This brown-beige-black kitchen now glows with a riot of color and pattern.
(Image credit: Jessica Leas)
Reader Jessica Leas's new kitchen is so amazing. It's hard for anything to compete with those gloriously ornate Mexican tiles, but for me, the gorgeous green cabinets more than hold their own against them. They're really the perfect combination: There's plenty of green in the tiles to tie them together, and that particular shade is vibrant enough to equal the tiles yet soothing enough to balance their vibrant energy. Meanwhile, the stunning soapstone countertops, which would be the focal point in almost any other kitchen, act as a neutral linking the two.
In another smart move, the cork floor and the white upper cabinets, walls, and ceilings provide a plain, soothing backdrop against which the more dynamic elements shine. I suppose green upper cabinets could have worked, but the white ones nicely "disappear," keeping the focus on the lower half of the room.
Here's how Jessica describes the multi-step makeover process:
This kitchen remodel has been in stages. When I first moved in I added open shelves and a buffet to provide more storage and counter space until I had enough money for a full remodel. Then I did the floor (cork is sustainable and soft on my knees) and updated the oven and fridge (both appliances were not working well).
Finally ready for the full deal, I had my contractor bump out a wall of my laundry closet to add a pantry while out on vacation. A couple months after that project we settled on cabinet design (my contractor built the cabinets) and I selected a soapstone slab for my counters that had just the right green vein to highlight the cabinet color and the backsplash tiles. I had done the Mexican tiles myself years ago and my contractor kindly agreed to keep them and gently work around them.
Key to this remodel was to bring electrical outlets to the long wall and to improve the lighting. I added an appliance garage that also has outlets, so I no longer have to carry my heavy KitchenAid or food processor over to the single outlet.
I'm a pretty serious cook and although this kitchen is a small galley kitchen, it is everything I need to make homemade pasta, cheese, pastries, etc., plus the green cabinets make me happy. They are actually drawers, so I no longer have to get on my hands and knees looking for a pot!
Ooh, I love that they are drawers. My house came with lower slide-out shelves, and those are the best, and I could see big lower drawers being even more awesome.
(Image credit: Jessica Leas)
Two things: First, it's fascinating to see how the same major elements (green and white cabinetry, soapstone countertop) work with plain white subway tile—I think they work well. As predicted, the soapstone is the most dramatic feature when there are no intricate painted tiles nearby. And second, the surprise yellow wall! The marigold gives those amazing-looking platters the backdrop they deserve. Also, a bright, sunny color is a good thing to add in a long, narrow kitchen, though the white cabinets do their best to reflect all available daylight.
I love everything about the after. I have so much storage (I have two empty drawers still!) and loads of counter space. I rarely have to use my dining room table for prep work now! The original design wasted valuable space and my quick fixes made the kitchen look cluttered. This kitchen is now very space efficient!
If I had unlimited funds, I would have done all the work at once. I definitely spent more cutting it up over a few years. But waiting until the final work means I knew exactly what the space needed and what I wanted in the redesign.
(Image credit: Jessica Leas)
If you're facing a kitchen renovation, Jessica has some great advice:
Definitely do some research. I spent four years exploring kitchens on Pinterest and Houzz making sure I liked the color combo. I read people's blogs about their remodels. I priced custom cabinets and IKEA cabinets. I went to people's houses who had done their kitchens. I scoured Etsy for fixtures. I've spent 20 years traveling to and from India with a few cabinet knobs each trip to finally use them in this kitchen. I had paint samples on my counter for weeks deciding on the perfect cabinet color. And now I am 100 percent happy. I've lived with the final product for a few months now and I still just stand in my kitchen admiring it. I love it!
I appreciate this slow-but-steady, careful and considered approach. And the cabinet knobs as souvenirs of each trip move? An absolutely wonderful way to go: thrifty, easy to pack, and each knob would bring back memories of your travels.
Thank you, Jessica Leas!