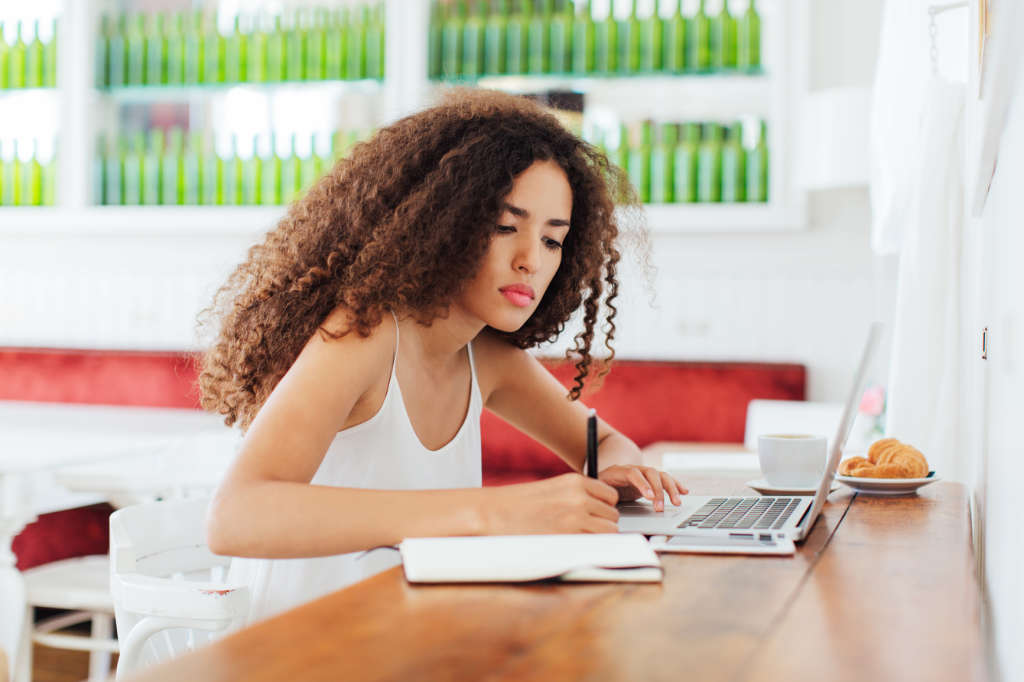 When my husband and I put an offer on our house, I asked our agent if he thought sending an offer letter, or a personalized letter to the buyer explaining why they should pick us over another offer, would be appropriate. "Yes, definitely do that," Mark Branch, our real estate broker with Century 21 Scheetz in Indianapolis, Indiana, told me. "And send pictures, too."
You don't always have to send in an offer letter, but it helps if you think your bid will be lower than those of other prospective buyers. Writing a heartfelt, sincere offer letter could help you stand out from the crowd and sway a buyer. It doesn't need to be verbose or beautifully written, it just needs to be honest. I know this, because although our letter was only 318 words, it helped us beat out six other offers.
Here are some tips I found helpful when writing an offer letter:
1. Compliment the owner's design
A friend of mine told me that her cousin beat out higher offers by mentioning how much she loved a home's vintage-style kitchen in their offer letter. Even though her offer wasn't the highest money-wise, the seller still picked her. That's the appeal of writing an articulate and moving offer letter, that your offer wins out over more money.
When writing my offer letter, I thought it would be beneficial to mention why I thought the home would be perfect for our family. Here's a taste of what I wrote:
We love to cook and bake, and we know this kitchen would be perfect. We imagine entertaining our friends and family in the backyard, putting up string lights on the trellis and sitting in adirondack chairs.
Personal details go two ways, as well. Don't just write about what you love about the house—think about what would make them feel comfortable turning the house over to you. A homeowner rarely wants a new buyer to come in, tear everything down, and start anew (even though the new owner will probably make a few—if not many—changes once they get the keys.)
For our winning offer letter, we mentioned that some small details we fell in love with, like the clawfoot tub and original hardwood floors. I thought it was important to add the aspects that I loved about the home, because they might be things the seller decided to put in themselves.
2. Appeal to the seller's sentiments
You can also think of your offer letter as a Tinder profile. You want the seller to swipe right on you and left on everyone else. You can do that by appealing to their sense of sentiment. For example, I knew that our sellers were a couple around our age so I mentioned that my husband and I were just moving back to the area and excited to finally put down roots.
I also had done some mild Facebook stalking on the couple and found out that they had a dog so I mentioned that our dogs would love playing in the backyard. We also included photos of ourselves and the dogs with the offer letter. I specifically chose photos that made us look like a loving, happy couple so they could imagine us living in their home.
However, Branch told us not to beg or seem desperate in our offer letter. He also advises buyers not to mention specifics, like the exact terms of your offer or the names of your children or pets.
3. Keep it short, sweet, and simple
The offer letter is sort of like your home buyer resume. It shouldn't be especially long, it should convey your ability to be a great homeowner, and it shouldn't have anything that is patently false or blatantly effusive. For example, if your house doesn't have a dining room, don't talk about all the Thanksgivings you plan on hosting in your new house. The house we bought is in an urban area, so we mentioned that we were excited to walk to all the restaurants and shops that our neighborhood has to offer.
4. Explain your financial credentials
When a seller is deciding between multiple offers, they almost always go with the highest, most secure bid. This often is someone who is paying with cash or someone with a high-income profession who can easily qualify for a mortgage.
Knowing this, my husband and I tried to demonstrate that we would have no snags getting our mortgage approved and that the closing process would be simple. I did this by explaining that my husband and I both work as personal finance writers and editors so we're aware of what it takes to actually qualify for a mortgage. I mentioned our excellent credit scores and how we have no debt outside of the impending mortgage. Here's how we slid that into our letter:
We know the ins and outs of the mortgage-buying process and want to make this as smooth as possible. We have excellent credit scores and have been saving for some time.
This might be the part where you mention a 20 percent down payment or your stable career—anything that makes you promising to a bank makes you desirable to a seller.
A caveat
Though offer letters can help in some situations, they're not guaranteed to always work. Even the best letter won't help if the seller has made it clear that the only thing they're looking for is the best offer available. In those cases, it might make sense to either strengthen your bid or move onto another house.