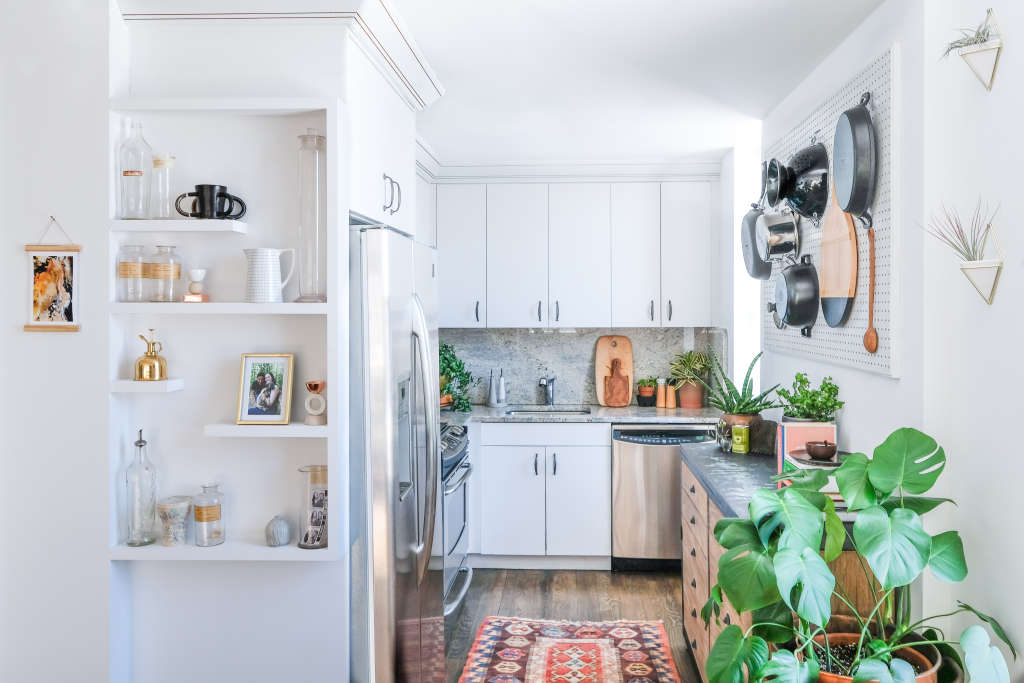 Believe it or not, foam sponges—you know the cheap ones, like this 2-for-$1.29 pack from Target that you use to hand-wash your dishes and wipe down your kitchen sink—can be used in all sorts of unexpected ways around the house. To prove our point, we rounded up a handful of fun ideas for repurposing kitchen sponges, so you can keep your home clean and under control—all on the cheap.
1. Put One in Your Fridge to Combat Foul Odors
If your fridge has a tendency to reek of unpleasant odors, a kitchen sponge might be the solution to end your smelly problems. Simply sprinkle a damp sponge with some baking soda—you probably already have a box open in your fridge to curb any sour scents anyway—and place it in your fridge's side shelf or in the very back away from direct contact with your food. The porous sponge can absorb twice the amount of odors as an open box of baking soda, and you can just throw it away and replace it with a new one every month!
2. Turn One Into a Makeshift Herb Garden
Dreaming of a foolproof way to grow your own herbs indoors? Look no further than a dish sponge my plant-loving friends. Turns out those cheap, but oh-so-porous sponges double as surprisingly effective seed sprouters—so you can actually grow herbs, in a sponge, on your windowsill. All you have to do is place a damp sponge in the center of an old plate you don't need. Sprinkle some seeds on top, leaving enough space between each of them to grow, and then put a glass bowl over the top to forge a mini-greenhouse on your windowsill (or any other surface of your home that gets a good amount of natural light).
3. Make Your Own Keyboard Wrist Rests
If you're anything like me, you spend a lot of time typing on your computer everyday, which can be super hard on your wrists. Spare yourself the joint pain—and the expensive bulky wrist rest pads for sale online—and lightly tape a plush dish sponge on either side of your laptop (or keyboard) to score a temporary place to set your wrists while you type the day away!
Apartment Therapy supports our readers with carefully chosen product recommendations to improve life at home. You support us through our independently chosen links, many of which earn us a commission.