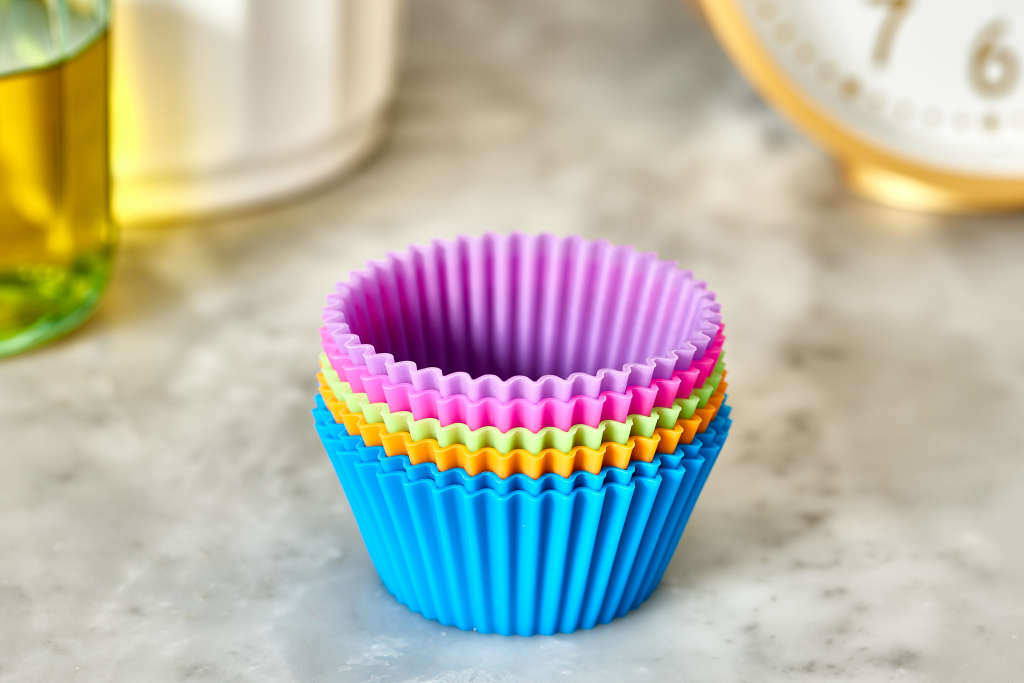 If you thought reusable cupcake liners were only good for baking, then think again. Turns out those colorful silicone cups, like these rainbow-hued cuties by AmazonBasics, are awesome for cleaning and organizing stuff around your home, too. Don't believe us? Read on for a bunch of ways you can use (and reuse) silicone baking cups outside of the oven.
1. On your desk
Searching for a cute and inexpensive way to streamline your workstation? Silicone cupcake liners make great desktop and drawer organizers for corralling small items like paper clips.
2. In your car
Line your car cup holders with these silicone wonders to keep them clean (and coffee stain-free).
3. Use as a spoon rest
Forever looking for a place to set your wooden spoon when cooking? A silicone baking cup is the perfect spot to set your utensils between stirs—and washes off easily.
4. To unscrew bottles
Having trouble unscrewing that tricky bottle of ketchup yet again? Grab a silicone cupcake liner and use the ridged edges as a grip to remove that stubborn cap with ease.
5. In your lunchbox
Turn your mid-week lunch into an artful display by using them to organize your lunchbox, bento-style.
6. Make elegant cocktail ice cubes
You don't need a fancy mold to make those oversized ice cubes that won't water down your drink. You can make your own slow-melting ice cubes with these silicone liners as a mold, and add whatever garnishes you want inside.
7. To clean your kitchen sink
If you weren't already hip to homemade garbage disposal bombs then now's the time to smarten up. And with the help of some silicone cupcake molds, making these powerful DIY cleaners at home will forever be a breeze.
8. Use them while you're cooking for mise en place
French chefs know that cooking is a breeze when you prep and measure your ingredients beforehand. These cupcake liners are a great way to gather everything you need for a recipe.
9. Use them as cups for condiments
Looking for a stylish way to serve condiments at your next dinner party? Silicone baking cups look surprisingly chic and super easy to clean once everyone leaves.
10. As makeshift potholders
Keep a couple of these ultra-durable (and heat-resistant) in a drawer near your oven to use as potholders in a pinch.
11. To cook eggs
If you're a fan of poached eggs but haven't been able to master making them, then we have the solution for you. Simmer some water in a frying pan and place a silicone cup with an egg in it. Cover and let it cook until they've reached your desired firmness and voila: pure poached perfection.
Apartment Therapy supports our readers with carefully chosen product recommendations to improve life at home. You support us through our independently chosen links, many of which earn us a commission.