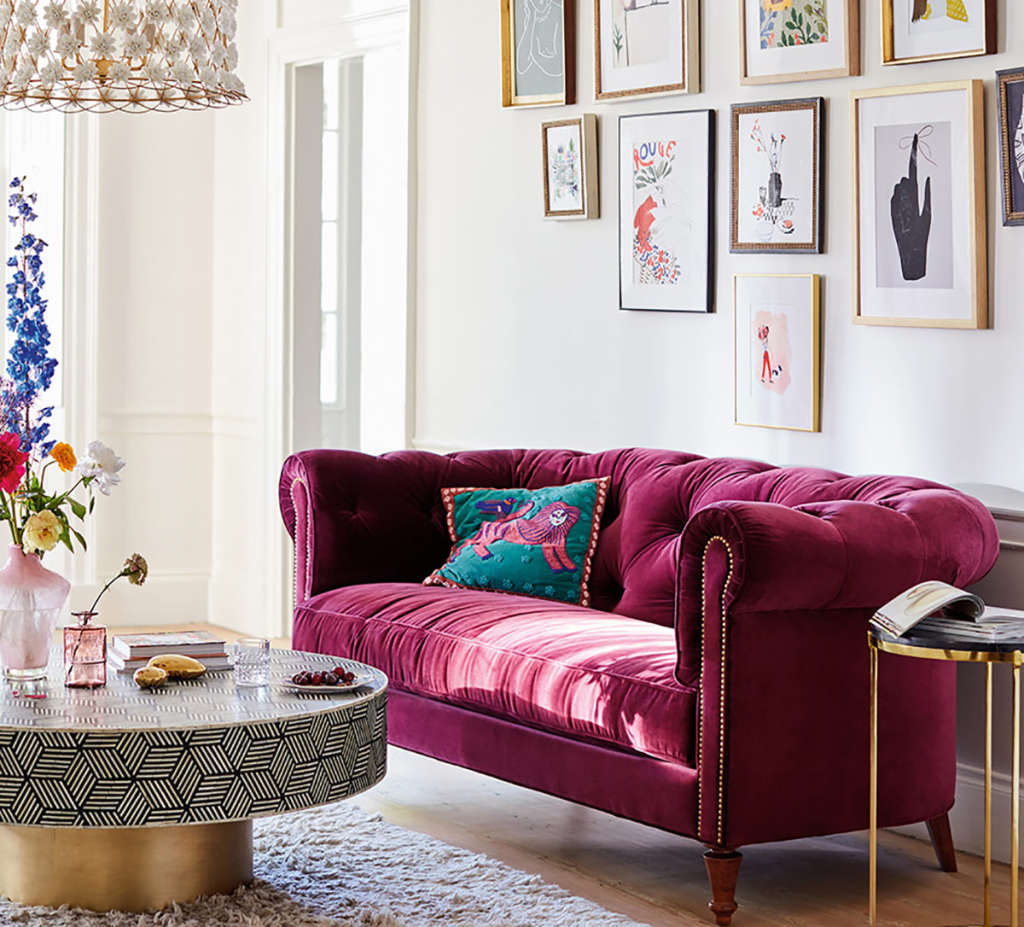 Oh Anthropologie. We gape at your prices one moment, then swoon over your sumptuous decor with our next breath. Anthropologie delicately balances luxury with a well-worn feeling, making each piece feel like a little treasure. While we love the retailer's home decor and gifting finds, it can be a bit hard to deck your whole home out in Anthro when you're on a budget. So, save up for those Anthro items at the top of the wishlist and try to create some DIYs that are a homage to the retailer's signature aesthetic. Check out how these bloggers interpreted the look as DIYs.
Awhile ago I saw framed love notes in Anthro's wall art collection and thought "Wouldn't that be more special if they were actually personal?" So I dug out our wedding invitation suite (that after spending hours agonizing over designing them had been just sitting in a box) and now proudly display them as art.
My jaw dropped when Eden of Sugar & Charm shared how she made food-safe, washable plates. These look exactly like the watercolor dishware Anthropologie is known for.
Caroline shares the unexpected place where she found her stylish basket (which looks like Anthro's wire baskets), to use as an adorable desk organizer. She painted it metallic for a similar look.
Elsie's wood and leather poster hanger DIY is effortlessly lux and simple to create, and is similar to this brass one from Anthropologie.
For around $10 (compared to the inspiration's $60!), Tan's DIY paper towel holder is a budget-friendly option. Think of copper pipes as beautiful, adult legos and use her tutorial to inspire your next project.
The classic Anthropologie look is summed up by organic textures in pastel palettes. Achieve the same style by layering color over a textured spray paint. I spray painted some inexpensive Target vases to get the same effect.
Ring cones and jewelry dishes let you keep your valuables all in place, and safely stored on your dresser top or bedside table. These faux-ceramic ones from Almost Makes Perfect are made out of polymer clay.
Gold fronds are a great way to carry the summer vibes into fall. Anthropologie offers a variety of gilded plants, but the same look can be achieved with just a little spray paint.
We can't talk about Anthropologie without talking about tassels, and specifically baskets with tassels. Add them to anything—pillows, lamps, or dresser pulls—to instantly make your home look like any of their catalogs. This cute version is from At Charlotte's House.
Freehand stripes strike the balance between organic and modern. It's definitely a look Anthropologie uses from accessories to home decor, and it's pretty straightforward to DIY the look. Try Linda's DIY tray or my own purse makeover.
Who else swings by Anthropologie just to see their new displays? If you've started holiday shopping, check out how Jeran of Oleander and Palm mimics their velvet jewelry tags to dress up your gift giving.
My wallet does not love Anthropologie statement shoes as much as my closet does. So instead, I refreshed my current pumps with DIY ostrich feather shoe clips. They're the easiest way to change up your look.
If you can sew a straight line, you can make your own fancy napkins (inspired by Anthro's linen ones) like Brittni.
And just a reminder that any textile can make a cute wall hanging: Just look at this one from Cristina. She turned a fringed placemat into a cost-friendly wall piece in one, easy step.