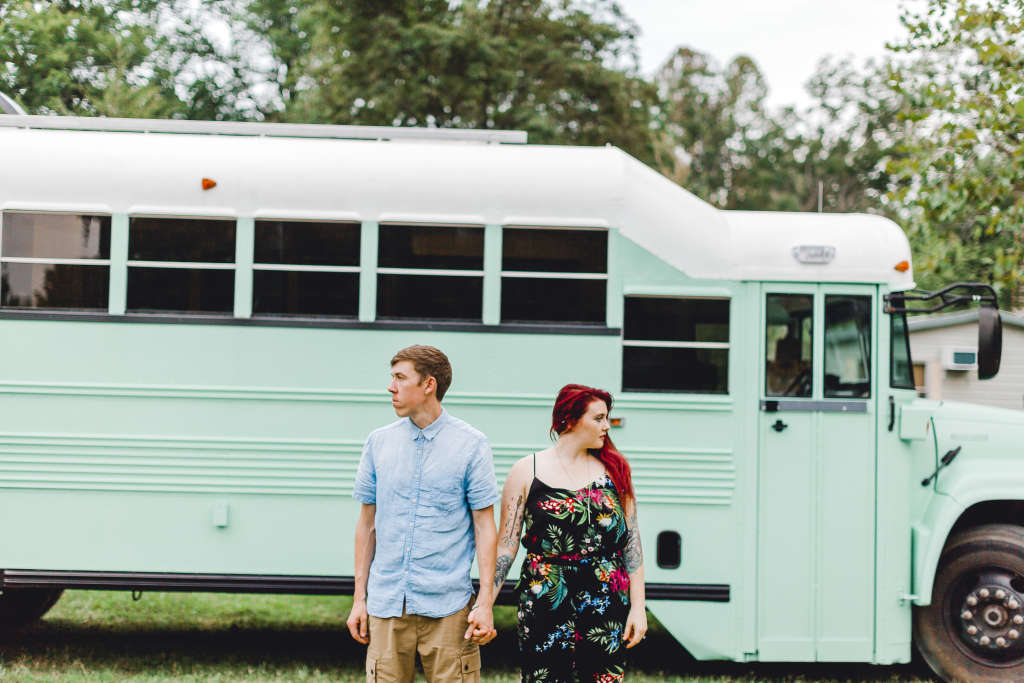 Name: Jordan Page, husband, Sam; furbaby, Penelope
Location: Everywhere! We travel full time.
Size: 200 square feet
Years lived in: Self-converted it for nine months—have lived in it full time for one month, owned
My home is a bus! My husband and I bought a 2003 Chevy Bluebird school bus in December 2017. It was yellow, had all the seats, and it was pretty filthy. We spent nine months of late nights and long weekends, working around our full-time jobs, to create a home that was exactly how we wanted it. We did all the work ourselves, including raising the roof 15 inches to add a bit more head space and breathing room. It's now a home we travel full-time in, seeing the country and all its beauty with our sweet pup Penelope along for the ride.
Describe your home's style in 5 words or less: Minimalist boho meets bus.
What is your favorite room and why? It's basically all one room! So… all of it? We added a door to the toilet room for privacy, but otherwise, it's an open space. The coolest part of the bus is the sliding bookcase—a non-negotiable of mine was a bookcase in the bus. My husband has always wanted to have a "secret room" wherever we lived. So, we combined the two, and now the bookcase slides into the wall and reveals our bedroom! Just living my "Harry Potter" dreams over here.
If you could magically change something about your home, what would it be? Better clothing storage options! Neither of us is huge on our wardrobes, so it's not as big of a deal to us, but we are currently storing our clothes in bins and they're not as easily accessible as we would like for them to be.
Since we raised the roof, we were able to loft the bed (which is not common in school bus conversions) and put it on a hydraulic system so we can flip a switch and it raises almost to the ceiling. This helps getting underneath the bed a lot easier, so we're trying to figure out better ways to organize clothing and other items stored under there. We do have a small hanging closet, plus wooden bins on tracks for socks and the like, but the rest is under the bed. We're just learning as we go!
What's the last thing you bought (or found!) for your home? One of the final items we purchased for the bus was fabric for the curtains! During the renovation, we insulated every inch of the bus. But, the school bus windows were not as easily insulated. My mother-in-law purchased the fabric from JOANN, and then got a gray black-out material for the other side. She then sewed Reflex (a silver, quilted-like insulation) in between the two fabrics to better insulate the windows. It has worked wonders for keeping heat in/out.
Any advice for creating a home you love? Don't be afraid to try something that interests you! The worst that could happen is that you don't like it, and then you can try something else. This mentality has stuck with us during our travels! We're always trying to find a new place to explore, and if we don't care for it, we roll on through and head to the next adventure.
Thanks, Jordan!
• Interested in sharing your home with Apartment Therapy? Contact the editors through our House Tour & House Call Submission Form.