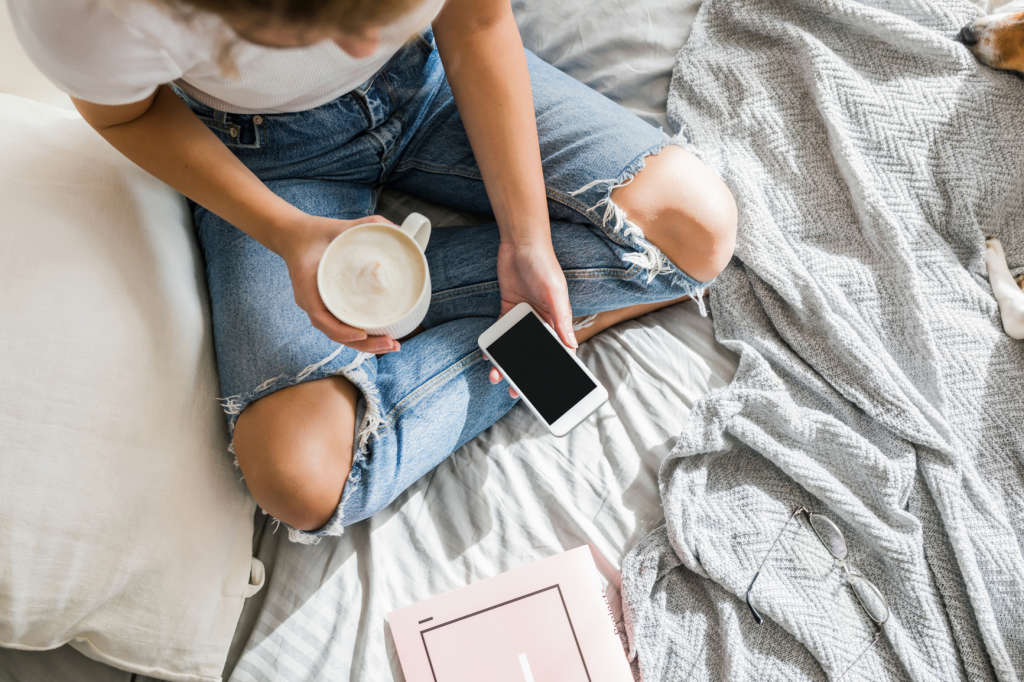 As far as we're concerned, podcasts are the gifts that keep on giving. Not only do they make the most grueling parts of your day—think: morning commute, late-night workout, and folding your laundry—more bearable, they'll teach you something new in the process. Plus, many podcasts have dedicated online communities, which means you're able to connect with like-minded people.
Chances are, your podcast library runs the gamut from current affairs commentary, to true crime series, to recaps of The Bachelor (or is that just me?), but it's about time you added some more design-centric shows to the mix.
Below, 10 podcasts design enthusiasts should add to their queue, stat.
Amy Devers and Jamie Derringer are no strangers to the design world. The former is an interior designer who starred in television shows like "Fix This Yard" and "Home Made Simple," while the latter is the founder of popular design site Design Milk. In 2016, the two women joined forces to launch Clever, a podcast dedicated to design. Devers and Derringer believe that great design is part of our day-to-day life, and are using their platform to celebrate the industry's great minds. Each week, the hosts have a candid conversation with heavyweights like Jonathan Adler and Lee Broom, discussing everything from their humble beginnings to some of their biggest career milestones.
Design isn't just about cool architecture, beautiful interiors, and covetable furniture. Truth is, there's great, practical design in the products you use every day… you just don't realize it. Ever wonderful why straws look the way they do? Want to learn more about the ins and outs of your local airport? In "99% Invisible," host Roman Mars does a deep dive into history's impressive—but often overlooked—works.
Consider the Observatory two podcasts for the price of one. Each week, hosts Michael Bierut and Jessica Helfand discuss design and current events. From the Royal wedding, to meme culture, to the London Design Biennale, this podcast leaves no stone unturned.
At Apartment Therapy, we are constantly asking ourselves how we can make our house feel more like a cozy, well-curated home. After all, your home should be an extension of you. In "Style Matters," co-hosts and design enthusiasts Karen June Grant and Zandra Zuraw talk to a bevy of experts—think lifestyle expert Desha Peacock and the team behind Hygge & West—on how to bring your personal style to your home. "Style Matters" has been around since 2014, so it's the perfect podcast to listen to on a long, trans-Atlantic flight.
Attention all architecture buffs! "About Building and Cities" is the podcast for you. While hosts Luke Jones and George Gingell talk primarily about architecture, covering every major player from Aldo Rossi to Le Corbusier, they also spend some time talking about comics, film, and fiction. A thoughtful conversation about "2001: A Space Odyssey," anyone?
Admit it: Everyone loves a good DIY project. Chances are, you already follow John and Sherry Petersik's blog, "Young House Love," but did you know they have an accompanying podcast? Each week, the couple breaks down their latest renovation projects and design experiments like spending a week "furniture free."
Want to try your luck in interior design? Well, consider "The Chaise Lounge" a master class in breaking into the industry. Each week, host Nick May interviews an interior designer on getting their start and building their businesses.
Grace Bonney needs no introduction. As the founder of beloved blog Design*Sponge, Bonney has become a mainstay in the design world. In her newest podcast, "Good Company," Bonney ignites an honest conversation about the ups and downs of the creative process. With a roster of guests like Justina Blakeney and Genevieve Gorder, this podcast is equal parts design and career inspo.
No, you're not the only one who misses "Fixer Upper". Gary and Kathy Leland love the former HGTV show—and have a lot of thoughts about Chip and Joanna Gaines' renovation projects. If you want to rewatch the entire series, you should also consider listening to the duo's unofficial fan podcast. Prior to the show's finale earlier this year, the hosts would watch each episode and record their own thoughtful commentary.
Why stop at "Fixer Upper"? From "House Hunters" to "Property Brothers,"HGTV is packed with awesome, binge-worthy shows. On HGTV & Me, host Rebecca Lavoie offers a quirky, hilarious, and relatable look at some of the channel's popular shows. "HGTV & Me" hasn't had an episode in a while, but Lavoie has been teasing new ones on social media. Fingers crossed! And the older episodes are totally worth a listen if you're a fan of the channel.