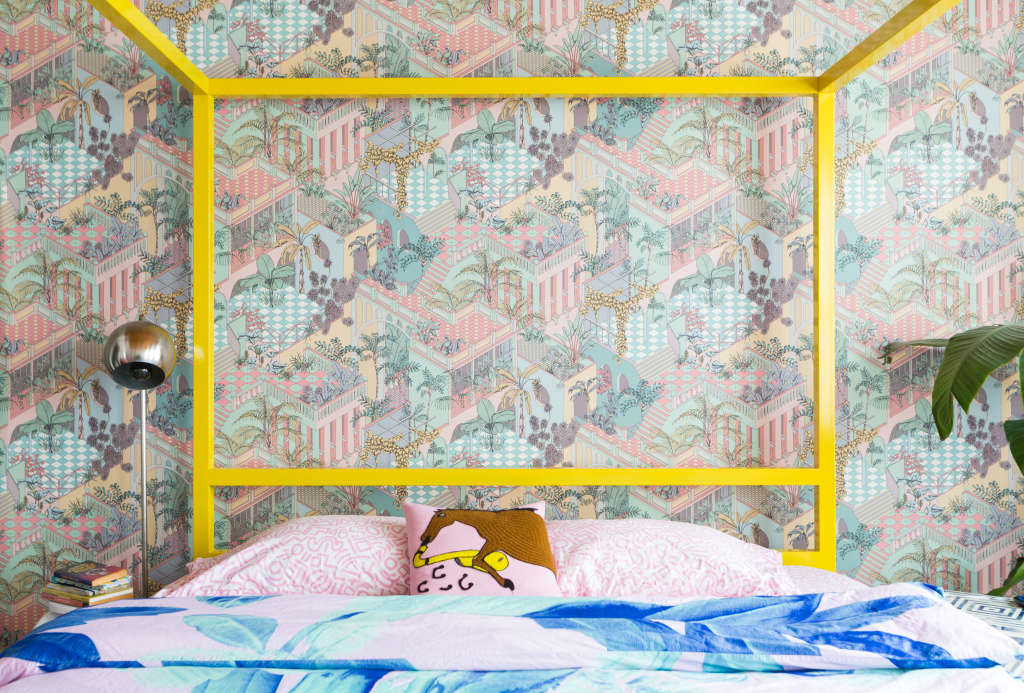 Need more proof that wallpaper just might be the perfect decor accessory for your home? These 31 rooms are bursting with vivacious, energetic wallpaper designs that will inspire. Some homes features every wall covered in pattern, while others just have a small accent—but all the rooms prove that graphic, bold wallpaper is your design best friend.
Melissa Smrekar's Dallas condo may be a rental, but she still managed to pack a ton of personality into her space, including her bedroom that features Scalamandre's famous Zebras wallcovering.
Cortney (one half of the lifestyle blog and brand A Whimsy Wonderland) and her husband Tyler renovated this L.A. apartment in a renter-friendly way, like using removable wallpaper like this Tropical Hibiscus Temporary Wallpaper from Society 6.
Beige is banned from this Victorian house in Scotland. Emily, who runs The Pink House blog, challenges design conventions with striking color, playful patterns and more. She practices what she preaches; a bedroom features Timorous Beasties' Butterflies wallpaper in the "Mouse Maroon" colorway, and a hallway features an accent wall of Cole & Son's rainbow Prism paper.
Textile, furniture, and accessories company Aelfie is helmed by the talented designer Aelfie, who shares this bright Brooklyn apartment with her family. The brand's products often feature quirky graphics, loud colors, and patterns that complement, and her home is no different. A wallpaper pattern called "Tropic Chic" adorns her entryway, and Cole & Son's "Miami" wows in the bedroom.
Looking for an entire home full of wallpaper design inspiration? Look no further than beverage consultant and blogger Natalie Jacob's home, which was inspired by a trip to Palm Springs. In the living room, Wallflora's "Calathea Leaves Wallpaper" pairs with Elvis, Wallflora's "Baby Blue Monstera Leaves" soothes in the master bedroom, and hand-painted "wallpaper" by Blair Urban of Urban Lush Murals makes lemonade wallpaper vibes out of lemons in the kitchen.
Speaking of hand-painted wallpaper… the Charleston house of interior designer Taylor DeBartola features lots of history and plaster walls, soaring ceilings, tall windows, the original hardwood floors, and cast-iron fireplace mantels. It also has an amazing Keith Haring-inspired "wallpaper" in the dining room by local artist Annie Gallagher. The mural is complete with symbols of modern technology, fun shapes, and mementos from their own lives. Among the shapes are the two bulldogs, DeBartola and his husband.
Minneapolis-based lifestyle blogger Jen Biswas, who blogs under the name Paisley + Sparrow, lives in this large home with her husband and two young children. The entire home is very cheery, and this tiny power room featuring B Darling "Marley Wallpaper" is a colorful, floral, and fun spot.
This creative couple spent every weekend for two years renovating a 1920s Spanish Revival house that's only 619 square feet. One half of the couple is Samantha Santana, an artist, surface pattern and textile designer, creative director, ex-florist, and wallpaper designer. Her own pattern design can be seen in many rooms, like the Floral Finds Removable Woven Wallpaper in the dining nook.
This mid-century modern home in Delaware is organic and contemporary, tailored but casual. And if you can peel your eyes away from the two adorable dogs, you'll find some dramatic, geometric Antonina Vella wallpaper in this guest bedroom.
Audra and her husband, Thijs, have transformed their 1940s condo into an inviting and beautiful home to share with family and friends. And they've added bold touches, like the Honolulu Palm Green wallpaper from Graham & Brown on the kitchen ceiling.
Ashley's Chicago home has a great floor plan that allows for a lot of natural light, but the real beauty of her home is her collection of objects, artwork, plants and décor. Case in point: the marbled paper from Blick.
Though this crafty couple tackled every project of this home's remodel themselves, including gutting the whole kitchen and rebuilding it from scratch. But interior designer Michelle Gage says the wallpaper is where we "splurged the most. Not only is it more expensive than painting, but it's also the only labor we've hired. We've tackled every other project ourselves, but we knew our limits here." Anthropologie wallpaper was used in the office, and Hygge & West wallpaper was used in an upstairs studio.
Ruth's home is filled with deep blue-green and gray colors, as well as butterflies, corals, plants, colorful ceramics, and patterned textiles, including the Gable Wallpaper from Farrow & Ball in the kid's bedroom.
Victoria Pater's Mid Mod pins are adorable and her cheery home is bubbling with retro mod energy, and the Multistep wallpaper in Seagreen from Orla Kiely fits right in.
After a year-long renovation, Diana moved into this "collected eclectic" style Ann Arbor house, and you'll want to make sure you zoom in on this wallpaper from Flavor Paper.
Travel + Leisure's editor-in-chief and his husband have traveled to over 60 countries between them and share this Park Slope apartment that has just a peek of Shouchikubai wallpaper from Farrow & Ball.
This artist fits a ton of color and pattern in her 450-square-foot Brooklyn apartment, including a mesmerizing wallpaper from Wayfair.
Emily fit four distinct areas into the one room of her studio apartment. She did it with smart spatial planning, but also with a blend of bold wallpaper patterns, like this muted pattern in her dining area, Sanderson Wallpaper's "Aspen."
Fritha Quinn—also known as blogger Tigerlilly Quinn—is a big fan of color and pattern, and the UK home she shares with her family shows that off. You can see Farrow and Ball's Wisteria wallpaper is in the master bedroom.
"Jonathan Adler meets Justina Blakeney" is how Shauna describes her Fort Worth, Texas home's style. Wallpaper from Hygge & West adds colorful contrast to the master bathroom.
Katrina and Draz are fans of the 1950s, rock-n-roll, and vintage Americana, and their home reflects all of these things. Their dining room and living room feature a great vintage-inspired wallpaper pattern, no longer available, but you can find a similar pattern.
This brownstone in Park Slope got a bold exterior paint job and a modern interior face lift, including accents of Hygge & West's Julia Rothman Serengeti pattern in Ebony.
A painter brightened her California house to be the perfect inspiring home, adding in wallpaper accents like "Cosmic Desert" in Ebony by Hygge & West x Justina Blakeney in this bathroom.
Alison and her family have lived in this south Minneapolis home for six years and have certainly left their personal mark on it during that time, like Hygge & West's "Peonies" wallpaper.
Yes, the tile floors are to die for in this macrame maker's stunning Spanish home, but the once-plain entryway got spiced up with Cole & Son's Palm Jungle wallpaper.
Apartment Therapy supports our readers with carefully chosen product recommendations to improve life at home. You support us through our independently chosen links, many of which earn us a commission.