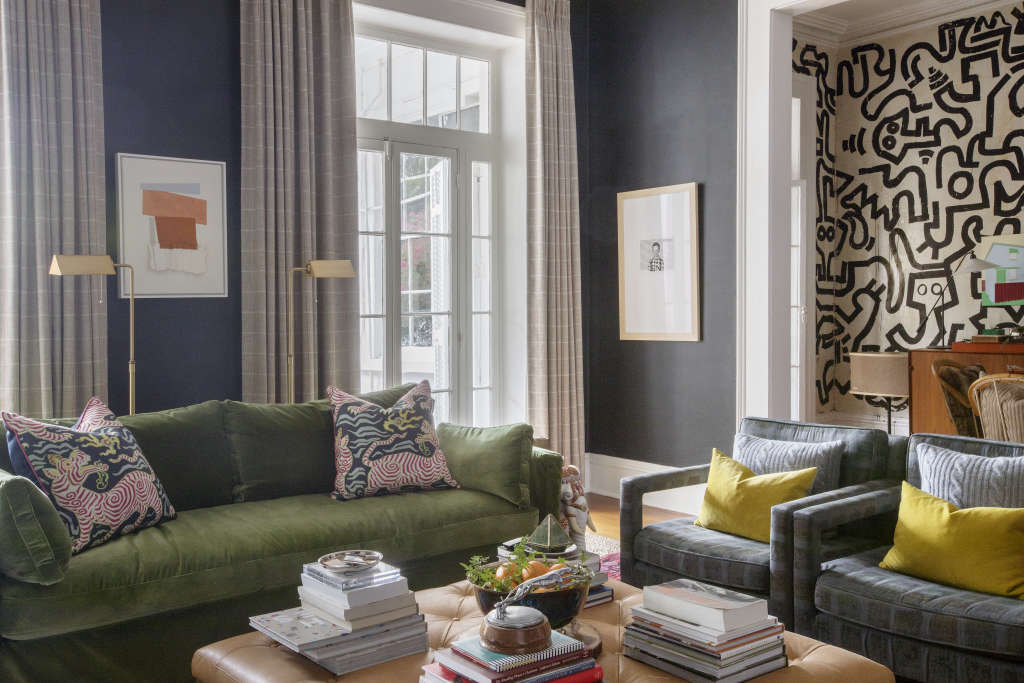 When my husband and I traded our 900-square-foot one bedroom apartment for a 1,600-square-foot three bedroom home, we felt totally and completely overwhelmed by the thought of furnishing our new house. We had just spent our entire life savings on a down payment, how would we ever furnish all that newly acquired excess space?
I knew I wanted to decorate thoughtfully—I was sick of the mismatched furniture we'd collected from various family members. I was excited for a space that finally felt mature and cohesive. Still, we approached it realistically. We shelled out whatever we could on a few quality pieces from some of our favorite stores like West Elm and Crate and Barrel. For the rest, I made many, many trips to Home Goods. In fact, just last week, more than a year later, I finally found a piece of affordable artwork—the finishing touch on my living room—at Home Sense.
The point is: I learned you don't have to splurge on everything to make your space exactly what you want it to be. "Like anything in life, I think it is important to evaluate what makes you happy to prioritize what to spend money on," says Kristin Dion, interior designer and AllModern UnEditor.
While there's a lot to be said for that, there's more to the equation. "When considering the best use of your money for household items, take your cues from the capsule wardrobe trend," says Annabel Joy, interior designer and cofounder of Trim Design Co. "Investing in a few well-made, high-quality pieces for your home that will stand the test of time (read: not too trendy) will provide you a solid foundation that can be seasonally refreshed with more affordable and trendy accent items."
What types of items fit the bill? Here, interior designers explain what items are worth the splurge.
1. Dishes
"[Invest in] one set of versatile dishes that work for everyday and more formal entertaining, like these from Anthropologie." says Joy. "Look for styles that will work year round and can be paired with a variety of table linens and decor. Avoid busy patterns or bold colors."
2. Decorative Pillows
"Clients are often so surprised by how expensive decorative pillows can be. But pillows are a great way to incorporate gorgeous, luxe fabrics into the room on a smaller scale," says Diana Weinstein, owner of Diana Weinstein Designs. "Gorgeous pillows in amazing prints or patterns can instantly elevate a mediocre sofa or chair the same way a designer handbag or pair of beautiful shoes can change the look of a basic white tee and jeans."
3. Rugs
"A hand knotted wool rug can dramatically raise the sophistication of a room. For a beautiful, woven specimen that won't blow your entire bank account, vintage is your best bet. The signs of light wear will lend an old world patina to your space that a machine loomed rug can never come close to imitating. Some of my favorite sources for vintage rugs are June and Blue, Rebecca and Genevieve, and Blue Parakeet Rugs," says Joy. "If you can't spring for a vintage stunner in the size required for your space, one option is to layer a smaller rug over a larger natural fiber rug such as jute or sisal. Significantly less expensive than traditional woven or hand-knotted rugs, natural fiber rugs like jute and sisal are durable, and as an added bonus, their texture means they're pretty great at disguising stains!"
4. Lighting
"If you have room in your budget, consider putting some cash into lighting. This could include recessed can lighting, an accent hanging fixture, or under-cabinet lighting in the kitchen," says Kayla Hein, interior architect, designer, and creative director of Modern Castle. "Sure, plugging in a lamp may work, but nicer lighting upgrades sets the foundation for the rest of the space and is easier to do it right when the construction is underway."
5. Beautiful bedding
"Gorgeous, luxury sheets will not only last a really long time, they will feel better and silkier the more they are used and laundered, says Janet Lorusso, owner of JRL interiors. "Look for high quality long staple cotton to avoid pilling. You spend a third of your life in bed, shouldn't it be wonderful? One of my favorite companies for gorgeous bedding is Peacock Alley.
6. Eggshell Paint
"When choosing new paint, it can be tempting to go with flat since it is generally less expensive and is easy to touch up," says Hein. "Upgrading to eggshell is not only a higher quality product, but it also is easier to wipe away stains and has a bit more light reflection. In the long run, eggshell paint is more durable to stand up to scuffs, buffs, and daily wear and tear.
7. Molding
"Adding trim to windows or crown molding around the entire room are great ways to add some detail," says Hein. "There are lots of options regarding trim—from formal, to modern, to transitional, and everything in between."
8. Candles
"It may sound conventional, but the best splurge ever is the perfect scented candle," says Philadelphia-based interior designer Gregory Augustine. "As we all know, the scent of a room is an extremely important element that sets the tone for any space and supports a sophisticated aesthetic no matter what the design. This scented candle with hints of black rose and ginger has a captivating yet familiar aroma and is the most highly complimented thing I have ever owned."