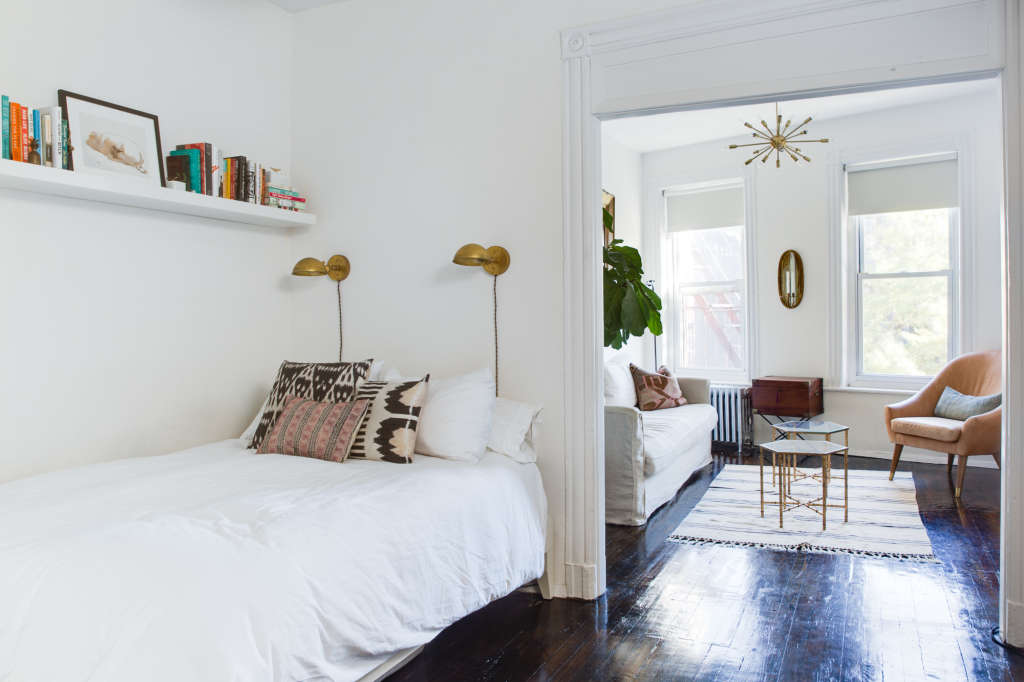 The funny thing about interior design is that, much like art, you kind of have to learn the rules to break them. Or at least that's what much of the design world would have you believe. But who makes up these "rules" in the first place? Plenty of decorators and design experts will tell you to go just with your gut when pulling together a space. But another strategy is to do exactly what conventional design wisdom would have you believe is wrong. And in the case of small spaces, this actually can make a room more successful, however counterintuitive that may sound.
Want some proof? I asked a handful of design pros what classic small space tricks they don't think work and what they'd suggest as an alternative. And you know what? Breaking the rules isn't just fun when it comes to design, it can actually pay off in the final product.
Rule #1 to Break: Avoid Dark Paint Colors in Small Spaces
"This is definitely the number one cliché that is pretty much a myth at this point," says Aubrey Thorne, interior designer and feng shui expert. Natural light is a plus for any room, but it's definitely not a prerequisite for a successful dark walled small room. "What is important is good, layered lighting," says Thorne. She suggests strategically placed lamps, or uplights, to give darker walls washes of light. Make sure the rest of the different levels of lighting are addressed as well: ceiling, eye-level, and walls. If the lighting is good, any wall color can work. "There are many powder rooms that are effective examples of how dark walls plus good lighting equals a great dark, small room," says Thorne.
Rule #2 to Break: Maximize the Feeling of Space and Light with Transparent Pieces
We're not saying throw out that lucite coffee table or glass-topped bar cart, because see-through furniture is visually light and can help a small space in measured doses. But maybe limit yourself to one or two clear pieces per room. "Overusing this trick can actually draw attention to the smaller scale of the room and make it challenging for the eye to focus," says Amber Harris, real estate agent, interior decorator and owner of At Home DC. Instead of transparency, think about creating negative space to achieve a more balanced room. "Consider sofas on raised legs, an accent chair with a cutout in the back or coffee and accent tables that leverage metal work in a matte black or metallic finish to create contrast," says Harris.
Rule #3 to Break: Use Stools as Seats in Smaller Rooms
Many pros preach the "stool as chair" philosophy for tight spaces, since stools are often backless and have smaller footprints than chairs do. But Charlie Worrall of NGI Design disagrees. "Stools will simply accentuate the fact that your room is small and you can't fit anything in it, especially if the stools themselves are small and boxy," says Worrall. "This will just make your room look even more square." Instead, he suggests compact armchairs or maybe a petite Chesterfield chair. "These chairs can be designed to fit both modern and traditional styles of home and come in a number of different shapes and sizes.
Rule #4 to Break: Scale Your Furniture to Your Space
The logic seems simple enough—small space, small furniture, right? Wrong. "People often think using multiple pieces of small furniture in a small apartment will make it feel more spacious," says Cheryl Eisen, interior designer and president of Interior Marketing Group. "In contrast, it's better to select fewer, larger pieces, specifically low-profile, modular furniture." This strategy makes a space feel airier, especially when paired with a large, light-colored area rug. "The size of an area rug dictates the size of the visual space that you create," says Eisen, so don't be afraid to go a little big here. It'll create an illusion of grandness, and that's never a bad thing when it comes to a small space.
Rule #5 to Break: Go with Neutral Furnishings for the Win
Designer Kelly Taylor sees a lot of monochromatic color schemes in small spaces, particularly light colored neutrals. "While the goal is to brighten and enlarge the space, I think the opposite is true," says Taylor. "Color can make all of the difference in allowing the eye to move through the space. Color actually opens up a space because instead of seeing the space as one 'place,' the eye focuses on individual moments." What she's talking about here is the eye path that bold pops of color can create in a room. The more "'moments," Taylor says, the bigger the space feels, as your eyes travel around to these bright spots and visually takes in the full picture.
Rule #6 to Break: Open Shelving Is Your Best Friend in a Tight Space
"One trick I've heard for small spaces that never really works is open shelving," says designer Tina Ramchandani of Tina Ramchandani Creative. "Some professionals will tell you to avoid bulky cabinets. However, the reality is, if items on open shelving units aren't meticulously placed, this leaves a space looking cluttered and feeling disorganized."
Bethany Adams of Bethany Adams Interiors agrees. "The idea behind this is that seeing through to the walls makes a space seem larger," says Adams. "While that's not exactly untrue, a better rule of thumb for small space storage is 'everything out of sight always.' You'll be better served by built-in cabinetry in the same color as your walls." This way, you have storage that conceals your messy stuff while essentially receding into the background.
Rule #7 to Break: Always Paint a Small Space Ceiling White
According to Thorne, the white ceiling is way overdone, particularly in small spaces where people are afraid to experiment with color in the first place. "I've seen great small rooms with ceilings done in shell pink, robin's egg blue, french blue," says Thorne. "Ceilings don't always have to be 'refrigerator' white." Well-said. A good compromise color may be a whisper light blue, which you'll often see on porches in the South. It's about as close to "sky" as you can get.
Rule #8 to Break: Use all the Vertical Space You Can
"Just because space is limited doesn't mean you should leverage floor-to-ceiling bookcases or the tallest headboard you can find," says Harris. You probably shouldn't hang shelving or art every few inches all the way up to the ceiling either. Like most things in life, moderation here is key. "It is important to keep your ceiling height in mind and either choose one wall to go very vertical, perhaps with dramatic curtains or a built-in, and be more measured throughout the space."
Rule #9 to Break: Large-Scale Patterns are too Loud for Small Spaces
Believe it or not, bold patterns can actually make a space feel bigger. "This powder room is really small and narrow, but the lively paper actually expands the sense of space," says Taylor. "The busyness of the walls totally distracts from the cozy feel." Again, as is the case with darker paint colors, light is important here. But you can definitely pull off wallpaper in a power room or small space. Don't let anyone tell you otherwise.
Rule #10 to Break: Keep it Simple
Small spaces can still benefit from something unexpected that creates a "wow factor" or focal point. Interior designer Cecilie Starin likes to highlight her ceilings with a paint treatment or statement chandelier. "Another option is to choose a statement piece or point of interest in the room to draw the attention to it," says Starin. "This will take away from the sense of smallness." Depending on the room's theme, Starin says it can be a dreamy canopied daybed, a teepee, etc. What you're looking for is something with height that will draw the eye upwards.
What other design rules have you broken in your small space? And what was the outcome?