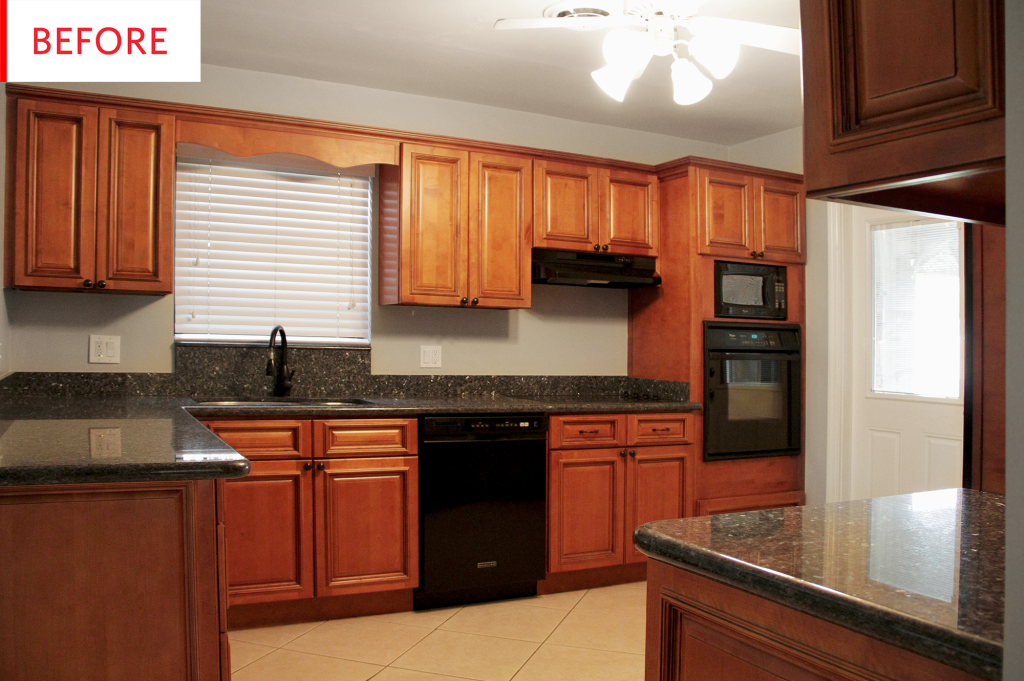 We've seen this kitchen a million times before: aggressively honey paneled cabinetry, dark mottled stone countertops, beige floor, and an above-window wooden flourish—plus a bonus ruffly ceiling fan. Will the cupboards be painted white? That's close, but also way off…
First, let's read a bit about this home and how its new owners approached its rejuvenation:
Four months ago we took the challenge of remodeling a mid-century ranch house that was stuck on the '60s. Filled with carpet and red bricks in a segmented plan, the project took about four months of hard work. As a surface and interior designer, I had the plans in my head during the very first visit to the house. With my handy designer husband, I decided to rip out some walls, re-layout the bathrooms, demo most of the rooms and rebuild it with a very simple sleek style. The concept was to have it as clean as possible so we could add accent elements and colors to the interiors.
Accents can easily be changed out over the years, unlike walls and floors. Let's see how that clean concept came to life.
Truly: wow! We see a lot of renovations in which everything is painted white, but in this case, everything was completely ripped out and replaced with pristine, incredibly luxurious white—and near-white—materials. Sandra Romanoff and the aforementioned husband have created a room that could be described as monochromatic, I suppose, but there's actually so much happening. The marble backsplash has dramatic veining, the quartz countertops add subtle sparkle and texture, the whitewashed floor is muted but with visible wood grain and tonal variation. The stainless appliances contribute a cool gleam that's balanced by the warmth of the gorgeous, dramatically grained stools and the soft floor. All of the recessed lights are the opposite of a ruffly fan, and they really help open up the space fully.
I know some of you will find this to be sterile, but to me it's serene and soothing—an exquisitely neutral backdrop against which to create meals, messes, and fun. And oh my goodness, it must be so satisfying to clean!
Here's how Sandra went from totally typical to a sleek spaceship:
With an open plan, the kitchen became a special challenge. We wanted to avoid overspending with expensive custom cabinets and get some room to invest on nice stones for the countertop and backsplash. On the process we went through more than five different layouts for the kitchen: one with a very large island, other with no microwave, other with no pantry. We also spend some time getting quotes from different types of work, what landed in my husband picking the kitchen as his personal project. Yes, he ended up getting his hands dirty building the cabinets from Ikea SEKTION. The peninsula demanded a lot of customizing work, where he had to build the whole wood structure to fit the waterfall white quartz.
A house is an endless project for us, we're always looking for ways to make it look fresh, bringing new pieces of furniture and objects.
The cabinets are IKEA SEKTION (customized), the backsplash is a Volakas marble slab, the appliances are from Whirlpool, and the stools are sheesham wood.
Thank you, Sandra Romanoff!