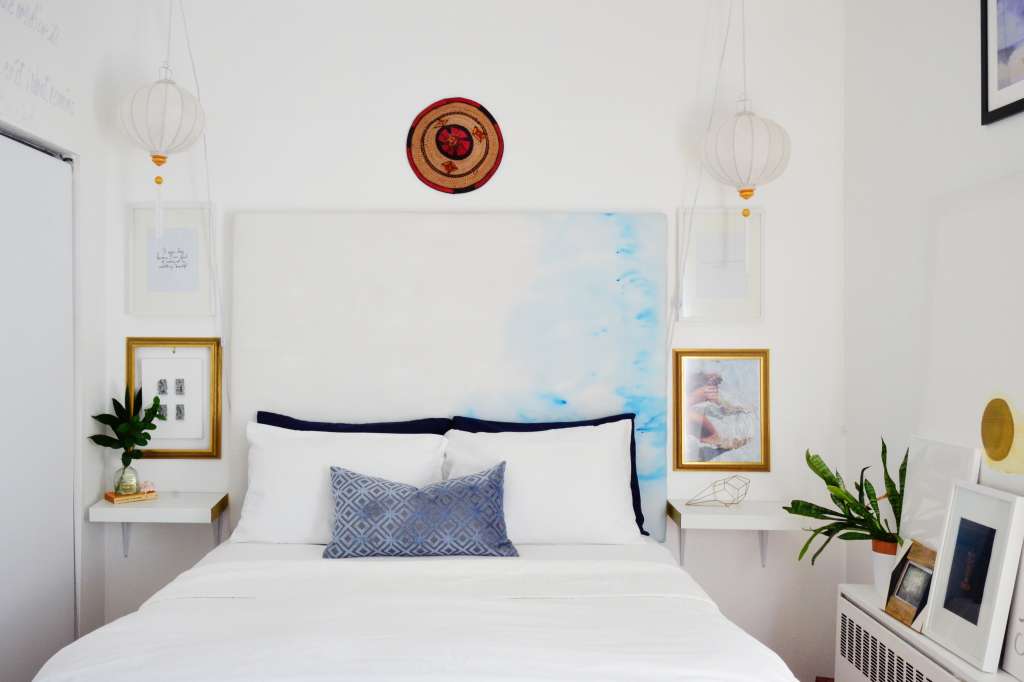 I just upgraded to a king-size bed, and sadly, I think my nightstands are going to have to go. This is New York City after all. It's all about compromising. There just isn't enough room for everything you want. All is good on the lighting front—I have a floor lamp that'll suffice for reading in bed. But what about all the stuff I jam into that tiny nightstand drawer? Eye creams, lip balm, hand lotion—mine is basically a second medicine cabinet, and I love having a bedside spot to charge my phone at night. But I'm going to get rid of my nightstands and see how it goes. Worst case scenario, I can consider one of these nightstand alternatives if I'm missing it. And chances are, I will.
I think the shelf as a bedside table might be my best bet, since it's mounted on the wall and won't take up much space. You don't need anything fancy—just a slab of painted wood or melamine and a bracket. Stashing a ton of stuff here isn't going to work, since the shelf will likely be on the smaller size. But it'd be a great perch for a photo frame, the jewelry you wear everyday and a glass of water. You know, the essentials.
Prefer to put holes in your ceiling instead? Random, yes. But in that case, you can actually create a swing-like bedside table with a little bit of rope, a drill, anchors and a piece of wood. It's tough to see in the photo, but the homeowner here actually squeezed a lamp, a couple of books and an alarm clock onto this little swing surface, which again is really all you need.