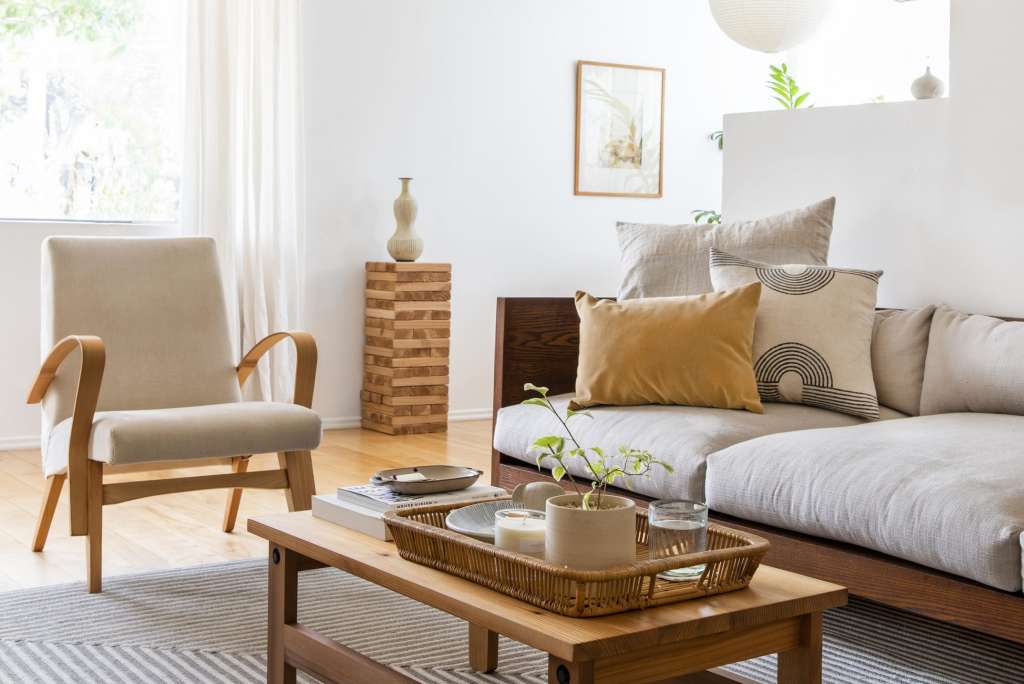 There is so much beauty and elegance to gaze upon in this wonderfully minimal house tour, but our eye was drawn to one particular—and highly unlikely—element: that museum-worthy pedestal, which is secretly a giant Jenga set.
Looking at this house tour on Emily Henderson's site of designer Melanie Burstin's home, one would never guess that such a chic, refined space would feature something as chaotic and, let's face it, loud as a giant Jenga set. Even more surprising is the fact that it fits in absolutely perfectly. Let's hear how this unlikely pairing began:
So my ex-boyfriend and I went to a BBQ and fell in love with a "life-size" Jenga they had. I say "life size" like "life-size" Barbie, but of course it's bigger than the life-sized version. I had a backyard at the time so he and I went to Home Depot, got all the pieces of 2x4s cut and then sanded forever. (Well, he sanded forever.) We used it at every party we had! Sometimes outside, but often times inside and on a carpet because it was less aggressive when it fell. It is so loud and scary when it falls because, as you can imagine, the pieces are fairly hefty.
I happen to own a giant Jenga set—made by a very sweet relative—and can vouch for the fact that when it falls it is no joke. Mine is wider and shorter than Mel's, and therefore not as graceful and stately, but still just as fun. If you can make yourself a set, definitely go for it.
And if you do make yourself a set, Mel has nailed the perfect proportions for maximum indoor appeal, while the contrast between the sides and ends of the 2x4s creates a highly appealing two-tone effect. This would not instantly be read as a giant Jenga game, which is a remarkable feat for something with "giant" and "game" in its name. Let's hear how this rowdy game earned a position in this serene home:
I then moved and no longer had a backyard but still loved my Jenga. So, I needed somewhere to put it. I always thought it was too cute to just leave in a bag somewhere so I guess I just started leaving it stacked in a corner of my house. I then realized it was almost like a pedestal for sculpture work at a museum and thought it added fun height in my home when I put pottery on it! It's definitely still usable for Jenga, though I haven't played in a while, but then again, I haven't had a party in a while.
I do have a rule though that, whenever someone is over and asks to play, I have to say "yes" because, what's the point of a Jenga that's not being played?
Thank you, Melanie Burstin and Emily Henderson!