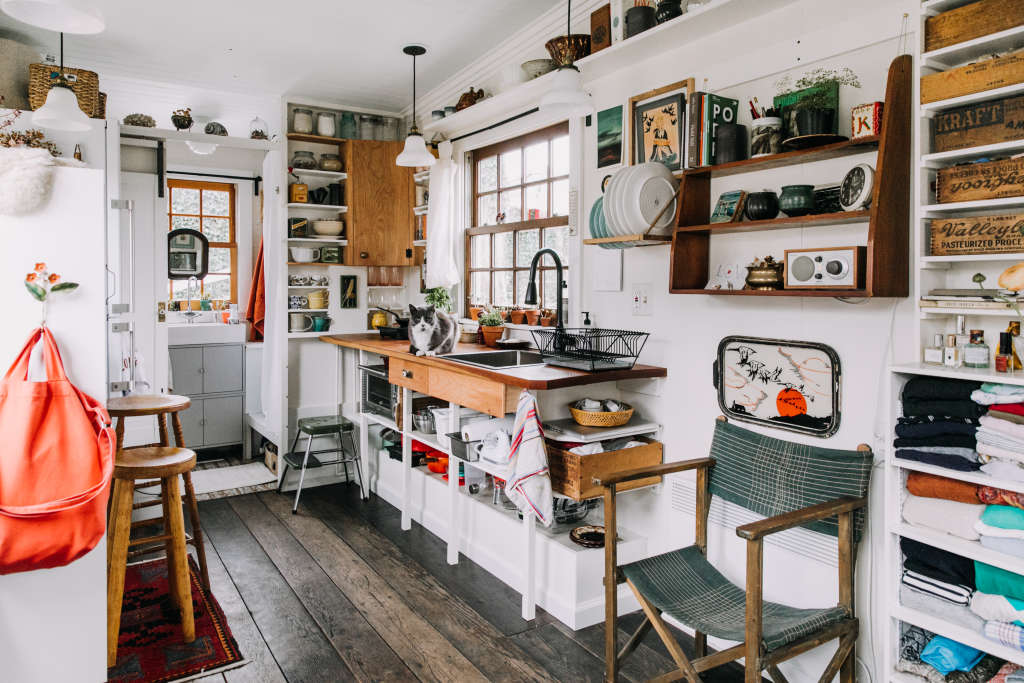 Downsizing doesn't mean down with the fall feels, people. Tiny home dwellers just have to get more creative with their seasonal flair than you or I might. And because of that, we can learn a lot from them. Generally, what this means is fewer pumpkins and gourds and more artful touches through colors, finishes, and textures that feel like fall. Let's look at handful of small spaces and see how they get their autumn on, even in 600 square feet or less.
1. Seasonal Wreath
Props to this Philly couple for finding room for a wreath in their 160-square-foot tiny home. Yes, that's the side of their refrigerator it's hanging on, which is kind of brilliant. Not only are they using what most people consider dead space, they're also forgoing decoration on the front of the unit, which makes the whole space seem less cluttered. This wreath is a nice surprise when you're washing the dishes and look to your right. Or when you first walk into the space, if it happens to catch your eye.
2. Pattern Play
Whitney Leigh Morris of Tiny Canal Cottage doesn't play around when it comes to fall textiles. This girl just piles 'em on, particularly in the plaid, tweed and wool varieties. Her trick is bringing them outdoors, say, for a movie night under the stars. She's in California, so that works anytime of year. But those of us in colder climates could definitely use a few of these plaid blankets around a bonfire or even on our sofas or at the foot of the bed.
3. Just Right Light
The sun may be streaming into this tiny California guesthouse, but I'm still getting a little bit of autumn here, which has everything to do with that brass pendant above the kitchen table. Finishes with gold or bronze undertones just feel like fall. The worn wood furniture and plank ceilings don't hurt either.
4. Copper Accents
See what I mean? All of those pretty hanging copper kitchen tools make this airstream kitchen look like a fall Threshold ad for Target. I also think the hint of William Morris wallpaper proves that florals can go autumnal as well, depending on their tones.
5. Fall Florals
Same for the colors in this shower curtain from Anthropologie in this family's 180-square-foot RV. Point is, there are plenty of opportunities to work fall florals into your design scheme: Shower curtain, hand towels, tablecloths or runners, sheets, etc. Not saying you need them all, but even a seasonal shower curtain can get the job done.
6. On-Display Foliage
And if you've got real fall foliage, flaunt it, just like these Seattle small Craftsman homeowners did. They kept the outdoor furniture in their yard super simple and minimal in order to let the color-changing leaves shine.
7. Wooded Warmth
Wood really creates a warm atmosphere, as evidenced here in this lofted tiny home bedroom. I mean, I'd sleep there. It'd be hard to recreate this vibe without an A-frame home or some kind of gabled dormer situation on your roof. But you could take the wood part of the equation and go the shiplap route in a regular bedroom or study for some of that cabin coziness.
8. Extra Cozy
The lofted bed thing is clearly a tiny house trend, since building up is your best bet for fully utilizing your square footage. What I love about this Denver bedroom is the super cozy sheepskin rug the homeowner placed in front of the bed. In a regular sized room, you could try one of these on each side of the bed, laid vertically instead of horizontally. It's the perfect way to make sure you don't get cold feet, literally, when you wake up.
9. Dark Drapes
Want an instant fall upgrade? Switch out your draperies for something dark in color like this Austin homeowner has. There's something dramatic and mysterious about it. And it definitely creates a cocoon-like feeling in a space, which is emphasized when the walls are a deep color as well.
10. Straight Fire
And who says a tiny home is too small for a fireplace? This 450-square-foot cottage managed to get one into its floor plan. What better time to spark up the logs than fall?
So it's totally possible to work cozy, fall touches into your home, even if you don't have a lot of space to work with. It's all about the finishes, colors, patterns and pieces you pick for your everyday essentials. Oh, and if all else fails, I guess you can put a few mini pumpkins out.